Google Ads has upgraded its exact match targeting capabilities to now include keywords that have the same meaning.
Using machine learning, Google Ads' exact match will now serve ads that match the intent of a search.
Previously, using exact match meant ads were only served when specific words were used.
Going forward, advertisers using exact match keywords will also have their ads shown on searches that include implied words, paraphrases, and other terms with the same meaning.
As long as the intent of the search matches the original keyword, an ad will be shown.
"Let's say you're marketing for a travel business. If you're using the exact match keyword [yosemite camping], your ads may show on other terms like "yosemite campground," "campsites in yosemite," or "yosemite national park ca camping.""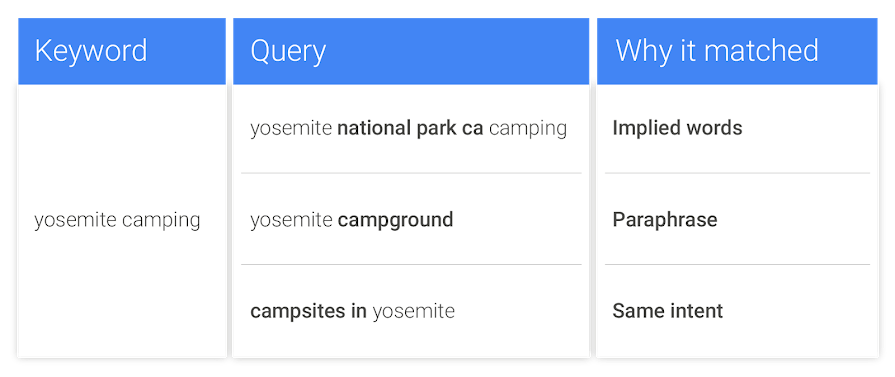 Google is making this change, it says, because roughly 15% of searches conducted every day are new.
So people may be searching for products and services using keywords that advertisers wouldn't have discovered by using Google's Keyword Planner.
By expanding exact match to include keywords that match search intent, advertisers can reach customers without having to maintain exhaustive keyword lists.
In early testing, Google says advertisers using mostly exact match keywords see 3% more exact match clicks and conversions, with most coming from queries they aren't reaching today.
To those who already use paraphrases and other similar terms in their account, Google says it will still prefer to use keywords identical to the search query.
Phrase, broad, and broad match modifier keywords aren't included in this update.