Google is adding a useful new feature to Google Maps: current weather reports. Users can now access a weather layer that shows highly location-specific reports provided by Weather.com. The layer can be opened in the "layers" in the top-right section of Google Maps.
Google Committing to Travel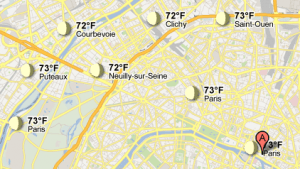 Google Maps is one of the most frequently used map services in the world, largely thanks to its popularity on the Android smartphone platform. There are obvious travel-related benefits in the Google Maps platform, and with travel serving both as one of the biggest revenue opportunities and a focal area for competitor Bing, there are several good reasons why Maps should be getting care and attention. Giving weather is just one more way to draw in travelers.
We can expect to see a lot more when it comes to travel, too. Google has been experimenting with hotel-specific ads, expanding the use of Google Places, and introducing a Groupon-like service in Google Offers. Additionally, we haven't seen the real impact of Google's ITA acquisition.
For those who are working in any of the travel and hospitality industries, the inclusion of these features is a signal flare to pay attention to upcoming Google features and advertising opportunities. Local businesses can also take advantage of travel-oriented targeting.
[Sources include: The Official Google Blog]