Google has been hard at work adding rich markup options for webmasters since 2009. This year, the addition of the schema.org markup standardization project raised the bar even further. The most recent additions are a limited sports markup that Google recently paired with ESPN to provide and a music markup.
The Sports Microdata
Chris Jason at ESPN calls microdata "a way to describe something – for example a person, event, place, etc. – through special use of structured HTML5 tags and properties." In other words, it's rich markup, with the primary difference being that this feature is currently exclusive to ESPN and select partners. However, the exclusivity won't be staying long; "We're working with Google to standardize the format so that others can make use of this technology going forward," says Jason.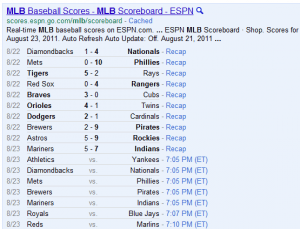 But for now, here's what the microdata does: Searches for a player, team, or match score for baseball will yield a search engine results page entry that shows you past and upcoming games; the scores for concluded games; the schedule for games in the near future; and quick links to recap pages, detailed player data, and more. For now, it's only working for baseball, but ESPN has indicated that football, hockey, soccer, and basketball will be included in the near future.
The Music Markup
Another recent addition to be aware of is the music markup. The markup allows sites to add the track names, lengths, and artists for easier navigation from the search results page.

This markup is standardized on schema.org, so Bing-powered searches may also be taking advantage of rich results in the near future.
For sports and music sites, these specific markups are great options. More importantly, these serve as a reminder that Google is continuing to expand markup options that can be valuable to any web page. Check out schema.org for a more comprehensive list of the alternatives.
[Sources include: The Inside Search Blog, 2 Entries]