Want to know what's trending in Google search? What about the hottest videos on YouTube at this moment? Now it's easier than ever to find out.
Google announced that as of today you can search for "2014 trends", or an equivalent search in over 45 different languages, and Google will populate a list of the year's top trends based on Google Trends data.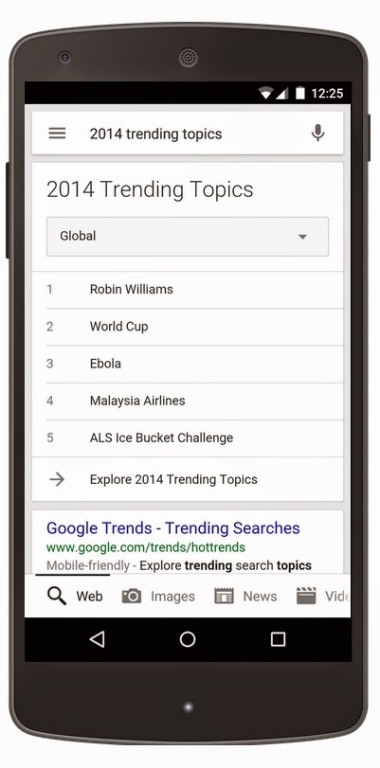 Simply click on one of the topics while in Google search to learn more about it. Google is bringing similar functionality to YouTube, but making it even better by showing you what's trending in real-time.
If you visit google.com/trends you'll see a new "Trending on YouTube" tab where you can explore a list of videos that are rising in viewership.
If this sounds familiar to you, it's because Google launched something similar last month in the United States only, but now it has been expanded to 27 additional countries.
It sounds as though the feature has also been improved from its initial launch last month:
"The new YouTube lists in Google Trends are our most comprehensive and dynamic yet, taking Google Trends technology and building on earlier efforts that started with YouTube Trends and the YouTube Popular Now Channel."
You may find up to 200 trending videos in this section, which will vary from day to day, so you can keep up with all the hottest new videos across the web.
So, What Exactly Are People Searching For?
Google has put together comprehensive lists of what's trending across multiple categories within multiple countries, or you can choose to view a combined list of top global searches.
I won't provide the entire lists here because there are far too many of them, and quite frankly it would take the fun out of you exploring them for yourself. However, I will list out some of the favorites I found during my own exploring:
How To Teleport: Yes, this was really one of the top searches. I wonder if anyone got the answer they were looking for.
Selfie Tips: Apparently there are some selfie experts out there. It is possible we've been doing it wrong all this time?
Buy Pharrell Hat: Thank goodness this trend didn't catch on.
Mutant Giant Spider Dog: Always fascinating to find out what the top video of the year was, wasn't expecting this one.
Let me know in the comments what you came across that was either interesting or unexpected.