When it comes to Google+, one of Google's strongest advantages is its ability to integrate the service with other key services. Considering the immense success of Plus so far (it's the fastest growing website of all time), it's unsurprising that Google is starting to move that integration into place. YouTube is one of the first services that's seeing a Plus-based feature.
The specific feature? The option to start a Google Hangout directly from the YouTube video. For those unfamiliar with Hangouts, it's a group video chat feature that Google included in the launch of Plus. Hangouts already allowed you to navigate to YouTube and show the people in your hangout your favorite videos. Now, however, it works in reverse as well. Nested in the "share" button, you'll now see the option to start a hangout centered around the video. So, when I want to watch Dr Horrible's Sing Along Blog with a non-specific group of Google+ friends, I can do that.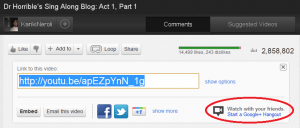 For now, this works as a "viewing party" feature for YouTube, similar to what we've already seen on Netflix. However, the ability to share videos from YouTube on Google+ may work as a solid marketing tool once business profiles are launched later this year. In the meanwhile, the Hangout option also gives Google+ some additional exposure.
[Sources include: PCMag]