Google is encouraging site owners via Search Console to create AMP versions of their content. The AMP notifications were first spotted by Alan Bleiweiss, who shared the news on Facebook. The following screenshot has been used with his permission: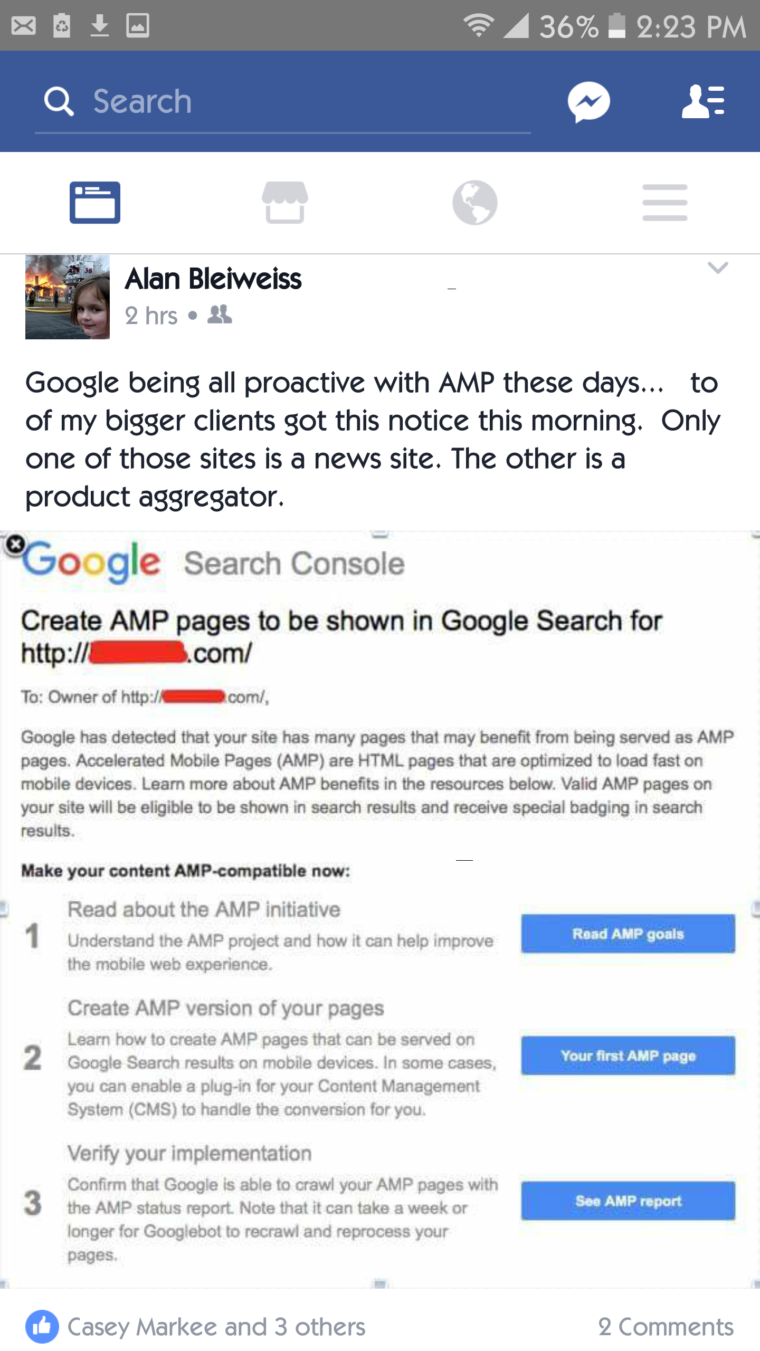 The text reads:
Google has detected that your site has many pages that may benefit from being served as AMP pages. Accelerated Mobile Pages (AMP) are HTML pages that are optimized to load fast on mobile devices. Learn more about AMP benefits in the resources below. Valid AMP pages on your site will be eligible to be shown in search results and receive special badging in search results.
From there, the notification links to pages with general information about AMPs, resources to learn how to create AMP pages, and an AMP verification tool.
From Bleiweiss' experience, Google has been leaning toward notifying bigger publishers — and not just news publishers either. Considering the news this week that Google will soon be sending traffic to all types of AMP pages, the company should be notifying sites in all niches.
I took the opportunity to reach out to Bleiweiss, an SEO who has been following the industry for decades, who was quick to vouch for Google's efforts to promote the use of AMP:
"I appreciate that Google is pushing an expanded use of AMP, to help with mobile experience. Unfortunately, this is another case where site owners, designers and developers have failed to take enough action on a large enough scale to clean up their own sites. Page speed issues continue to plague almost every site I audit."
However, AMP is not necessarily the answer to the widespread page speed issues, Bleiweiss says. Site owners need to be cognizant of the non-AMP versions of their pages and work on improving page speed in other ways:
"Even with AMP, it's not a proper answer. Google is only one user of site content, presenting access to searchers. So sites can't abandon non-AMP versions of their sites. And as important as mobile has become, and where that will continue to grow, there are still desktop / laptop visitors to care about. So even now, improving speeds outside of AMP environments is critical and should not be discounted or ignored."
With that said, there is yet another solution which Google's John Mueller has pointed out in the past. Site owners could opt for a 100% all-AMP solution, which means every page that exists on the site is coded with AMP markup. For example, ampproject.org is coded purely with AMP markup. Bleiweiss couldn't personally vouch for this solution, but mentioned that it is an option worth considering.
For everything you need to know about AMP, including the very latest news items, visit our living document which will be updated regularly with the most recent developments.