If you do business online and participate in social media networks, the number of contacts you have is overwhelming. Networking is the most important step to succeeding online. Contacts are gold. Therefore finding the way to value each contact you build is so essential.
Yet, it is hard. You come across dozens of new people daily. It is impossible to keep everyone in mind.
Rapportive is a nice Gmail assistant that helps you better manage your email contacts. The tool works as a browser addon. For every person you are emailing, the tool aggregates "rich contact profiles" replacing Gmail ads with some social media info that is intended to help you:
Easier identify the person you are emailing to (or received an email from)
Closer connect to your email contact (by adding him to friends at the found social media networks)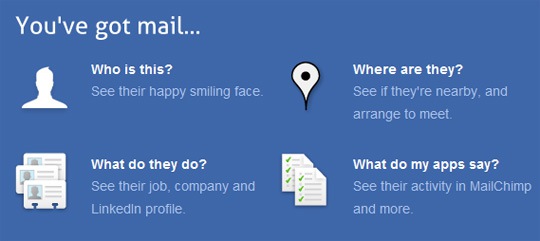 Privacy notice: You will have to allow the service access Gmail via Google's auth but your Gmail credentials don't end up with Rapportive, and they don't have any access to your password. More in the tool's Privacy Policy.
What info does the tool aggregates and displays while you browse through your email?
You can immediately see what people look like, where they're based, and what they do. You can establish rapport by mentioning shared interests. You can grow your network by connecting on LinkedIn, Twitter, Facebook and more.
The Gravatar phot tied to the current email address
The LinkedIn job positions associated with this account
The recent Tweets;
The link to Google profile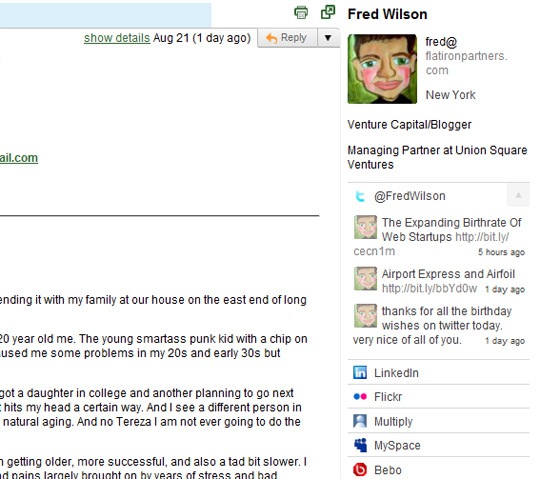 Besides that, you can add notes to any profile to see them any time the person emails you again – how awesome is that?

What happens when you see your own profile?
Interestingly, the addon will even provide you of some sort of stats" how many times your profile has been viewed by people emailing you. Besides that you can edit your profile right from your Gmail interface (Note: Your changes will instantly be seen by anybody who views your profile on Rapportive.):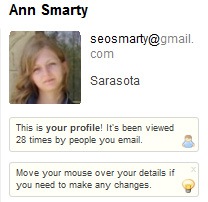 How to install the tool?
I love the idea and the implementation of the tool and have been using it for a while now. I'd love to hear your thoughts as well!