We have shared quite a few updates and tools by our good friends over at Wordstream. And this week I am pleased to share another awesome utility from the guys: WordStream SEO for Firefox addon which aims at helping content creators to brainstorm new ideas and target their content effectively.
Note that the plugin requires Wordstream login data, so if you don't have an account yet, you should create one to try the tool.
Basically speaking, the addon makes it easier to work with the Wordstream features from within FireFox:
Quickly access your private keyword database: write content based on the keyword groups that have historically performed strongly on your site.
Manage keyword optimization: you can associate published content with your keyword groups, so your team can keep track of what's been written and avoid duplicating work or targeting the same keywords over and over again.
Connect the addon to your blog CMS to optimize the content creation process;
Research long-tail phrases and keyword-based questions;
Use highlight feature to quickly find where you've used your keywords;
Watch how many keywords you have used while creating content: As you write your content, include keywords from these tabs—WordStream SEO for Firefox keeps a running count of how many keyword phrases you've used, so you'll know your content is optimized.

Here's what your initial steps (right after installing the plugin) will be:
Select the topic you would like to write about;
Browse the suggested topics, choose one and click "Continue"
Get the selection of long-tail modifiers with your base term and use any of them in the content (keeping track of your progress)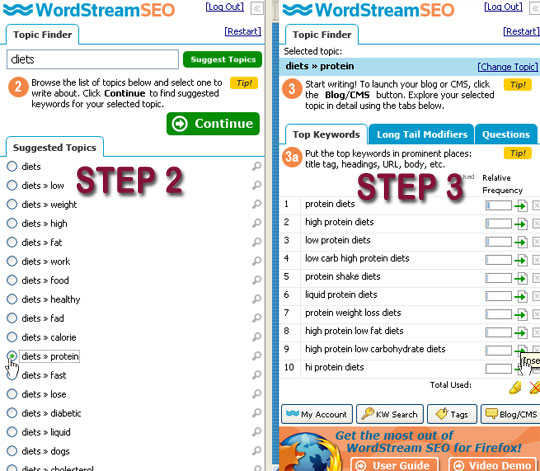 Here is a quick video feature overview for you to get an idea:
Thus, the most obvious advantages of the tool include:
Easier content creation and optimization;
Faster access to keyword research results;
Help with long-tail keyword optimization.