Google is launching more and more free tools and services. I use some of them daily if not hourly (like Google Search, Google Docs, Gmail, Google Image Search, Google Analytics, more!); I hardly use some of them weekly (Buzz, Blogger) and I never use some of them at all (Picasa, Google Wave, Knol, etc).
Due to such a variety of services and ways of using them, it should be a smart idea to organize them somehow to quickly access any of the tools.
Google Shortcuts is a cool FireFox addon that can cover anyone needs.
It unites all the variety of Google tools and services and allows you to select and position those you use frequently.
The Settings allow to adjust the list if available shortcuts as well position them: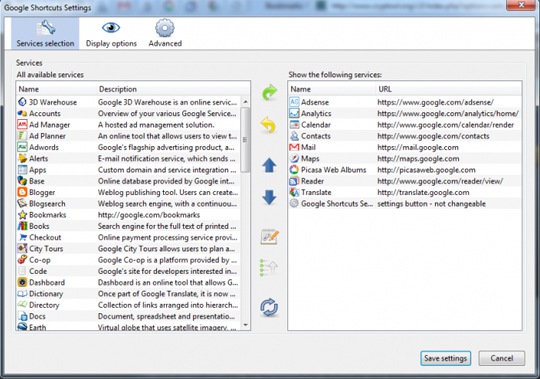 Besides that, you can set the display view:
Show buttons as a toolbar or as a drop-down menu;
Set the buttons to be vertically or horizontally oriented;
Set the position of the subtitles;
Set the tab behavior (always open links in new tabs):
After I have configured the options the way it looks like in the screenshot above, here's what the button looks like: