Attention all Search Engine Journal lovers and avid readers out there: we have good news! The new SEJ News iPhone application is now available in the app store. The even better news? It's completely free.

The format of this application is very easy on the eyes. The newest content is located on top, followed by the older posts. Simply scroll down as far back as you like to read the articles.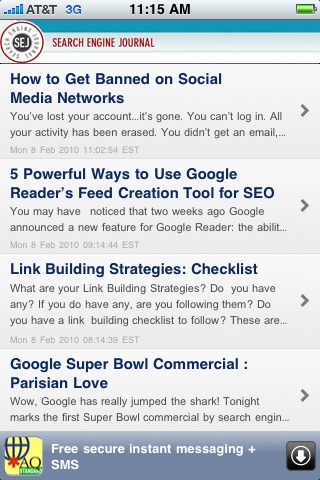 The iPhone application designed for this website is not only simplistic and easy to use, but also has the ability to instantly refresh. You'll never miss out on any new posts that might have become available while you were eating/driving/working/feigning interest in something else. When you open the application, simply place your finger on the screen and drag it down to pull down the refresh box. As soon as you release your finger it will start downloading new content.
There are two ways to download this application. You can either search "SEJ News" in your iPhone app store, or you can also download SEJ News for iPhone directly from the I-Tunes store.
We hope you enjoy this application! Remember: the best things in life are free.