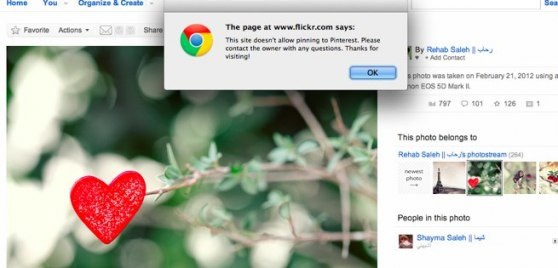 Even though the virtual pinboard site is still in private beta, Pinterest has rapidly grown to over 13 million users. While the innovative company has experienced explosive growth and become one of the top traffic referrers worldwide, they have recently come under fire due to affiliate link-swapping and copyright infringement concerns.
To provide content producers with a way to opt-out of Pinterest, the company recently announced the addition of a "nopin" code snippet that can be placed in the head section of any webpage. Once the webmaster has installed the code snippet, a Pinterest user who tries to "pin" content from that webpage will see the following message:
"This site doesn't allow pinning to Pinterest. Please contact the owner with any questions. Thanks for visiting!"
The code snippet, which was created to provide content publishers and individuals a way to easily opt-out of the popular site, will prevent Pinterest's 13 million users from "pinning" the content.
Now, Flickr has implemented a site-wide update that allows users to easily install the "nopin" code by simply changing their Privacy Settings to no sharing. However, as long as the content owner allows sharing, Pinterest users can still pin public images. Since the Yahoo-owned photo-sharing site is the third largest content sources for Pinterest, this recent change will likely affect a large percentage of Pinterest's user base.
A Flickr representative said the following of implementing the "nopin" code:
"Flickr takes privacy and content ownership very seriously and is committed to continue to build features that protect members' photos and videos. Flickr has implemented the tag and it appears on all non-public/non-safe pages, as well as when a member has disabled sharing of their Flickr content. This means only content that is "safe," "public," and has the sharing button (e.g., also for Facebook, Twitter) enabled can be pinned to Pinterest."
Although determined Pinterest users can easily work around the "nopin" code snippet, copyright holders can also report unwanted "pins" via the Copyright Infringement Notification form on the Pinterest site.
[Sources Include: Pinterest Blog, CNET, & VentureBeat; Image by VentureBeat]