Google News has become a coveted resource for news websites, from major networks to tiny blogs, and it isn't hard to see why. Information passes at the speed of light, and Google has managed to dominate from all sides of the field. Not only do they provide news and entertainment in one place, but they also have endless RSS feeds. Google let's you select and personalize your RSS feeds to the point that you're only getting the updates you want at all times.
In case using Google News itself wasn't enough, I've listed five ways to help you get even more from your RSS feeds.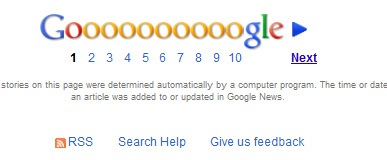 1. Personalize Your Feed
You can easily customize your content to the point of complete preferential options. You start by simply selecting your location and language preferences at the bottom of the main page, but you can build it up further from there. The main RSS feed for Google News will use the selected language and location to provide you with regularly updated stories from your surrounding area. This is a quick and easy way to keep in touch with what's happening through all local news sources.
2. Subscribe by Category
If need to extend your range beyond your local sources, you can also navigate by category. For example, if you're interested in a specific topic, like health or technology, you can go to the "About Feeds" area on Google News' main page to get a rundown of what's offered. By selecting the categories you're interested in, you can subscribe to their feed allowing you greater access to relevant sources. Since Google regularly features articles from many fantastic sources, you'll surely see all major ones available for any genre.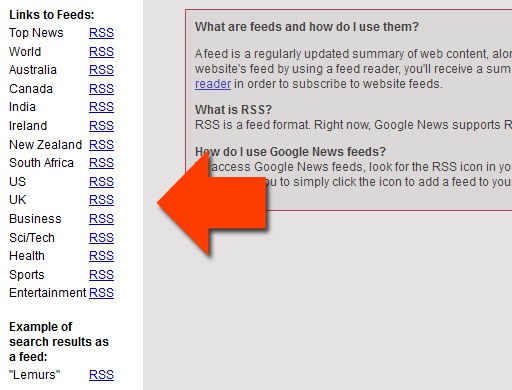 3. Utilize the Google News Search Bar
As always, you can search for feeds using the standard link for general topics. Start by entering the term and then use the RSS URL to subscribe in the usual fashion. So what does an URL search actually look like? Let's say you're conducting a search for "cancer research." If your location was based in the US, it would look like this:
http://news.google.com/news?pz=1&cf=all&ned=us&hl=en&q=cancerresearch&cf=all&output=rss
Here's a deconstruction of the above link so we can understand it:
"ned=us" is the location (United States)
"hl=en" is the language (English)
"q=cancerresearch" is the topic (cancer research)
4. Manually Change Your Searches
By knowing what the general coding stands for, you can manually change your search in your RSS. For example, if you wanted to switch to local searches in France in French, you would type "ned=fr" and "hl=fr" to change it. You can also use this method to modify the topic. If you want to conduct a more general search, using the example above, you could enter "health" after "q=", or anything else depending on the direction you want to take your search. This is a quick and easy way to alter your search.
Google's latest brainchild, Google Reader, offers ways to organize your RSS feeds, email, blogs and people. While it's a little basic at the moment, it'll surely evolve well beyond what the current demo version offers. It's an interesting idea and easy to use. It connects you with just about anything, from news to email and from people to documents, all via your Google account. It's a simple way to see all of your feeds easily.
The only downside I see to personalizing your Google News Feed is that you can sometimes subscribe to too many RSS feeds. I have done this myself, and my entire Firefox top bar is covered with folder after folder of subscribed sites. They don't fit so I have to open a drop down menu to see them all. I've even renamed most of them to single letter folders to save space and to allow even more. Of course, not all of these are news feeds, some are blog and website updates from some of my favorite time wasters on the web.
Nevertheless, this one possible drawback is overshadowed by how useful all of this is in staying informed. So whether you want local or world news, general current events or personalized updates – it's easy to get the most out of your Google News RSS subscriptions by customizing your content and knowing what to look for.
Do you have another tip for using Google News RSS? Let us know!