Nowadays you can spot mis-types and misspellings even on most reputable blogs. I am guilty of that myself, despite the fact that I always take time to proofread. The thing is not even about (or mostly is not about) us paying less attention to proper language but rather about the overwhelming amount of information we process daily: our eyes are too used to letters and words and no more see the mistakes.
Therefore this quick FireFox toolkit is about making it a more powerful spell checker.
Since edition 2 FireFox has introduced a great spell checking ability. It is quite enough for daily usage, but still can be enhanced in a number of ways.
1. Enable spell check for one-line text fields.
For some reason FireFox spell checking feature ignores one-line field (for example, the title field in WordPress Editor). This can be fixed through about:config settings:
Type in about:config into your address bar;
Type in layout.spell in the filter text box;
Right-click on layout.spellcheckDefault and choose "Modify";
Change 1 to 2 and you should be all set.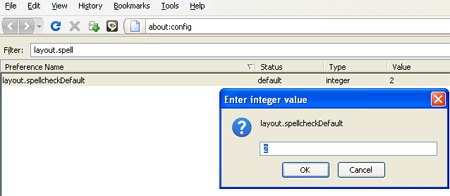 2. Install more dictionaries (especially if you blog or write messages in several languages like me);
3. Add more functionality with SpellBound:
SpellBound is a FireFox addon based on the built-in spell checking feature; it adds the ability to spell check the text in a pop-up (which appears when you right click or use "Ctrl+Shift+F7" shortcut) where you will be able to:
Easily add words to dictionary; replace all, ignore all, etc
Easily switch between dictionaries.