First of all, I do not mean you should use all these extensions, of course. This will slow down your FireFox immensely. Choose the one you like most and stick to it.
1. Flagfox – displays the country flag (based on an IP address) in the status bar for you to see the domain server location. Additional information (IP address and country) is displayed when you hover over the flag. The extension menu also provides quick access to more detailed Whois data.


2. Domain Details extension adds a little button to FireFox status bar that provides a list of handy Whois resources and tools:
Copy domain name IP address;
IP details;
IP map;
Other TLDs;
Domain Whois.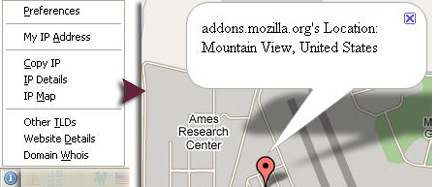 3. Show Location addon also shows (and lets you copy to clipboard) IP details when hovered over: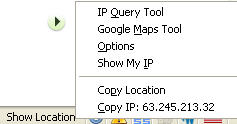 4. Geolocation Plugin shows IP information (domain IP address, country, city) for any external link you hover over on a page: