Google does allow us to have a sneak peek on which links it is aware of. This data is private and can be accessed only by the site owner through Google Webmaster Tools "Pages with external links" section. Surprisingly, (while Google does know better than anyone which data would be great to show for each backlinking page), the information is rather poorly organized and lacks much important data. Here are 3 FireFox extensions that can help with backlink research in Google Webmaster Tools:
1. SEO link analysis shows the essential link properties: nofollow attribute (strikes the link through), anchor text, or status ("Link not found") and the linking page Google PageRank.


2. "View External Nofollow" Greasemonkey script can be used as an alternative to the above one – the script adds 2 columns to Google Webmaster Tools table: Nofollow flag ('Yes'/'No') and the linking page PR. The tools also by default deletes the lines with the nofollow attribute or with the non-existent links and show you only "valid" links and thus saves much of your time.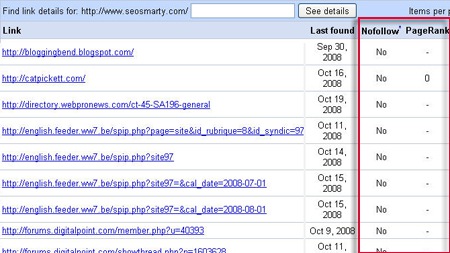 Of course, to install the script you need to get Greasemonkey plugin first.
3. Glync tracks the backlink data changes over time. It exists both in a free and a paid version. The free version adds a graph to your Google Webmaster Tools "pages with external links" section showing how well you are doing with your link building: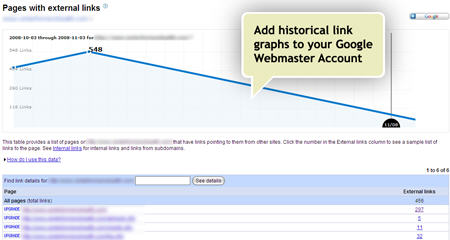 Note: the screenshot is taken from the official tool site; I installed the plugin just a few days ago and have no changes to show you so far.
4. Webmaster2 for FireFox adds Google PR and Compete Rank to each linking page (note: the data doesn't load automatically – you should click the addon icon in the statusbar to activate it each time you want the data to be displayed).