Last June 21, Search Engine Journal's Philippine team was privileged to attend SEO Summit 2014. In relation to this, we had the opportunity to interview one of the event's speakers, Xight Interactive CEO and Co-founder Jason Acidre, aka Kaiser the Sage.
You're a trusted authority in SEO, especially in link building. My question is: Out of the many facets of online marketing, why did you choose to focus on link building?
Link building isn't the most complex part of SEO, but it surely is the most challenging one, especially at the time when I started doing SEO, which was also the time when Google has started to be more guarded on this side of the optimization process.
I really enjoy challenging myself, and I guess link building (as a practice) gave the type of excitement I was looking for.
There were also other factors that made me write more about link building. One is I was too exposed on the actual work, since it was the larger portion of my tasks on my first six months on Affilorama and Traffic Travis.
My blog was basically just a personal journal where I documented the things I was continuously learning. I was just lucky enough that people started to read and share my ideas.
And back then, there were only a handful of really useful, innovative, and actionable resources when it comes to link building, which made me finally decide it's the most viable area of online marketing where I can really focus on building my unique value proposition.
At the SEO Summit, you said one rule of Internet marketing is for brands to build on their unique selling point. How would you advise a company, which is yet to start their SEO campaign, to find their unique selling point?
Being able to stand out and separate yourself from your competitors is really important in marketing, and not just in SEO and digital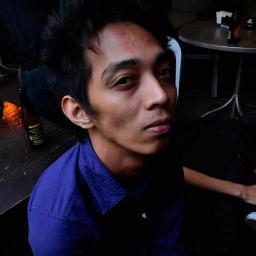 marketing.
It's the one element that makes a brand remarkable, which also enables a brand to easily build a strong following base, and semi-automate the process of promotion (since the more people who remember you, the more you can get to talk about you).
On identifying possible USPs, companies can start with the following:
Brand Story: The company's vision, cause, culture and/or passion to really solve their consumers' problems can tell a lot about a brand.
Product/Service: Features that competitors don't provide or the brand can truly exemplify more expertise in.
Content: Particularly the uniqueness and usefulness of the ideas that the brand can consistently provide to their target audience.
Highlighting or making these things highly perceptible to people can really help shape the perception that others see in your brand.
You mentioned during your AMA session on Reddit that you do competitive research to ensure your content is comprehensive. Can you elaborate on this and share some tips on how you do it?
The first thing I do before writing new content (aside from creating a draft, which normally includes all the ideas and resources that should be included on the content) is to see what other content is already published about the same topic.
The reason I do this is to see if the ideas I'm working on have been already covered or mentioned by other publishers, and also to make sure that I didn't miss any valuable information about the topic.
For instance, I wrote a piece about improving email list subscriptions a month ago (the post is actually a review for ManyContacts). Before writing the post, I just had to see what others have already written about the ManyContacts: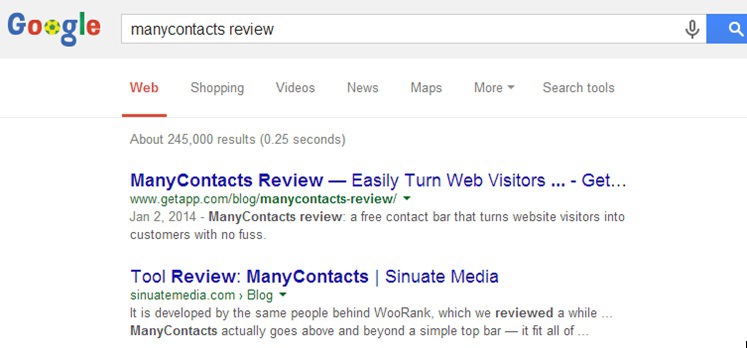 And I noticed that most of the reviews were more focused on detailing the tool's features. So I went with a different approach, where I focused on the results the tool can actually provide to its users: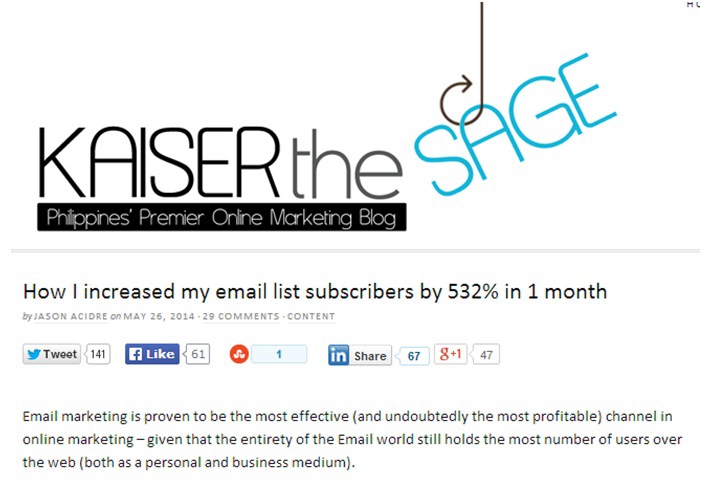 Another part of the competitive research you can do is to try to find the sites/people who have linked to and socially shared the already existing content about the same topic.
Make a list of those sites/people, and reach out to them once you've published your content (that's more comprehensive and takes on a different angle of the topic). You'll have more chances of getting them to promote and link to your content as well, based on the history of their linking/social sharing activities.
In your opinion, how much has the local SEO scene changed over the past years?
It has changed a lot. When I started doing SEO, I didn't know any other SEO professionals here in the Philippines, aside from my colleagues from the Australian SEO agency who first hired me.
I didn't even know Benj Arriola at that time. I only got to know most of the active SEOs here in the Philippines when I attended a local SEO meetup over a year after starting SEO.
Right now, there are so many talented digital marketers here who are now beginning to become more active in building the Philippines as a prime destination for digital marketing services like Glen Dimaandal, Gary Viray, the guys at Digital Room Philippines, Benj Arriola, Juanito Jacela, Sean Si, Venchito Tampon, Clayton Wood, and Jayson Bagio, to name a few.
And I think it's a great thing, since we're all helping each other to open a lot more of opportunities for future generations.
You built your name from scratch before becoming one of the thought leaders in the industry. With all of these achievements, what would you consider as your biggest?
Being able to teach (and perhaps influence) thousands of marketers and businesses across the globe for the past four years of blogging.
And being able to speak and exchange ideas with other people who are certainly smarter than me on a daily/weekly basis (Founders, CEOs, executives, marketing professionals, etc…) is definitely an awesome feeling. It still drives me crazy when I think about it.
Bonus Question: You also mentioned during your session at SEO Summit that you used to play Counterstrike. Aside from CS, what other computer games do you enjoy playing?
I have always considered SEO as a game, and that's one reason why I got really passionate about it. So I guess that's one.
As for the others, I don't get to play games that often these days, but here are some that I do enjoy playing when I have free time:
Day of Defeat (we used to play this first-person shooting game at the office every day after work. It's quite similar to Counterstrike and was also from the creators of CS, but the only difference is the game's theme is in WW2).
Tetris Battle (Facebook game)
War of Mercenaries (Facebook game)
NBA 2k series
Featured Image: Syda Productions via Shutterstock