All websites rely on effective content to bridge the gap between organizations and their audiences.
However, not all content is created on an equal footing or has the opportunity to fulfill its true potential.
In this practical guide, I will share a few of the practical tips and advice for:
Finding out how your content is performing.
Detailing a few specific tips for fixing any content areas that can work harder for your business.
The Search Engine Journal site has a few related content improvement articles that can complement this one.
Two recent items that I would recommend reading are:
The main tools and analytics packages I will use for this post are Google Analytics, SEMrush, and Ahrefs.
As you can imagine there is a myriad of other tools that can also be used.
However, Google Analytics is free, plus SEMrush and Ahrefs offer trial periods or free scaled back functionality versions of their software that you can try at minimal (if any) expense too.
The intention of this post is to guide you through some of the typical steps to go through when looking for under-performing content.
You'll also learn how to make the necessary decisions on how to boost the value of existing website content.
Using Google Analytics to Identify Under-Performing Content
Google Analytics (GA) will likely be the go-to analytical package for most digital marketing experts.
This is because of the ubiquitous nature of the software, the global familiarity of using it for business and marketing purposes, plus the fact that it is free in most cases (unless you opt into an enterprise-level solution).
GA is also a leading choice as it dovetails into other Google products and data insights such as Google Search Console, Trends, and many more.
I am using a demo account for this article demonstration, so some screenshots will not have the data sets in place you may see when you log into your own account(s), but this will work for the current purpose.
Also, if you haven't already installed Google Analytics, this is a straightforward action to do afterward.
Simply go to https://support.google.com/ and Google have a helpful step by step guide titled Get started with Analytics.
Practical Google Analytics Demo
For content performance, my preference is to use the Behavior reports in GA.
This set of report types enable you to see what your visitors do on your website.
Specifically, these GA reports tell you what pages people visit and what actions they take while visiting content on your website.
To begin with, it's important to take a top-level and aggregate view of your website content.
This makes it fast and simple to decide where you should focus your time and energy, and steers your data finding in an efficient way.
In this demo scenario, I've set Organic as the channel I want to check the performance of my content against, plus I have set a previous year comparison so I have enough meaningful data to remove skewing factors such as seasonality within the industry.

If you are not familiar with the Content Drilldown report in GA, this groups together sections of your website content based on the site setup on a folder by folder basis.
In this demo, we can see content grouping such as:
Blog.
Home page.
Other subfolders on the site including "Content Marketing", "Social Media", and more.
The reason why it can be useful to look at content at this aggregated level is that you can get a single click summary of the main content marketing performance metrics such as:
Pages views.
Related quality measurements including bounce rates, exits, and time on page.
The immediate items that stand out to me when looking at Organic only users on the website is that:
The blog has lost nearly a third of the page views compared to the previous year.
The news section is underperforming to a lower level too.
When considering that in this demo scenario, the blog receives more page views than any other section of the website, this is an important problem to fix – so we can drill down into that a little more.
At this point, we can either click into the blog section and see the same data, or we can add to our investigations and start looking at the leading metric to page views, which is landing page traffic.
To see landing page traffic we simply click on Behavior > Site Content > Landing Pages and immediately we can see that we have moved from aggregate level data and into page-level data.
Added to this we can now see other meaningful business metrics such as sessions (or visits), users (or people), and company value items including goal completions.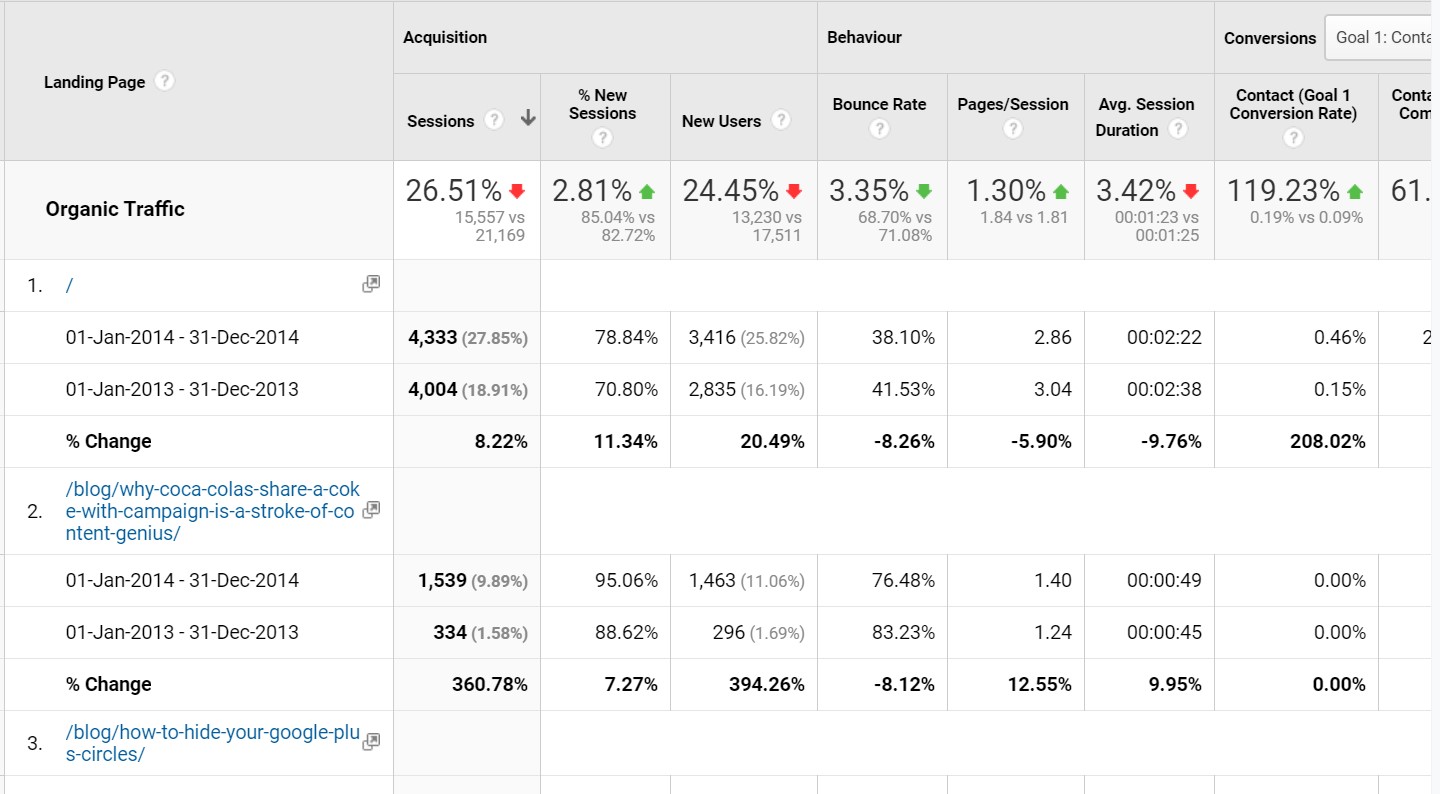 You will also notice that our pre-selected timeframes, marketing channel, and comparison information is still in place however, it is always worth checking this as some screens will change this by default.
Next, we want to focus back on the blog section – this is easy to do by adding "blog" into the table search bar.
If you are following along by completing similar steps with your own data, you will notice that the data is automatically sorted by the highest landing page traffic.
We can look at the individual content pages that are performing worst, and prioritize our focus accordingly.
In this case, I would want to look at improving these two pages as they have the required level of impact to warrant the time and resources to improve the pages, plus they are underperforming by over 65%, so I know they can contribute more towards business success.

So, the first thing I want to do is look at the page in question, and I can do that by clicking on the small icon next to the URL still within Google Analytics.
Now, I want to make some best practice, data-led, and experiential updates to the content, so that I can help the content to perform to a better metric based standard once again.
Practical Steps to Improve Existing Content
The following steps give you a glimpse into the varied actions that can be deployed on your own content projects.
For the purposes of this practical guide, here is some example content that my recommended enhancements are based upon.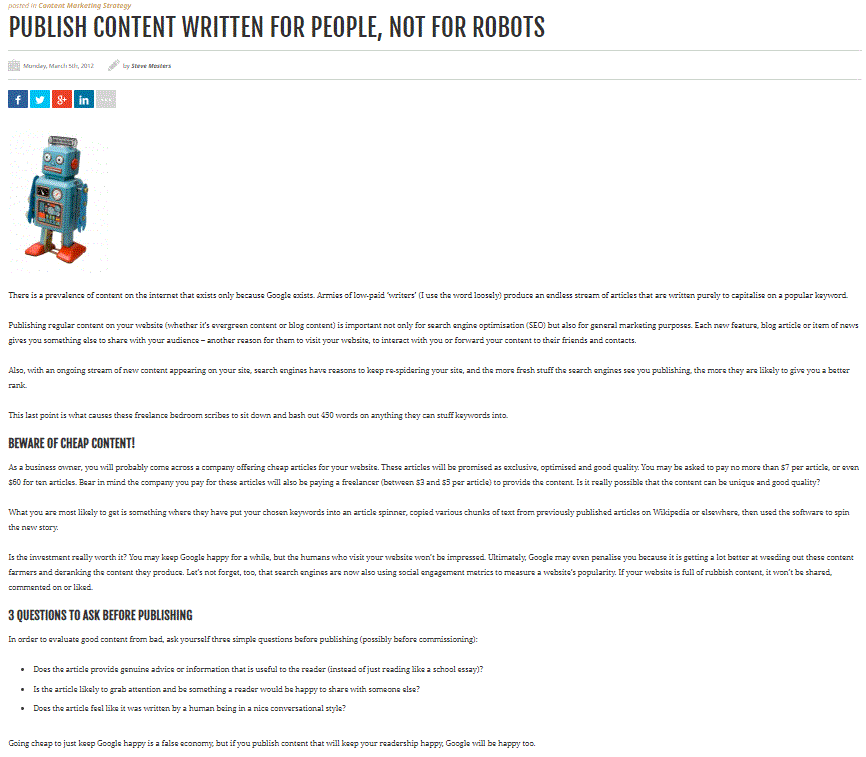 Practical steps I would consider and complete for this exercise include:
Refreshing the content. The content in question has not been updated in some time (years) and we know that the major search engines such as Google prioritize content that is up to date and reliable. Easy updates would include:

Adding new statistics.
Including fresh, relevant quotes.

The content is text only. Google looks to display content that applies to many users and their content preferences. Ideally, I would seek to add in images, plus a video if I had the ability to easily record content.
There has been a large resurgence in audio content over the past two-plus years (example podcasts and audio downloads), plus it is simple to record audio files, so adding in an audio option for people to access the content on the move and via Smartphones would be beneficial.
The content looks light in terms of the depth of coverage and the length of the article (word count). There are two things that I would do to decide on how to act on this is:

Firstly, see if there are any other similar contents on the site which could be useful for combining this content with. To do this using GA I will refine my Google Analytics search to include the word 'robots' and I can see there is one other page, but by looking at the URL, I know that it is no relevant for this task so combining content is not the right option in this case.
So, my next decision is to decide if there is still demand for the content – so I can check this in a few ways. For example, by typing into Google something close to the topic such as "writing for people, not robots" and seeing the volume of competing pages.
Another option would be to check either Google Trends or look at Google Keyword Planner. In this case, we can check Google Trends, and see that people are still actively searching for topics such as "writing for people" in Google UK: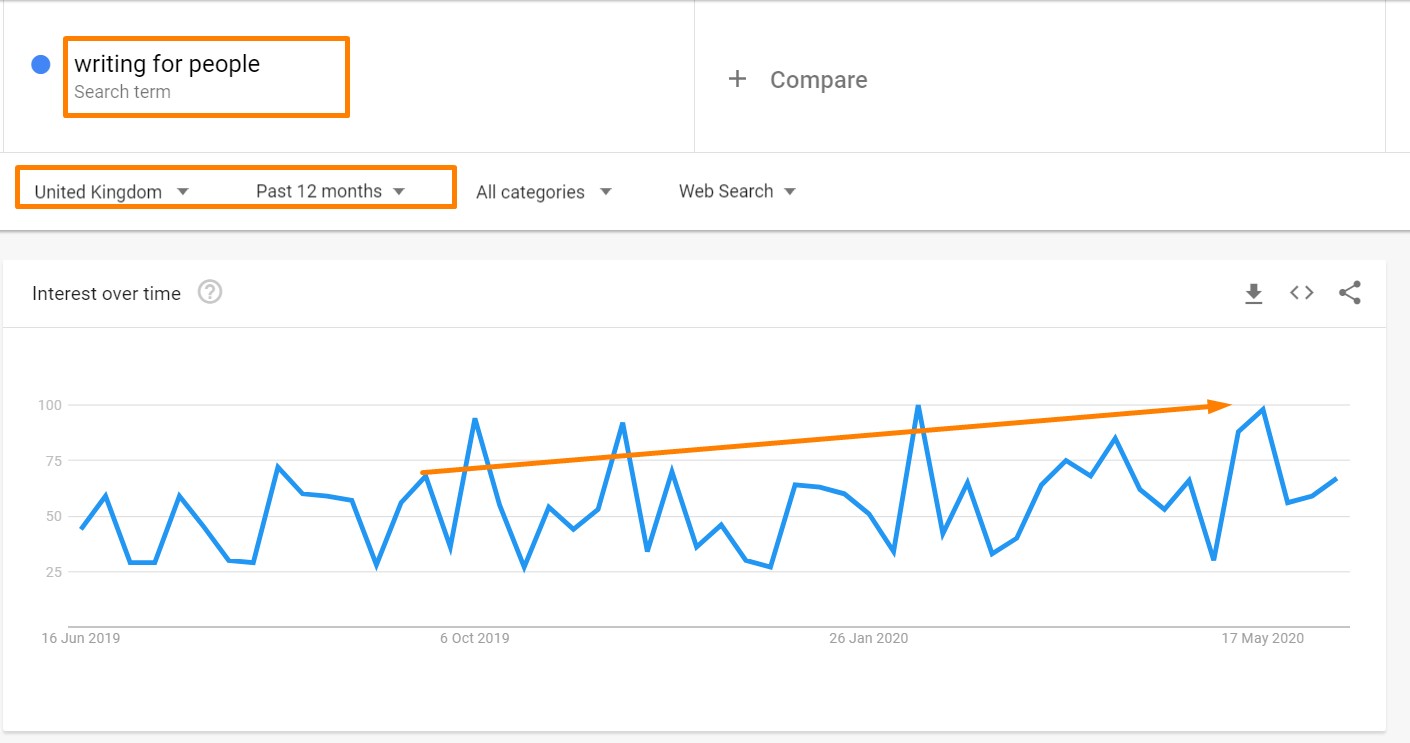 Google prefer clearly structured pages, that have logical content flow as well as clear user engagement signals. So to help with both these areas I would consider adding into the content some new engagement opportunities. I will add in an embedded Tweet which will enable people to share the content whilst they are reading it, plus I will include several in-reading Call to Actions (CTAs) to help people move along the conversion funnel and read more about our content writing services should they be interested.
Google Rich Results such as Google Answers, require clearly formatted questions and answers in the content (including schema markup where appropriate), so I can add in a set of questions and answers within the content that fulfill this need. As I want to enhance the depth of the content and the completeness of coverage, in this case, I would most likely add them in full and as paragraphs including h2 tags for each sub-heading, and making sure that the answers are formatted in the ways most suitable for Google Rich Results such as using lists, tables, shorter answers, and including any definitions where applicable.
Using SEMrush to Enrich Topical Completeness of Content
At this stage, it is necessary to look at the external content topics and related search volumes so that we can add to the depth and completeness of topical coverage.
The sanity checks in play at this point are:
Any new subtopics selected have topical relevancy to the original post (you do not want to dilute the content with loosely related information).
New items added have the search volumes required to merit justification for inclusion.
In this case, I have chosen to use SEMrush. As mentioned earlier, the same activity could be completed using other tools.
If you are new to SEMrush, this is a marketing tool that provides analytical data for many of the common search marketing (and primarily SEO activities).
This includes keyword research, tracking metric success in areas such as ranking changes, and enables you to run various website audits.
Using SEMRush you can complete research on your site as well as your competition.
What I want to do is enhance the topical completeness of the content by finding out the main expected sub-topics and then adding in anything that is relevant to my content that is missing.
My next action is to go to Topic Research and type in a trigger search query that is relevant to my focus area.
As I want to have some broader recommendations, I will keep the topic top-level and type in "writing".
Now I can look at both top-level sub-themes as well as more granular items that exist within the theme too.
If I wanted to consider the value of these topics for expanding the reach of the content, I could look at the search volume of the terms using Google Keyword Planner or within SEMrush too. (You can see the search volumes present in the screenshot provided.)
Now we have content that we know can perform better, plus an action plan to improve the content.
The final item I wanted to cover is the potential for the content to perform socially and its suitability to attract backlinks and general engagement.
Here is where Ahrefs comes in.
Ahrefs enables you to run website audits, track social media, build backlinks, and complete other actions like generating content ideas from what's performing on other sites and topics generally.
In this case, I'm going to see what external content on the topic of "writing for people", and we can see that:
The topic has had a recent spike in the volume of topical content created, so now may be a good time to focus on this theme.
There are some identified authors who are actively writing on the topic who we could research and potentially work with as influencers in the market to access wider audiences.
We can see the highest performing external content (in this case looking at Organic traffic). As our goal was to increase our decline in Organic performance, being able to see what works on external websites, compare content, and make data-led decisions off the back of the analysis, is a powerful thing for marketers.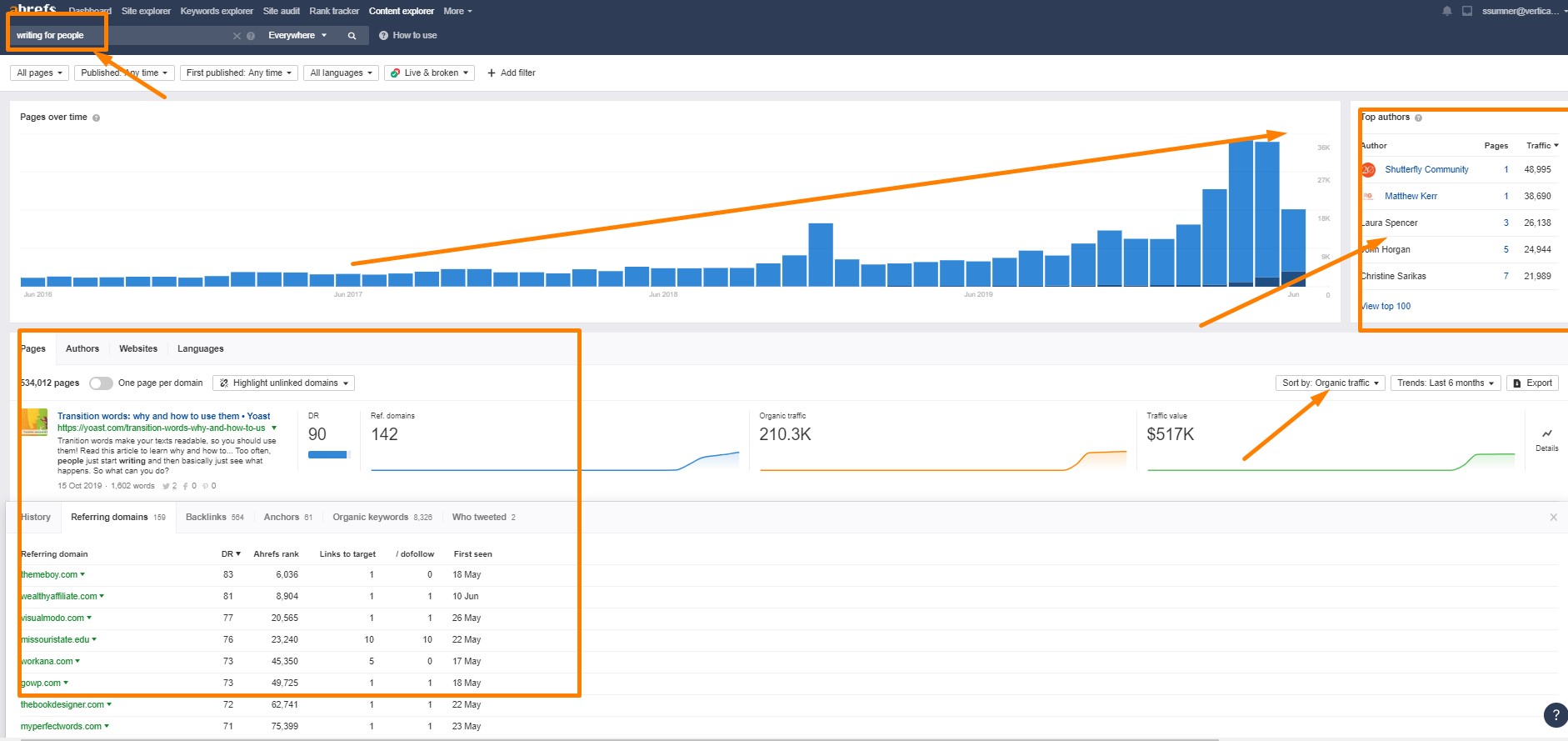 Summary
Finding and improving your website and marketing content can seem like a never-ending task.
Most marketing teams will include dedicated time to this activity every month, primarily because enriching your existing content will provide some of the fastest performance gains.
More Resources:
---
Image Credits
All screenshots taken by author, June 2020