LinkedIn is opening ProFinder, a service that connects companies to freelancers, to everyone in the U.S.
Whether you work for a company that needs freelancing help or you're a professional freelancer in need of work, LinkedIn ProFinder promises to find you potential matches after you answer a few quick questions.
The service launched in October. Since then, more than 50,000 freelancers have signed up in 140 service areas, according to LinkedIn.
Here's what companies and freelancers need to know about LinkedIn ProFinder.
LinkedIn ProFinder For Brands & Businesses
If you're looking for a freelancer to complete a job for your company, simply head to LinkedIn ProFinder.
Select from one of the 14 main categories (Design, Writing and Editing, Accounting, Marketing, IT Services, Business Consulting, Financial Services, Coaching, Insurance, Photography, and Home Improvement).
For example, let's say you're in need of ghostwriting services. You'd click on the Writing and Editing option, then select Ghostwriting. Then you'll see this: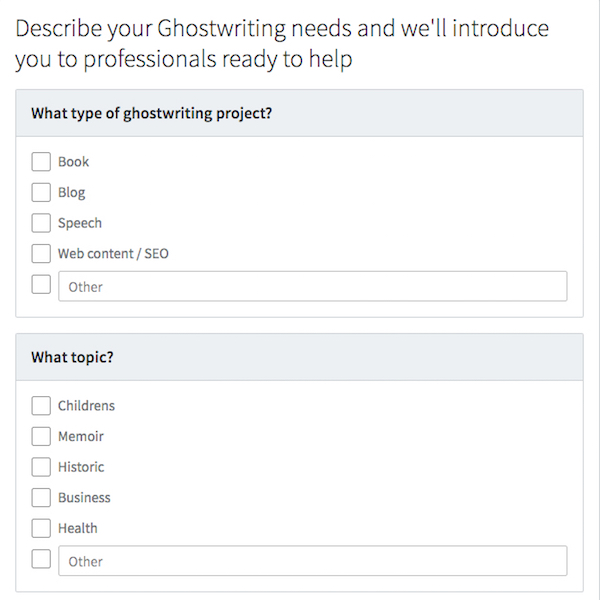 Now it's time to describe what you need. You'll see eight multiple-choice questions that lay out the scope of work (e.g., type of project, topic, length, deadline). Every answer includes an "Other" option.
After you submit your request, LinkedIn says you'll get up to five proposals based on your specifications.
Once you have those five proposals, you can check out their profiles (LinkedIn will give preference to people in your network or extended network). Then you can choose to hire whichever option looks best for you.
LinkedIn ProFinder For Freelancers
If you're a freelancer, you'll want to head to ProFinder Pros. The application process is pretty straightforward.
Select the freelance service you provide from one of the 14 main categories (Financial Services, Coaching, Accounting, Legal, Writing and Editing, Marketing, Design, Photography, Software Development, Business Consulting, Insurance, Home Improvement, and IT Services).
Next, you can select which skills within that broad service you provide. For example, if you select Marketing, you can select options like SEO Consulting, SEM Consulting, Social Media Marketing, Content Marketing, and many more.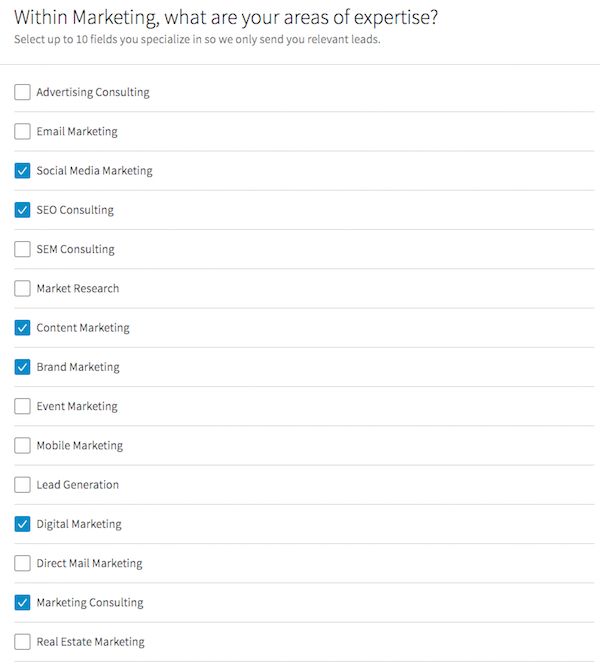 Finally, add a phone number and submit your application.
Once you're accepted to ProFinder, whenever LinkedIn finds a request that matches your skills, LinkedIn will send you an email. Whenever you see a request that you like, you can send a short proposal to them. Hopefully you'll get the job.
Have you tried LinkedIn ProFinder? What did you think?
All screenshots taken by author