Facebook has released its 2019 holiday marketing guide, which is full of insights heading into the busiest shopping season of the year.
Here are some of the top insights from Facebook's new guide:
As of last year, 43% of shoppers started shopping for the holidays in November or earlier.
By late November, nearly 1 in 10 shoppers had finished their holiday shopping.
50% of holiday shopping was complete by Monday, December 3 2018.
69% of people find stories on Facebook and Instagram to be a great way to discover and become familiar with new products or services.
62% of people become more interested in a brand or product after seeing it in stories.
65% of holiday shoppers report being more likely to shop with businesses they can instant message with.
75% of surveyed holiday shoppers say they care about customer service when making holiday shopping decisions.
Mobile holiday shopping has increased globally by 22% year-over-year.
The amount of mobile-first holiday shoppers grew by 25% from 2017 to 2018.
96% of US internet users said free shipping affects their purchase decisions.
47% of those surveyed say they used in-store pick up for holiday gifts in the US in 2018.
45% of Instagram users say the platform is influential for the holiday season.
Other Useful Resources
In addition to containing a variety of insights, Facebook's 2019 holiday marketing guide contains a marketing calendar template, as well as a month-by-month Facebook marketing strategy.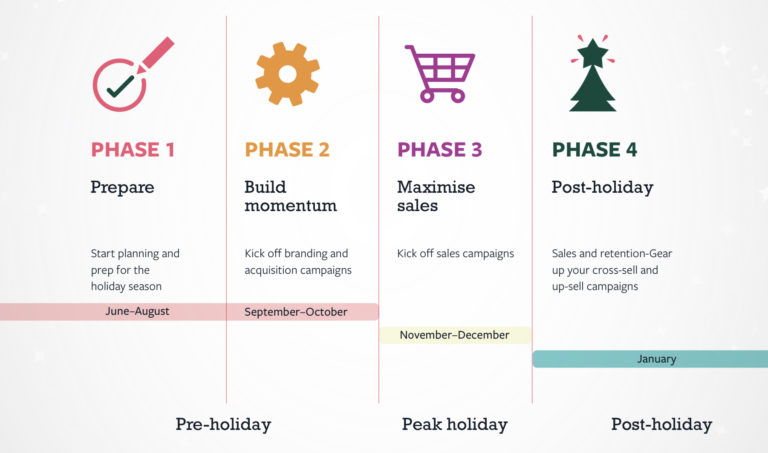 At 63-pages in length, Facebook's new guide goes into considerable detail and may prove to be quite useful for businesses with limited marketing resources.
For even more information, marketers can check out Facebook's new holiday marketing insights portal where you can filter data by country, year, and shopping behavior,