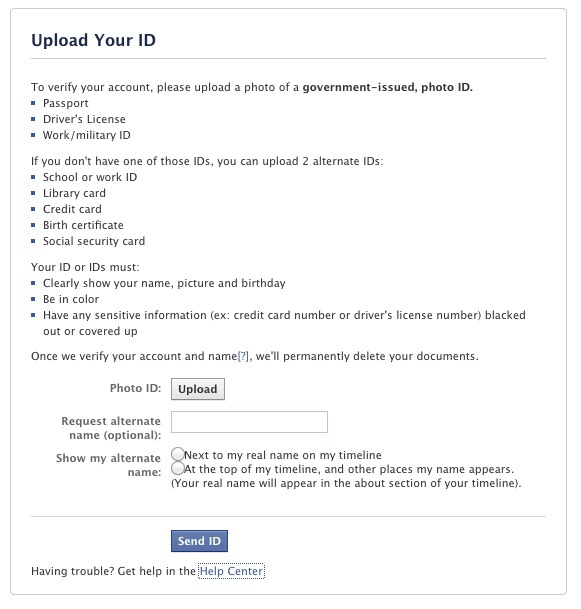 Facebook, which has been built on the premise of people using their birth names rather than pseudonyms, will soon allow prominent public figures and celebrities to use a nickname instead of their real name. In the past, Facebook has had a "real name policy" that has required users to only use their real birth names. Starting today, verified accounts will be allowed to use pseudonyms in lieu of real names.
For example, Marshall Bruce Mathers III will no longer have to use his birth name and can now use his stage name of Eminem on his Facebook profile. In addition, he could choose to have both his real name and his stage name displayed in the following format: Marshall Bruce Mathers III (Eminem) However, prior to using his stage name or changing the display preference, he would be required to verify his Facebook account.
To verify the Facebook account, a user is required to upload a scanned form of photo identification. The verification process requires either one government issued photo ID (passport, driver's license, or similar) or two other forms of photo ID (school or work ID). After Facebook has verified the account, the company will permanently delete the file containing the scanned images of the ID.
In addition to allowing the use of stage names, once the individual has completed the verification process, Facebook will be more likely to include the verified profile within Facebook's Subscribe suggestions. This feature will prevent Facebook users from accidentally subscribing to another person that has a similar name.
Unfortunately, Facebook has not indicated that they will provide a signal or badge indicating that the account has been verified. Since both Twitter and Google+ currently provide verified users a badge, it would be logical for Facebook to offer a similar feature for verified profiles in the near future.
[Sources Include: TechCrunch & ZDNet; Image by TechCrunch]