Facebook announced two entries into the social audio space with a live audio event streaming called Live Audio and also Podcasts that are rolling out. Both services are currently limited to the United States at this time.
Live Audio Rooms
Live Audio Rooms is way to host an audio event on Facebook, like a live radio show with an audience.
The feel of the Live Audio Room is like a live event attended by an audience with interactive elements included like hand raising and the ability to be invited to speak or ask questions at the live event.
The creators of the live events will be able to create Live Audio Rooms via an iOS app while the audience can participate in the event via Android or iOS devices.
Public Figures and Facebook Groups Will Be Able to Host Audio Rooms
At this time Facebook is rolling out the Live Audio Rooms for public figures who are invited to participate and "select" Facebook groups.
The host can invite people to the Live Audio Rooms and broadcast up to fifty speakers. There is no limit to the size of the listening audience.
Screenshot of a Live Audio Room Page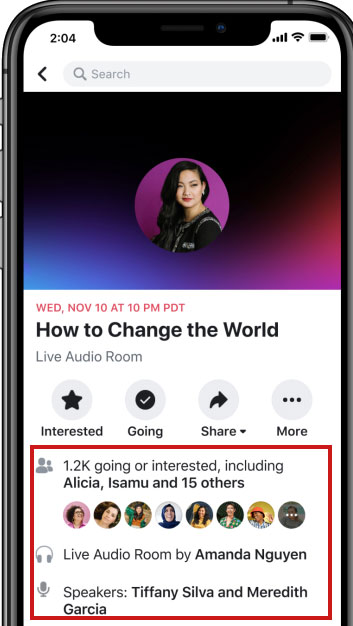 Facebook Group Live Audio Rooms
There are differences in privacy for the Facebook group Live Audio Rooms.
Live Audio Rooms for private Facebook Groups are restricted to the members of that group.
Public Facebook Live Audio Rooms are open to everyone, both group members and non-members.
Admins can assign the ability to create Live Audio Rooms to their moderators and group members.
Examples of Public Figures
Facebook gave a sneak peek at some of the public figures who are invited to create Live Audio Rooms.
These are examples of public figures who will be holding Live Audio Rooms:
TOKiMONSTA
Quarterback Russell Wilson
Activist Rosa Clemente
Internet personality Omareloff
Founder of Rise, Amanda Nguyen
D Smoke
Kehlani
Reggie Watts
Lisa Morales Duke
Dr. Jess
Bobby Berk
Tina Knowles-Lawson
Joe Budden
DeRay Mckesson
Fundraising Opportunity
Live Audio Rooms can be used to fundraise. This feature could make Live Audio Rooms a way to hold an event to build support for certain organizations.
According to the announcement:
"Live Audio Room hosts can also select a nonprofit or fundraiser to support during their conversation, and listeners and speakers can directly donate."
Interactive Audio Events
Live Audio Rooms will be interactive, which should contribute to the experience of being in a live event as opposed to a passive listener.
Members can "raise a hand" and be allowed to participate in the Live Audio Room as well as use "reactions" in real time.
Another way to interact with the audience is the ability for the audience to purchase "stars," which earn the creators one cent for every star given to them.
Those offering stars can be rewarded for their support by being promoted to a "front row."
Facebook explains it like this:
"Listeners can also offer support and show appreciation to the public figure host of the Live Audio Room by sending Stars, which bumps those listeners up to the "front row."

The "front row" is a special section that highlights people who sent Stars, so hosts can recognize supporters (and maybe even give them a shout out during the conversation!)."
Podcasts Come to Facebook
Facebook also unveiled podcasts for Facebook, with a small group of podcasts launching now and more podcasts promised to arrive in the coming weeks.
The podcasts can be found on the Facebook pages of the podcasters and in the Facebook news feed.
The announcement noted:
"To start, the initial slate of podcasts will include Joe Budden of The Joe Budden Podcast; "Jess Hilarious" of Carefully Reckless from The Black Effect Podcast Network and iHeartRadio; Keltie Knight, Becca Tobin, and Jac Vanek of the LadyGang; and Nicaila Matthews Okome of Side Hustle Pro."
Facebook Social Audio
Facebook continues to evolve into something greater than just a social network where people share stories and discuss their favorite topics. It is increasingly a place where people can become a part of an audience and share experiences in real time as well as a way for creators and public figures to reach a new audience.
Citation
Official Facebook Announcement
Live Audio Rooms and Podcasts on Facebook
Official Facebook Stars Explainer
About Facebook Stars