We've all been wondering about Facebook's capabilities; can it really collect as much data as Google? Is that data really MORE valuable than Google, since users on Facebook are browsing upon free will into interests and brands, rather than being subjected to sifting through SERPS for what they want? Enter the Facebook Microchip- in the making for the past year and about to be reveled at the next f8 conference.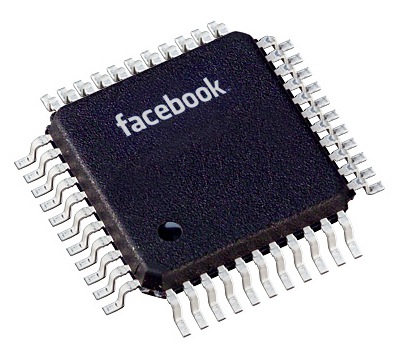 The Facebook Like and Facebook Places has been prototyped for quite some time now- making sure that people found this useful and even going so far as to say that the Facebook Like could increase a tie between Search and Social. Think about it: you're on Facebook. You start checking out your friend's pages. Finding what's relevant to you- clicking on brands and pages that you're interested in.
It's the perfect setup.
So where does the microchip come into play?
Facebook was recently threatened by WikiLeaks founder Julian Assange, who stated he would release these papers unless they went public with the details. Given this, Facebook decided to expose the public to this information; hoping they'll be receptive and participate as this unravels.
Researchers and scientists have been working some time in CERN (yes, it's not just for recreating the big bang) to build Facebook microchip prototypes- allowing the like button to roll out over the past two years and places over the past year- and for people to crawl and explore Facebook while putting together these magical little pieces of metal.
Users will now be able to purchase these 'microchips' for about $6,999 US dollars- all proceeds going directly to Facebook to fund their CIA program which was recently subject to cost cuts. There will be some discounts for seniors and those with medical conditions where they may have short term memory.
With these microchips, users will be able to utilize Facebook Like on both external sites and within Facebook, as well as check into places for discounts, and the microchip will automatically pick these signals up and store it for you- forming 'memories' that will be accessible by those who have microchip readers (yourself, and others).
What does this mean? Well, if you get arrested,, go into the services, become a public official, etc, you'll have to undergo a brain scan- where they'll pull in all the information from the chip (somewhat like a Facebook data-dump) and be able to recall anything you've liked and where you've been over the past few years. They'll most likely categorize you by a ratio of interests.
Is this a new way of Facebook profiling and/or marketing?
Possibly.
Users will have to willingly undergo these microchip surgeries to get them installed… to the furthest of my knowledge.