Facebook is making its ad metrics clearer by introducing new labels that show how they are calculated.
Estimated or In Development
Facebook is now labeling some metrics in Ads Manager as either 'estimated' and/or 'in development.' These labels can be found in a section within the Ads Manager reporting table called "tool tips."
Labels can also be displayed using the customize column selector for ads running across Facebook, Instagram, and Audience Network.
What Are Estimated Metrics?
Facebook explains that its estimated metrics can provide guidance in areas where the end result is difficult to quantify. Real-time data is often provided as an estimation based on sampling. Going forward, when sampling methods are used the metric will be labeled as "estimated."
Reach, for example, is calculated using sampling methods. Not just on Facebook, however, as reach for TV and other digital ads are estimations also.
What Are In Development Metrics?
Metrics marked as being in development are either new or still in testing. Facebook has to test its metrics before launching new ad products. Therefore, the way an 'in development' metric is calculated may change over time.
Then there will be some metrics that end up being both 'estimated' and 'in development,' as shown in the screenshot below.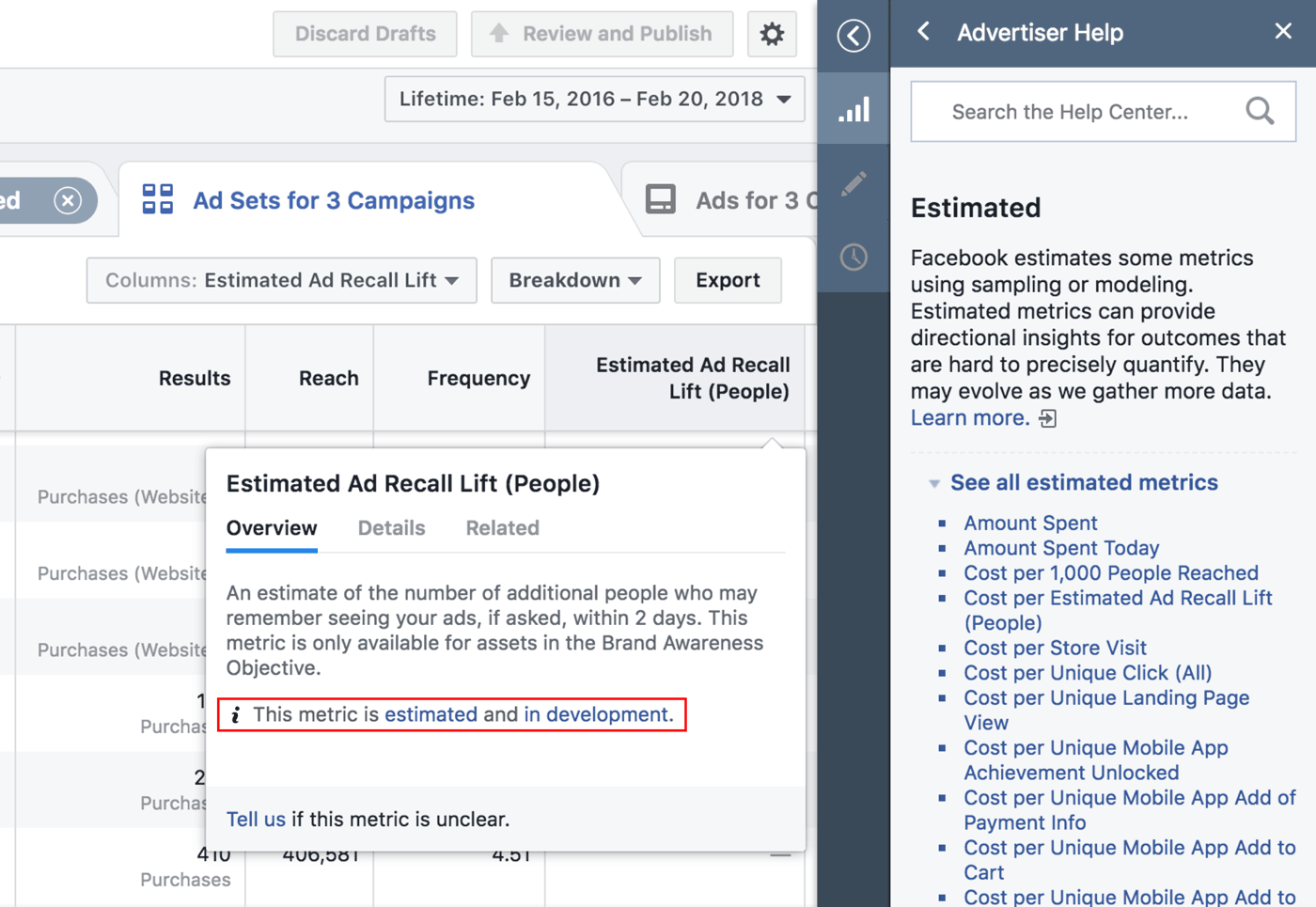 Removing Redundant Metrics
In July 2018, Facebook will remove around 20 ad metrics that are "redundant, outdated, not actionable or infrequently used."
As an example, Facebook will be removing the social reach metric because it is not different enough from the regular reach metric.
Facebook did not provide a complete list of metrics that will be removed, but I expect there will be more details as July approaches.