New Facebook update to their mobile app benefits small local businesses. The changes make it easier for potential customers to find and interact with local businesses in a move that poses an increasing challenge to Google Local.
Facebook is transitioning toward becoming a tool that is useful in a member's every day life. Facebook is going beyond being a place to share and read memes.
The effect of these changes is to make Facebook a serious challenger to Google Local.
Redesigned Mobile Pages
Facebook redesigned their mobile pages to make it easier for local businesses to interact with potential customers.
The new features allow the Facebook pages to function like an actual web page. Now users can book reservations and make appointements through the mobile Facebook page. Facebook has also made it easier to give users offers.
Facebook Actions
Facebook calls this functionality Actions.
Here is what Facebook says about the powerful Facebook Actions feature:
Actions: People will now be able to tap on a simplified and prominently featured suite of action buttons to do things like book an appointment for a haircut, order a pizza, send a message or write a Recommendation, all on mobile.
Recommendations Feature More Prominent
Facebook is making the recommendations feature more prominent. This will help local businesses cultivate recommendations between users.
Getting people to "like" a store's Facebook page has limited utility. Getting users to click the recommendation button will result in a Facebook post on that member's timeline. The recommend button results in a post that is shared among a user's friends and family.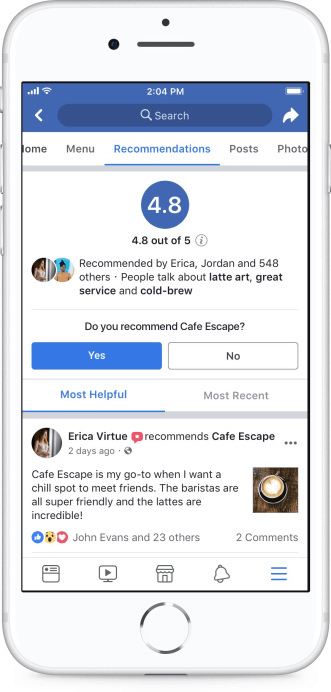 The recommendation is also displayed on the businesses page. Seeing friends and family recommending a business could be a powerful stimulus to trust a business. This seems to me to be one of the most powerful aspects of a Facebook Local Page.
Expansion of the Events Feature
The Facebook Events feature is a way to create an event and have it featured to relevant Facebook users. Facebook reports that businesses that sell tickets with the Events feature experience a dramatic increase in ticket sales.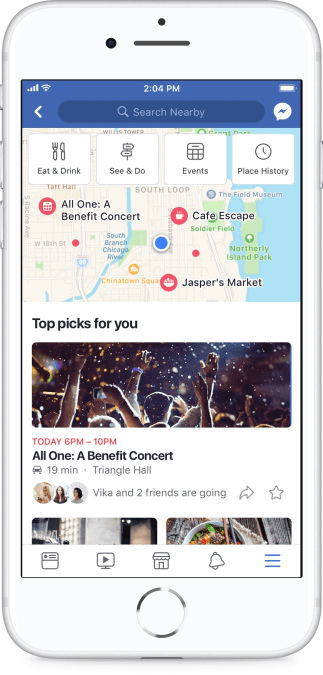 Friends who express interest in a local event will be seen by their friends and family. This feature is a great way to create a virtual word of mouth, without users actually doing anything other than indicating their interest in an event.
Job Application Tool Available Worldwide
Facebook is making their job application tool available worldwide. This tool will help users find jobs and makes Facebook more useful than a place to read memes.
Facebook Local
Facebook has added a new Local section to their Facebook App, to complement their standalone local app.
This will pull in more users from the Facebook app that are now able to discover local businesses and events through Facebook's mobile app.
This update to Facebook's mobile app is Facebook's most direct challenge to Google's Local search features. It could represent Google's most important competition. But more importantly, it represents another way savvy local businesses can leap ahead of competition.
Read Facebook's official announcement, Improving Pages, Events and Jobs to Help Local Businesses Grow
Images by Shutterstock, Modified by Author
Screenshots by Author