Facebook's new feed update has been reported as benefiting local news. But that's not entirely true. It's not just news sites that benefit. Any website, including a blog or local business can benefit if it meets certain criteria of publishing news that is local. Facebook itself used a local based blog as an example of a kind of site that can rank higher now.
Facebook's announcement stated that its algorithm will look at several signals when choosing what sites to show higher on Facebook's feed.
1. The domain can be local and a source of news
2. If you follow a page of a business that is local to you
3. Friends of those who share a local URL may see those stories higher in their news feeds
No Constraints on Which Kinds of Sites are Eligible
Facebook's announcement stated there are no constraints on what kinds of sites are eligible. The focus is on the site focusing on a specific locality and producing local news that people in the community are interested in.
There are no constraints on which publishers are eligible, which means large local publishers will benefit, as well as publishers that focus on niche topics like local sports, arts and human-interest stories.
How are Domains Chosen as Local?
According to Facebook, if your business attracts readers from a specific geographic area, and your site indicates you live in the same geographic area, then your domain will be considered local. Here is what Facebook's announcement states:
"To determine if a domain is local to you, we look at where its readers on Facebook come form. If you live in the same area as the majority of those people, it is considered local to you."
What Kinds of Sites Will Rank Higher?
Facebook's announcement makes it clear that this algorithm change will favor more than just local news websites. Facebook posted an infographic that highlights these kinds of websites:
Local News
Local Sports Websites
Neighborhood Blogs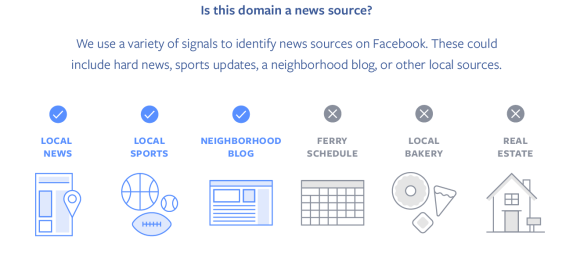 Facebook encourages publishers and businesses to visit its News Feed Publisher Guidelines. The guidelines suggest the following:
Your geographic location
Type of content (live videos being especially more engaging)
Engagement signals (likes, comments and shares)
Here is Facebook's official statement:
Focus on understanding the audiences you want to reach
When ranking News Feed… we look at many personal signals, such as how close someone is to the person or Page posting, stories they'd want to talk about and share among friends and family and videos they'd spend time watching. We also look at more universal signals like the overall engagement (likes, comments, shares) of the post.
Facebook's News Feed Guidelines also encourages publishers to use CrowdTangle.com to identify what topics are trending for local users in Facebook. Overall, this new feed update contains latent opportunities for local type businesses that care to engage their customers on Facebook.

Featured image by Shutterstock, modified by Author
Infographic by Facebook