According to Heather Hopkins at Hitwise, more people in the UK are interested in Facebook than MySpace which may lead to the toppling of MySpace and Bebo as the most popular social networks in the UK.
This week, Facebook continued to climb and so overtook MySpace. This means that the volume of UK searches for "facebook" were higher last week than for MySpace.
There were much more searches being performed in the UK for the term 'facebook' than 'myspace' last week, which is following a trend of booming Facebook popularity. This could also have to do with the news and rumors of Facebook being acquired by Google or Yahoo, but such rumors breed interest, and interest breeds action.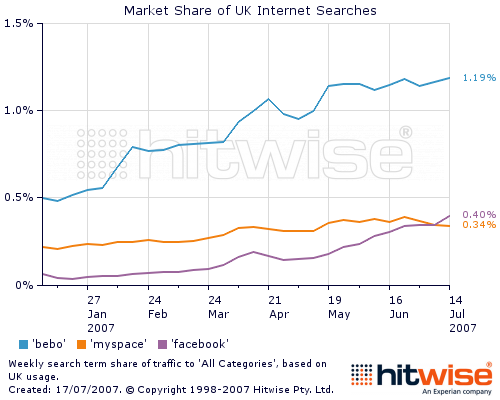 Fact of the matter is that people enjoy using Facebook which tends to have much less spam, ads, and annoying profiles than MySpace and professionals can actually use Facebook to connect with others, in a similar form that LinkedIn uses. The introduction of Facebook apps by third party services a couple of months ago doesn't hurt either.
Still, Hitwise reminds us that MySpace & Bebo are much more popular in the UK than Facebook.
Facebook continues to trail MySpace in visits. Last week, MySpace was 41% larger in share of UK internet visits than Facebook.

Facebook still has a way to go before it catches MySpace or Bebo. Last week, Bebo ranked #6 among All Categories of websites, MySpace ranked #8 and Facebook ranked #11.
Facebook currently serves its own textual advertising via the LookSmart adCenter interface, third party advertisers and ad networks. The company is yet to name a major contextual advertising partner in Google, MSN, Yahoo or Ask.com.