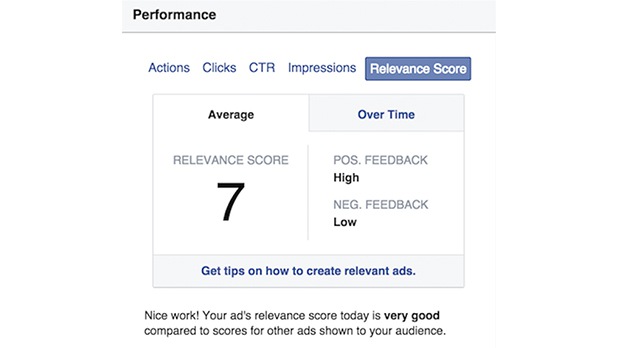 Facebook has taken the guesswork out of wondering whether or not that ad you're about to run is any good with the introduction of relevance scores.
Starting this week Facebook will be grading ads on a scale of 1 to 10 in its ad reporting tools. The score will be assigned according to the amount of positive and negative feedback Facebook predicts your ad will receive.
If it's predicted that people will frequently try to hide or report your ad, you will receive a lower score. If it's predicted people will interact positively with your ad, it will get a higher score.
Facebook explains that relevance scores are designed to deliver betters ads to users, but let's not forget the company is looking to keep marketers happy as well — more clicks = happy ad buyers.
Benefits For Marketers
Relevance scores will have the potential to lower the cost of reaching people, Facebook explains. "The higher an ad's relevance score is, the less it will cost to be delivered."
Facebook's ad delivery system will take relevance score into consideration when serving ads and view it as a positive signal. Relevance score will not outweigh bid amount, but overall the company says relevance score will help to deliver ads more efficiently.
Since relevance score is calculated before you run the campaign, you can experiment with images and ad copy and perhaps end up with something you wouldn't have considered otherwise. In addition, you can make educated adjustments while the campaign is live based how your relevance score changes over time.
To check your ads' scores, head to Ads Manager and add the relevance score tab to your ads report. Marketers worldwide will get access to relevance score at some point this week this week, it will be viewable on any of Facebook's ad reporting tools.