Well, it looks like Facebook is not only beating Google in terms of being the most visited site in the U.S. as well as for driving traffic to news and media sites, but Hitwise's follow up data is also showing that visitors from Facebook.com are more loyal to these sites. Meaning, they are not just one-click wonders but repeat visitors of the news and media sites as well, thanks to Facebook's traffic referral.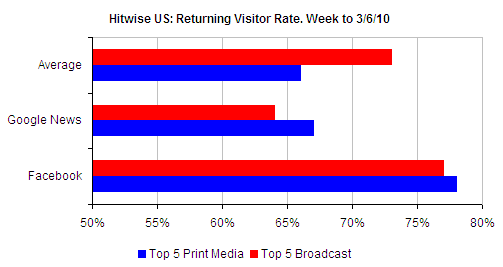 According to Hitwise's latest compiled data, from the week ending March 6, 2010 78% of Facebook.com users were returning visitors to Print Media websites.. Google News' returning visitors were only at around 67%. While for Broadcast Media, Facebook has a 77% returning rate while Google News only has 64% returning rate.
So what does these data mean and how relevant it is for social media marketing? It only goes to show the value of traffic driven by Facebook as compared to Google News. And returning values of potential customers are definitely very important for advertisers and retailers.
Take note, this comparison is for Google News and Facebook only, not including Google.com. Although Google.com may be the number 1 source of traffic for news and media sites, those traffic will not be yielding return visitors, according to Hitwise.