Facebook announced a new service for writers called Bulletin that will help them engage with, grow and monetize their audience. 100% of subscription revenues go to the creators. Bulletin is a standalone website on Bulletin.com.
What is Facebook Bulletin?
Bulletin is a set of tools for writers to use to publish a standalone website, process subscription payments and to leverage Facebook's social media to further engage with and grow their subscription and reader base.
The service is currently launching in the United States with a select group of writers like Malcolm Gladwell.
More features and tools will roll out during the coming year.
Screenshot from Official Bulletin.com Web Page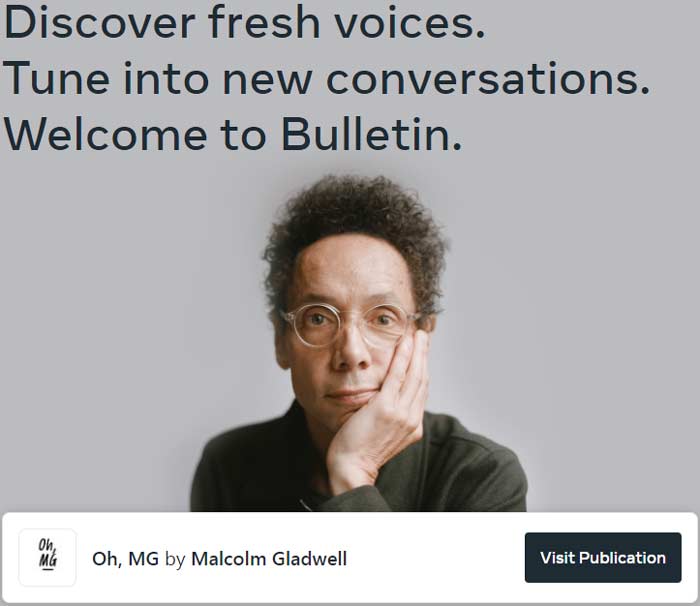 According to Facebook:
"Through Bulletin, we want to support these creators, and unify our existing tools with something that could more directly support great writing and audio content — from podcasts to Live Audio Rooms — all in one place.

We respect the work of writers and want to be clear that anyone who partners with us will have complete editorial independence."
Facebook Bulletin Tools
The new service features tools that support content creation, monetizing that content and audience and growing the audience.
The features include:
Publishing tools
Sustainable business models
Discovery and distribution
Community building features
Publishing Tools
Facebook Bulletin provides a CMS that makes it easy for publishers to create a fully customizable standalone website.
Screenshot of Two Facebook Bulletin Pages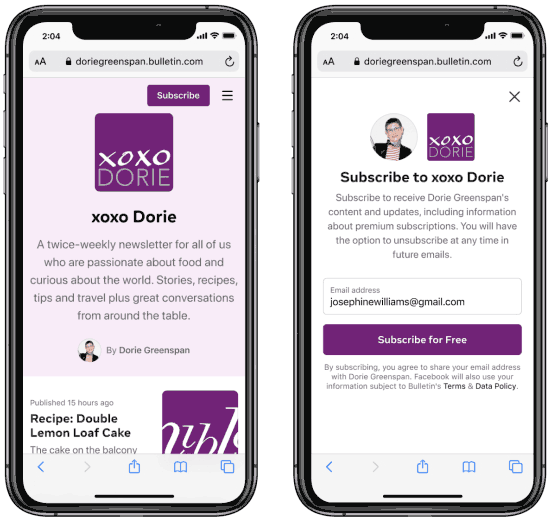 Sustainable Business Models
Bulletin offers writers 100% of earned revenue and portability of content and email lists, it will handle collecting subscriptions and includes analytics to help writers understand their audiences.
That means a writer can choose to move to another platform if they choose and to take their content and subscribers with them.
Facebook described their subscription payment system and offerings:
"Subscription payments will be securely handled by Facebook Pay, allowing subscribers to pay with a credit card, debit card or PayPal account.

Writers are able to offer a range of subscription-based features, including content, commenting abilities and Facebook groups accessible only by subscribers."
Screenshot of Subscription Popup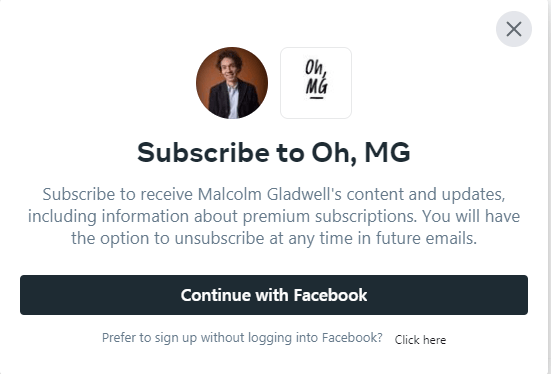 Discovery and Distribution
Bulletin will leverage the Facebook ecosystem to help build an audience by making it eligible to be seen in Facebook News. Bulletin will also integrate with Facebook pages.
Community Building Features
All currently available Facebook features such as groups, Facebook Live and Live Audio Rooms are available to the writers to leverage new monetization and engagement opportunities.
More Features and Tools Coming to Bulletin
Facebook announced that there will be more features becoming available.
"Throughout this year, we'll roll out new investments, products and services aimed to support more independent writers and experts.

We're working on more ways for writers to promote their work across other platforms outside of Facebook and to make it easier for them to collaborate with other creators."
Facebook Bulletin continues with other Facebook tools that support creators. Rather than rely on third party content outside of Facebook, Facebook is creating an ecosystem that generates content that is native and exclusive to Facebook.
Malcolm Gladwell's Bulletin is called, Oh, MG.
He explains that Bulletin will give him the opportunity to express himself in a less formal manner and to engage directly with this readers.
He wrote:
"For some time, now, I've been looking for a place to be a little more, well, Malcolmy. Digress. Hold forth. Rant. Expand on some things that I've been thinking about, or writing about, or that I'm airing on my podcast…

And also, to answer your questions.

So that's why I'm here, on Facebook, with Oh, MG. Think of it as the direct download from my brain to yours."
Facebook Bulletin continues Facebook's trend of evolving itself toward becoming a source for discovering unique content.
Citations
Official Facebook announcement
Introducing Bulletin, A Platform for Independent Writers
Malcolm Gladwell's Announcement
Why Am I Starting a Newsletter?
Bulletin Home Page
Bulletin.com