Facebook is introducing the ability to order food with its mobile app for users in the US.
Food can be ordered for either takeout or delivery from local establishments without having to leave the Facebook app.
"People already go to Facebook to figure out what to eat by reading about nearby restaurants, and seeing what their friends say about them. So, we're making it even easier."
In order to facilitate food orders through its mobile app, Facebook is utilizing the services of third parties such as EatStreet, Delivery.com, DoorDash, ChowNow, Zuppler, Slice and Olo.
Facebook is also using the food ordering services offered by popular chains such as Jack in the Box, Five Guys, Papa John's, Wingstop, TGI Friday's, Denny's, El Pollo Loco, Chipotle, Jimmy John's, and Panera.
With the ability to both discover new restaurants, and read what people have to say about them, Facebook is an ideal platform for placing food orders.
Not sure where to start? Navigate to the 'Explore' menu and visit the 'Order Food' section. Here you will be able to browse nearby restaurants and easily place an order by tapping on the 'Start Order' button.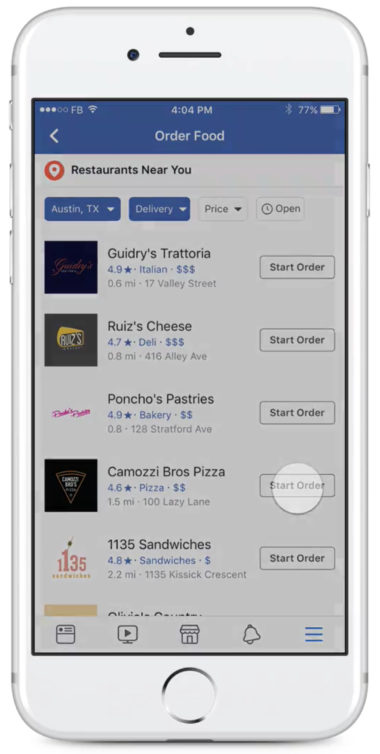 In addition to having a Facebook account, users will also need to have an account with other food ordering services.
Facebook gives users the flexibility to select their ordering service of choice. So if you already have an account with EatStreet, you can place an order with your existing login information.
After a year of testing, food ordering via the iOS or Android app is how available to all Facebook users in the US.