Over the last year I have seen a big shift upwards in the average Facebook CPC bid price but almost as fast as they have increased Facebook have also improved their analytics and advertising platform to make it a more attractive platform to use for marketers. Facebook Ads have a unique product because of the captive audience but also due to the simplicity of their advertising products and consistency among it's ads. The first key point is that if you haven't started testing and experimenting with Facebook Ads you are missing out!
Why Use Facebook Ads?
I have found an interesting insight into marketers and businesses who have been traditionally fighting the idea of running on Facebook as they don't see it offering the same traffic and impact that Google AdWords does. The interesting aspect that this same argument was once used when business was avoiding spending their marketing budgets on Google AdWords which is a traffic source that many can now not live without. So while business has moved forward in accepting AdWords works for them it still appears there is the same uneducated fear about taking a small risk about trialling Facebook Ads to test if it will work well for your industry or brand. The biggest point I see around Facebook is that it's far more targeted that AdWords, far cheaper and with an audience close to 700 million users you will certainly find your perfect target market no matter what your industry.
Another sign you should be getting in quick on Facebook Ads is if your competitors are not currently doing it, as you have a good opportunity to take the lead and become the dominate player and move so far ahead they will never be able to catch you anytime soon without a bidding war that might push up the average CPC rates. Obviously there are some industries that are less attractive to gain fans or that are more expensive to target but I have found that there is a niche for every possible product and service no matter the limited geographic region or audience. There are a number of obvious benefits to Facebook Ads such as demographic and psycho-graphic targeting that is not possible on any other platform at such a lower price or with a bigger audience and you need to be getting inside your consumers heads on how to reach them.
Do you Drive Fans or Website Visitors?
The secondary issue with driving Facebook traffic off Facebook is that you lose the ability to tie that visitor back to their conversion metrics which helps you refine and continuously improve your campaign ROI. Also it seems on some campaigns that you can often be charged a slightly higher average CPC when driving visitors away from Facebook so it's worthwhile using a Facebook page if you wish to accurately track your campaign and keep costs down. I've done some testing recently and found there was a noticeable difference early in the campaign which you can see below but towards the end of the campaign the difference was less noticeable.
Sample Data (small data set not conclusive)
Fan page $0.17 average cpc
Offsite $0.23 average cpc

Sample Data (All campaigns 6 months)
All campaigns $0.50 average cpc
Female Audience $0.53 average cpc
Male Audience $0.60 average cpc
I understand the balance but giving up the data around what ads drive conversions makes it more appealing to not to drive traffic away from the Facebook platform and keep the visitors within their network and people are more likely to become a fan and engage with you page if they don't have to leave the Facebook platform.
Facebook's Shifting Quality Score
The other point about Facebook ads is they appear to have a similar Quality Score metric that constantly shifts during your campaign. Facebook's Quality score metrics might actually be more accurate than AdWords because of the multiple data points that it can measure your Ads performance on including:
Ad message
Target audience
Campaign Reach
Frequency
Social Reach
Connections gained
Clicks attracted
Click thru Rate
Maximum Bid
An interesting quirk I noticed is that with Facebook the pre-campaign estimates the cpc rates on targeting females is typically far higher than males, but actually it appears they are slightly cheaper on the actual average CPC once the campaign goes live.
Facebook Targeting by Interests
Facebook is continuing to refine its targeting platform and now lists "precise interests" as a targeting option where you can target terms you include on your Facebook profile that can include their interests, activities, education, job titles or pages/groups they belong to. There is always change going on and recently the update has combined a number of fields into a single "interests" which takes away some of the more fine tuned targeting that was possible but also allows Facebook to reduce the creepiness of how targeted ads were in the past.
Facebook Targeting by Broad Categories
There is a new option that allows for broad category targeting but it's slow to use and there is no option to select multiple categories or categories. The benefit is that you can target multiple preset groups of people who share a similar interest such as "Gaming (Console)" or "Pop culture". Some of the improvements are the groups are fairly advanced such as "Family status" where you can select parents by age of their kids, baby boomers or newlyweds but also creative categories such as those who have having a birthday within the next week.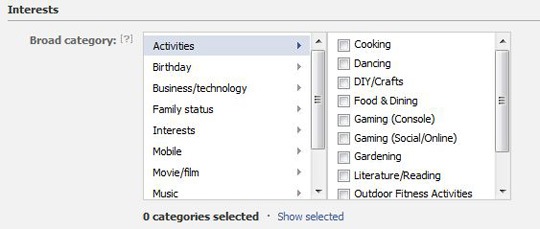 Expanded Facebook Ads
One of the newer features that Facebook is progressively rolling out is a paid distribution platform that allows you to run sponsored stories about your Page, Place or Application. Typically I have found that you need a decent existing audience as you move down the list below you get a smaller possible estimated reach for your ads.
There are 3 sponsored story types that you can run with:
Page like story – great for highlighting they like among their friends
Page post story – great for highlighting your posts among fans
Page post like story – great for highlighting your posts among their friends
Not all of these sponsored story types are suitable for every type of campaign and it does appear that making some these campaigns a bit broader gives you a suitable enough estimated audience to target.
Facebook Power Editor
Facebook bulk upload tool has been replaced with an enhanced platform as a Chrome App so is not available at this stage to IE or Firefox users. The new power editor is the biggest step forward to make Facebook a scalable platform even without a bid management platform as it offers direct cut and paste between the Ad platform and excel. This is also interesting choice by Facebook as they have shown Chrome maybe a decent platform for future web apps.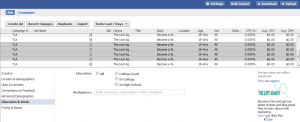 (Click to enlarge)
The Power Editor also is very similar to AdWords Editor and Facebook has just rolled out a Groups functionality which is similar to AdWords MCC which brings Facebook Ads that much closer to being a truly scalable advertising platform but also offers marketers a more manageable alternative to AdWords campaigns. You can now edit and manage a whole number of client campaigns from within the one platform once they have allowed you access to their account.
How to use Facebook Power Editor
Step 1 – Download all, selected accounts or by account ID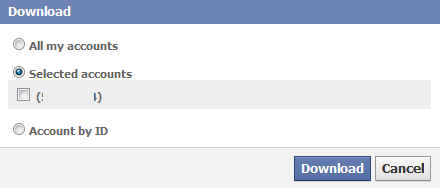 Step 2 – View Ads dashboard
Step 3 – Select Facebook Ad columns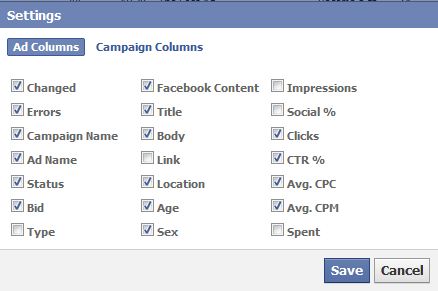 Now Refine your Facebook Ads with Editor
Using new features like Facebook Power Editor you can within minutes take a large broad campaign cut and paste it into Excel and split it down into individual likes/interests groups. This allows for better control and reporting but also more relevant ad messages can be run on a "keyword" level.
You do have to be very careful not to make your targeting too narrow and your audience reach too low otherwise Facebook will disapprove your Ads. Once you are finished you bulk import the edited ads in Unicode text format into the Power Editor or just paste the data into the import box. Just a note I did have some issues getting the bulk import feature working as it should.
Do Facebook Ads Really Work?
I have been progressively updating old campaigns and have found that using a combination of the new Facebook ad features and the Power Editor I was able to easily exceed a 72% conversion rate on my campaign to build my audience on for my Tour Bus site. But early in the campaign there was a massive difference in results between direct to the website who later became fans and those who were sent to the Facebook page and then became a fan.
I usually find the best results are when I send visitors direct to the Facebook Fan page but they then also usually click onto a post and visit the website giving you a double benefit. The other point is that look at my Google Analytics data for that site my Facebook users typically are viewing at 5 times as many pages as Google Organic visitors which shows that if you target the right audience via Facebook Ads they will find value in your content and but a portion will also engage with your Facebook page.