SEM tools is a great FireFox addon that I recently discovered and was quite impressed by (note that I review new tools quite often, so that is not easy to surprise me).
While the tool has quite a large selection of free search marketing tools, the one I actually liked most of all was its URL extracting tool and let me share why I liked it so much.
URL Extractor
Besides basically checking a list of URLs for errors, this section has another really cool tool that I just loved: the link extractor. With it you will be able to do the following:
Get a list of URLs and their link text from the current page.
Copy all / the selected rows to clipboard.
[The best one] Get links for the specified part (!) of the page.
This last point is actually my favorite one: this option allows to filter the list of on-page links by their position on the page. For example: all links in the bottom, top, post, etc (think about extracting only in-content links, links in the navbar, etc).
So once you are on any page, go to the "URL tools" menus and select "Get Links" there. You will be taken to a new tab where you will be able to see the list of all page links together with their anchor texts. Besides, you can see the list of available "items" to the left of the link list. An item is actually a separate part of the page (e.g. top, content part, navbar, etc):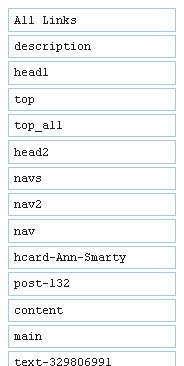 Click on any item and see the list of links located in that part (Multiple items can be selected by holding control down as you click.):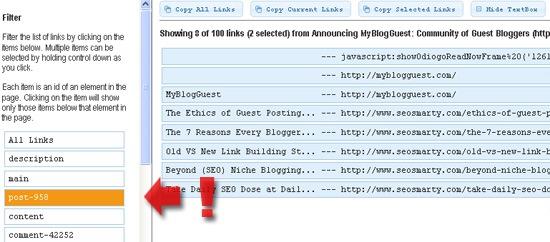 Doesn't it look like quite a unique (and useful) link checking tool?
OK, while we are here, let me share a few more free tools I discovered while playing with the addon:
More SEM Tools
Search Tools:
The section offers the following cool options:
Open multiple searches in one tab or one page.
Define your own custom searches
Set different language and locations on Google searches (!).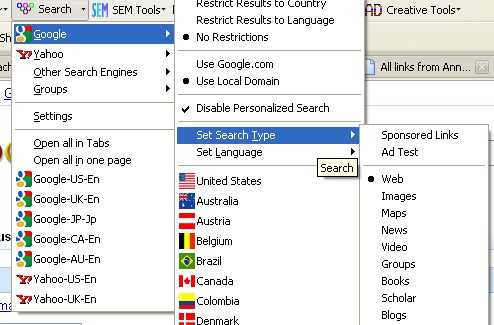 Keyword Tools:
The section has a few basic but useful keyword tools (as well as provide quick access to other more advanced tools).
From here you'll be able to:
Join words into phrases;
Replace any part of the phrase with any word or symbol;
Group keywords by any match: