Personalized search has been a major annoyance to search marketers who have hard time finding out which of search results are ranked only "for them" and which ones are seen by other searchers as well.
There are few options available to Google like a Ghost and recently I have come across another interesting alternative that may come in handy for search marketers who love to experiment.
Google Sharing is a FireFox addon that positions itself as the personal privacy protector. It has an interesting algorithm: the tool consists of a custom proxy and a Firefox Addon:
The proxy works by generating a pool of GoogleSharing "identities," each of which contains a cookie issued by Google and an arbitrary User-Agent for one of several popular browsers.
The Firefox Addon watches for requests to Google services from your browser, and when enabled will transparently redirect all of them (except for things like Gmail) to a GoogleSharing proxy.
There your request is stripped of all identifying information and replaced with the information from a GoogleSharing identity.
This "GoogleShared" request is then forwarded on to Google, and the response is proxied back to you.
Your next request will get a different identity, and the one you were using before will be assigned to someone else.
By "sharing" these identities, all of our traffic gets mixed together and is very difficult to analyze.
I don't have the addon installed on my major FireFox profile (the feeling that my information is sent to anyone else but Google keeps bugging me) but I do have it on my other profile for experimental purposes (if you don't know how and why to have several FireFox profiles, read this old post of mine "FireFox for SEOs" – I have about 4 active FireFox profiles for various purposes, one of which is experimenting with Google SERPs using this cool addon).
After you install the plugin, you will see its current status in the FireFox status bar -you can also disable and enable it with one click of a mouse: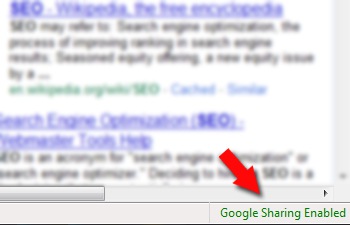 To add, edit, remove proxy servers, navigate Tools -> Addons, find GoogleSharing on the list and click "Options":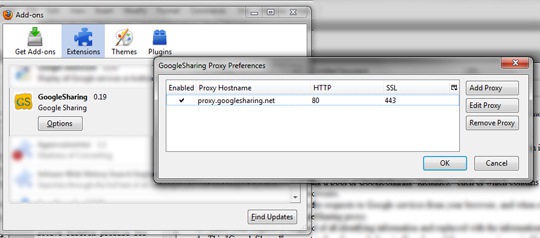 More related reading you need to go through before trying the addon:
What are your thoughts?