I attend a lot of conferences and networking events, and when I introduce myself to fellow attendees, the topic inevitably turns to what I do for a living. When they find out that I sell websites for a living, they are quick to tell me theirs is not for sale.
This is despite the fact that I haven't even mentioned the possibility of them selling their online business. But the look of nervousness on their faces tells me they are scared I will trap them with a sales pitch.
Of course, I wouldn't do that. Deciding to sell a business—online or otherwise—is a personal decision that I wouldn't get involved in. As someone who is an advisor on selling online businesses, I recognize and respect the hard work needed to build up such a strong asset, and I am honored to be trusted to sell that asset for the owner if that is what they decide to do.
I have to say though that I am shocked at the number of entrepreneurs who don't have any kind of exit strategy for their business. They seem to operate on the assumption that exiting the business is far off on the horizon, and they'll deal with it if and when the day arrives.
This is a mistake, and that mistake causes these business owners to miss out on the significant benefits. Exit strategies benefit your business in two primary ways:
They help build strong, viable, and great businesses to own
They provide you with much-needed flexibility.
Exit Strategies Build Strong Businesses for the Present
When I advise entrepreneurs they should have an exit strategy, their automatic response is that the business is not for sale. But having an exit strategy is about more than just a tool for someone to buy your business. It can also help you build a valuable business.
Think for a moment what makes a business valuable from the perspective of a potential buyer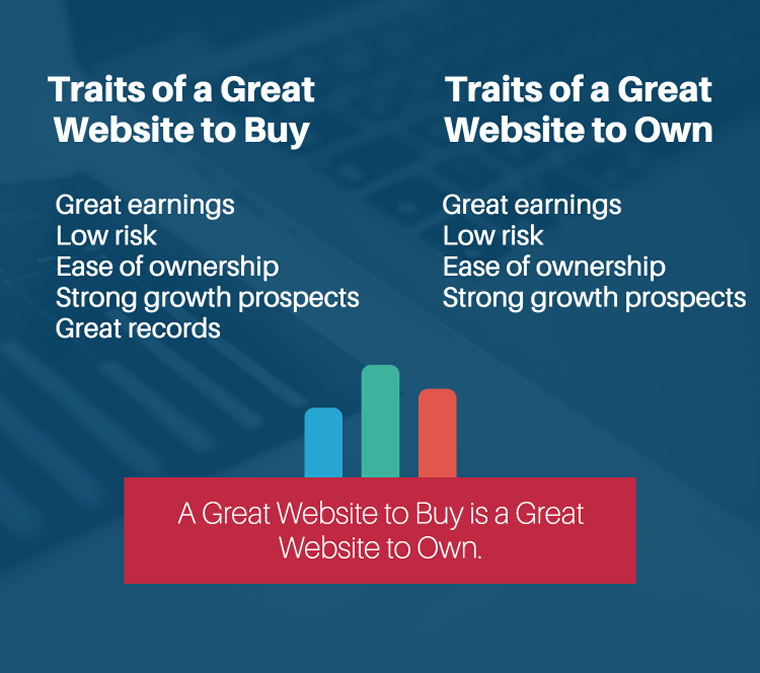 If a business is a great acquisition target, it is also usually a great business to own.
This provides you with a great litmus test for making strategic decisions. As you grow your business, you'll be faced with several difficult decisions. Focus your options on those which will make your business more valuable. By doing so, you'll find a clear path to growing your company.
Exit Strategies Provide Flexibility
A few years ago I was contacted by a potential client named Scott. Scott owned a nice, small e-commerce business that sold sports gear direct to customers, but also to schools and municipalities. The website was well-built, the business was easy to run, and it had several years of growth.
But like many entrepreneurs, Scott wasn't content with a 'nice' business. Confident after his first success, he set his eyes on a bigger product and a bigger prize. His new venture attracted the attention of private investors who made financial commitments to Scott on one condition – he needed to make a personal investment in the new business. Since he didn't have the required funds readily available, he needed a loan from the bank, and the bank would only agree if Scott sold his e-commerce business (it was admittedly a bit more complex than that, but I've simplified it for the sake of this article).
Fortunately for him, the business had an exit strategy which allowed Scott flexibility. After a few months, his business was sold, the promised investor funds were received, and the bank approved the loan.
Like Scott, most entrepreneurs don't plan on selling their internet businesses until a need actually arises. But Scott is the exception in that he had an exit plan which was all ready to go. Everyone else seems to be woefully unprepared.
We see this at Quiet Light Brokerage. Over the past year, we've recommended to roughly half of our prospective clients that they should wait anywhere from 6-18 months before selling. This will enable them to increase the value of the business and thereby increase the chances of a sale.
The reasons for selling an online business are varied. Some of the most common reasons that we see are:
Burnout
A new opportunity
Significant life changes (sickness, marriage, moving)
Partnership dispute
Business decline
Opportunistic sale
For most of these reasons, there is some level of time sensitivity. But if you had asked the owners a year or two before they decided to sell their business, most would have told you that they had no interest in selling.
How to Develop an Exit Strategy
Developing an exit strategy for your business is a complex topic. It should ideally be customized to your individual business and should involve an exit strategy specialist.
That said, you can develop a fairly strong exit strategy for your business by focusing on four main principles:
Risk Mitigation: identify areas of possible or perceived risk or threats, and develop plans to mitigate those risks.
Growth Prospects: identify, test, and verify natural areas of new growth for your business. Potential buyers will want to know that they can grow the business when they take it over.
Transferability: remove any key man risks to buying your business, and make sure the key elements of your business (such as vendor relationships) are transferable to the new owner(s).
Verifiability: a surprisingly high number of business owners lack easy verifiability of financial records, key reports, vendors, and customer relationships. Focus on keeping your records, clean, separated, and detailed.
These four principles, while falling short of a full exit strategy, will have a strong impact on the value of your business as well as its saleability. You'll subsequently be left with a powerful and great business to own.
Have you considered your exit strategy? Why or why not?
Image Credits
Featured Image: Image by Paulo Bobita
In-post Photo: Image by Mark Daoust