Google recently announced that in response to a new French law they are removing snippets and images from news sites from displaying in French search results. Showing images and text snippets will be opt-in.
Google's support page for this change says:
"…in the wake of new copyright law in France, Google will change the way it presents search results for European press publications to people in that country.

Specifically, Google will no longer present snippets and thumbnail images in France for these publications unless publishers displaying content in France have specified how much of this content they want to show in search results."
European Sites are Affected by French Law
This change affects European journalistic sites that are included in Google News. All sites not currently displayed in Google News are exempt (at this time) and will continue to display text and image snippets.
According to Google, this change affects more than just French news sites, it affects all European news sites. Publishers can take action on their European Press Publication Status by checking the "European Press Publication Status" section of their Google Search Console (visit European Press Publication Status section here).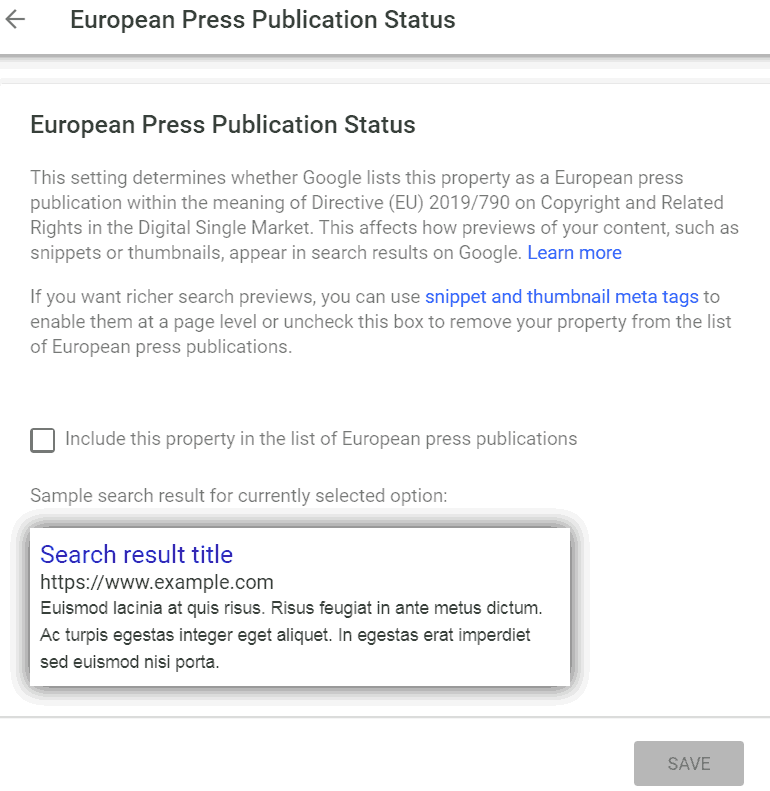 The article lists a link to Google's recently revised meta tag developers page that includes new max-snippets tags that can control whether snippets are shown in the search results. It also instructs how to tell Google how much content from a web page is displayed in the form of image and text snippets.
The Real Reason for Customizable Search Snippets?
The French Law may be the reason Google introduced customizable search snippets. This feature was not something publishers were asking for. So it may be that this French law is the reason why Google created customizable search snippets.
According to a report by Matt Southern about Google's customizable snippet attributes:
"Using the new markup, site owners can customize various search snippet attributes. Attributes could include the maximum length of a snippet, the length of video previews, and the size of thumbnail images."
Read Google SearchLiaison's tweet announcement here.
Read Official Google help center page here:
European Press Publisher FAQ