Okay, so maybe that's a little extreme – a murderer is likely either sitting in prison, or doing everything in his or her power to avoid being found. So, in a world where virtually everything can be found online, and once something's posted it never really goes away, people rely on online reputation management (ORM) to help change what people see. In many cases, this presents quite an ethical dilemma.
Content – More Than SEO
We've known for a long time that our websites need to have content written for readers first and search engines second. But, since ORM is designed to generate positive results in the top of the search engines to push the negative ones down so they're less likely to be seen – there's a point where you have to decide if the money for the writing or SEO gig is worth helping a person or business attempt to undo some damage.
A while back, I received an order from a client I'd been working with for years. In my eight years of working as a freelance writer, I'd never turned down a job for ethical reasons—until then. I was asked to write an article about a man, showcasing his talents and accomplishments. The first thing I did was search for the man, because I needed to know more about said talents and accomplishments.
Once I discovered he had charges pending related to indecent acts with minors, I knew I wasn't the right person for the job. At the risk of losing a client who'd provided enough work to pay all of my bills, I declined the assignment and told him why. I held my breath for a few minutes while awaiting his reply, and started looking for more clients. Thankfully, he supported me. He went back to his client and declined the order.
Every job a business takes could be tied to ethics, and some are easier to accept or decline than others. Here's what I do.
Evaluate on a Case-by-Case Basis
When a job comes my way, I ask myself:
Who is the company and what is the purpose of the job?
Would my completion of this job help the company succeed in a manner that harms others?
Do they want content to suppress negative search results? Do they want them removed? Do they want to defend the search results? Or, do they simply want review management to improve their profiles?
It's important to recognize that businesses and people do make mistakes. Sometimes these mistakes are amplified, and do way more damage than they should. That's where ORM is helpful.
But, some businesses simply succeed through hurting their employees or customers. When it comes out into the open, as it did with Amy's Baking Company on Kitchen Nightmares, some damage control can be done, but not always enough to keep the company afloat.
The business was able to recover slightly after their TV episode aired and they engaged in massive social media warfare, then claimed accounts were hacked. But, eventually, they closed their restaurant and now operate a wholesale baking business with the same name.
Does Personal Bias Get in the Way?
For me, in the case of the job I declined, yes. But, when you consider I've also been pitched to build foot fetish websites (not something I'm into, but I won't judge) and didn't decline for moral reasons, I don't always allow how I feel about a particular topic to dictate the jobs I take.
So is ORM ethical? When done correctly, yes it is. What is the difference between normal optimization techniques and search suppression techniques? Not much. Building links to positive and neutral content, as well as responding to user reviews and high authority content are still part of the suppression mix; just as they are with SEO itself. The techniques do not change, the client does.
And so ethics in ORM should take on a different perspective. Questions about the client, and its operation, should take center stage—not the process of ORM itself. How do you determine that? I found this great post from ReputationX.com discussing their internal processes for determining ethics in reputation management.
I like their take on it and, even better, that they have published this internal process for all their potential clients to see. This is something that many ORM clients themselves need to adopt, as you'll see in the case below.
It's Not What – It's How
In the case of online review websites, there's a big difference between taking time to acknowledge and reply to negative comments and simply deleting the negative reviews. A business always has the right to come back and comment to resolve or dispute the review, but actually getting them deleted is not easy. Why? Because the review platforms want their audience to know they can be trusted—and removing any negative content isn't trustworthy. No one can reasonably expect any business to keep 100% of their customers happy 100% of the time.
So, if a business is being hurt by negative reviews and wants help managing them, that's okay. Simply encourage the business owner to reply to the comments with an apology for their experience and an invitation to connect via email to take it to a private forum.
Take a look at how Brambleberry, a soap-making supply company, does it: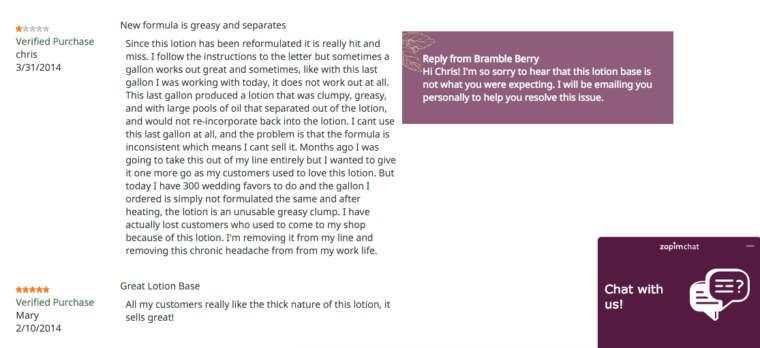 This way, even when prospective customers see negative comments, they also see a responsive business working to right the wrong.
On the other hand, if you're crafting positive content with a partial basis in truth in an attempt to hide serious wrongdoing from the first page of search results, you're behaving unethically. That's exactly what my client was asking me to do, because it was what his client was asking him to do. And that's why I didn't do it.
What about you? How do you feel about ethics in ORM? Have you ever declined an SEO job or writing gig for ethical reasons because you knew it factored into a reputation issue?
Image Credits
Featured Image: Ivelin Radkov/Shutterstock.com
Screenshot by Lucinda Watrous. Taken April 2016.