It has been hard to not hear about or talk about GA4 over the past year.
It has been one of Google's most talked about updates within the SEO community and much more broadly – despite not being directly tied to SEO strategy or tactics.
Google Analytics has been the popular platform for monitoring, measuring, and understanding engagement with our websites. While reports, types of data ("not provided" anyone?), and specific features have changed over the years, usage of the platform hasn't waned.
Now that Google Analytics' Universal Analytics has reached the end of its lifetime, It's time to get familiar with GA4.
Whether you migrated months ago, were auto-migrated by Google, or are getting started from scratch, I want to share five essential reports that you need to know to measure your SEO campaigns and efforts.
Traffic Acquisition Report
Let's start with what I would consider to be the most important and relevant report, Traffic Acquisition. The report is meant to help site owners understand where visitors are coming from before landing on the site.
So why would this be important for SEO purposes?
The traffic acquisition report allows you to measure how your SEO campaigns stack up against other channels and within integrated marketing efforts as a whole.
How many visitors come from organic search compared to search? How engaged are organic visitors compared to those coming from email? There are so many comparisons and details to dig into here.
This is one of the first and most important data sources for connecting many of the dots between natural and intentional influences you have over getting audiences to your website content.
By default, GA4 utilizes a data-driven attribution model, which incorporates an algorithm to determine how to give credit to different channels throughout a user's journey.
While data-driven attribution could be used in Universal Analytics, it is much more expansive in GA4, taking into account more than 50 different touch points for accurate attribution.
The metrics that can be viewed in the Traffic Acquisition Report include:
Average engagement.
Conversions.
Engaged sessions.
Engaged sessions per user.
Engagement rate.
Event count.
Events per sessions.
Sessions.
Total revenue.
Users.
Conversion Reports
Conversion reports are important to SEOs for their ability to track the events that led a visitor to a conversion made on the website.
The report will indicate what triggered a conversion by registering conversions based on their event name and how you assigned credit to the conversion based on your attribution model.
The default report includes conversions, total revenue, and total users metrics.
Setting up conversions in GA4 is different than it was in Universal Analytics.
In UA, goals were used to indicate conversions, while GA4 utilizes events. At setup, GA4 has a number of existing events that can be marked as conversions based on your marketing goals.
Existing events include:
clicks.
first_visit.
page_view.
scroll.
session_start.
submit_form.
view_search_results.
In most cases, you will want to configure your own events to track conversions that align better with your conversion funnel.
For websites focused on generating leads, form submissions will typically be the primary conversions. While GA4 will track submit_form actions natively, it likely won't provide enough data to be as valuable as you need.
For instance, a newsletter submission lead may be at a different part of the funnel or be a secondary goal versus a contact form submission. We recommend creating a custom event tag using Google Tag Manager.
As mentioned in the Traffic Acquisition Report section, GA4 uses a data-driven attribution model so that conversions can be more accurately attributed to the proper channel as visitors engage with the site through various touch points.
Google Search Console Reports
Google Search Console is one of the most important sources of performance data and information for SEO pros and, just like with Universal Analytics, users can integrate GSC with GA4.
Similar to UA, there are two reports in GA4 associated with Search Console:
Google Organic Search Queries: This report lets you see GSC metrics by search query.
Google Organic Search Traffic: This report shows landing pages with both Search Console and Analytics metrics.
The Search Console reports are unpublished by default. In order to view the reports, you will need to add a new Search Console link property through the admin settings.
Under the properties section, find the "Search Console Link" button.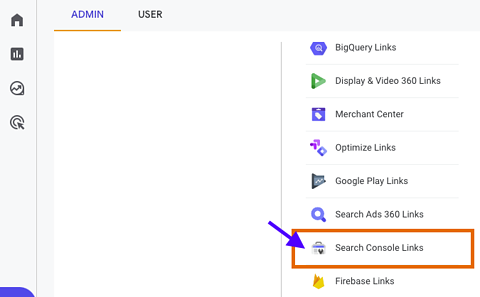 While the reports in GA4 won't be able to completely replace the level of organic reporting found in GSC, there is value in having the data on one platform.
The biggest value is that site owners can see how organic visitors engage with the site as it pertains to specific landing pages.
What is the value of the data provided by the Google Organic Search Traffic Report for landing pages compared to the insights offered by the more broadly named Landing Page Report (which I'll detail in the next section)?
The Google Search Console Report offers a comprehensive understanding of landing pages and your website's visibility in Google's search results.
It provides detailed metrics such as impressions, clicks, click-through rates, and keywords, which are crucial in driving organic traffic to your landing pages.
In comparison, the Landing Page Reports within GA4 offer a broader perspective by analyzing various traffic sources, including organic search, direct traffic, and referrals.
While both reports offer valuable insights, The Google Search Console Report specifically focuses on the visibility and performance of landing pages within Google's search results.
It provides in-depth data to evaluate organic search traffic and keyword performance.
On the downside, there are a few limitations to the Search Console integration with GA4. Unfortunately, GA4 allows for only one data stream to link to a search console.
Landing Page Reports
The Landing Page report helps you understand which pages on your website receive the most organic traffic.
By analyzing this data, you can identify high-performing pages that are attracting organic visitors and optimize other pages accordingly. You can also evaluate the bounce rate, average time on page, and conversion rate for each landing page to further refine your SEO strategy.
In the GA4 Landing Page report, site owners can easily toggle secondary dimensions to see how a landing page stacks up based on where users are coming from.
In the Landing Page report, you can easily see how a page is driving traffic to users at different stages of the funnel using different secondary dimensions.
For instance, adding "Session source/medium" will allow you to see where a user is currently at in their journey, while "First user source/medium" will show how users first interacted with the site.
Conclusion
Whether you're new to Google Analytics and are figuring out GA4 as your first foray into the Google Analytics ecosystem or have migrated and are getting your bearings, knowing your way around and where to prioritize time and focus is important.
Whether we like the new features, bemoan what isn't in GA4, or just need some time to adjust, it is here, and we will surely adapt to it and find new and deeper ways to leverage our website data.
As always, please remember that data is data, whether from Universal Analytics, GA4, or any other measurement platform. What is most important is what we do with the data, how we integrate it, leverage it, and find meaningful insights.
Keep your measurement plan and what matters to you as a focal point as you connect the data with your marketing and SEO goals and objectives.
More resources:
---
Featured Image: chayanuphol/Shutterstock