This is a sponsored post written by Embedly. The opinions expressed in this article are the sponsor's own.
Creating an engaging (and beautiful!) blog that keeps your readers coming back is no small task. Arming yourself with the right tools is the key in your blog's success. But, there are lots of tools and plugins to choose from and figuring out which to use is time-consuming.
We're here to save you some time and suggest you download the powerhouse that is the Embedly WordPress plugin.
Picture this – every video and article you embed on your blog aligned correctly, with analytics, styling options, sharing buttons, and recommended videos from your own blog appearing once the viewer finishes watching a video.
How does this work? The plugin circulates relevant content from your blog to viewers (once the current video being watched is finished). The plugin is easy to install and runs in the background, so once it's set up, all of your embeds will be powered by the system.
Five Benefits of Embedly
In case you aren't hooked, let's dive into the five biggest benefits this plugin provides that will help you develop a strong strategy and put in place the right tools to ensure your WordPress blog is set up for success.
SEO and Improved Analytics
Embedly's plugin adds text to the code that is readable by search engines to improve the findability of your posts. Traditional WordPress embeds don't work in the same way, so you aren't able to capitalize on what you're posting in the same way.
Real Time Analytics
Realtime analytics are provided in your dashboard to let you see how many people are actively watching your video embeds. This allows you to learn what your viewers actually enjoy watching.
Recommendations
The recommendation system shows viewers related videos from your blog once they complete the current video. Circulating your content will increase your blog's overall engagement.
Google Gets Transparent: An Interview With The Head of Publisher Policy Communications

Social Sharing Buttons
The overlay for the social sharing buttons is crisp, clean, and makes it easy for your viewers to share around the web (and drive more traffic to your blog).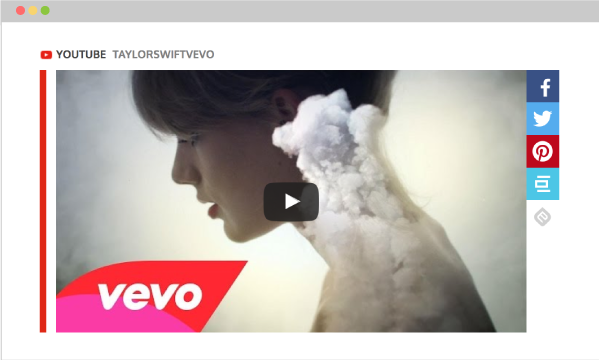 Styling Options
Changing the size of your embed, the alignment, or the background color is broken down into a simple, easy-to-use interface. Regardless of the provider, all of your embeds can look fantastic and fall into place.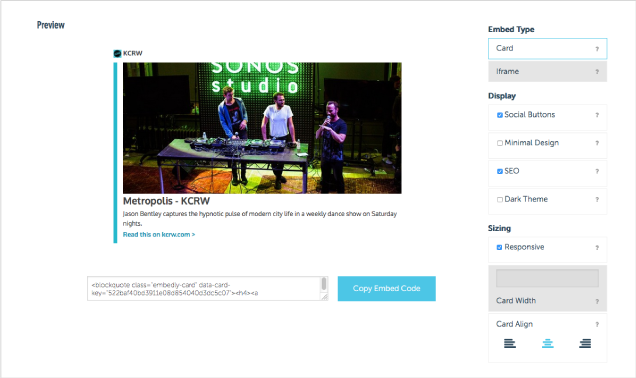 300+ Providers
Embedly's exhaustive provider list has you covered—so that your embeds will work correctly.

Sold yet? We hope you'll give it a try.
If you want to try this free plugin for yourself, we suggest getting started by watching a short tutorial video:
Image Credits
Featured Image: Image by Embedly. Used with permission.
In-post Photos: Image by Embedly. Used with permission.
Video by Embedly. Used with permission.