It may seem silly now, but at the rate millennials and Generation Z is using emojis, the rise of emoji SEO is coming sometime within the next 10 years.
Think back to when website domains first started coming on the market. The smart people bought common word domains like pizza.com or party.com. These ended selling for millions of dollars when the internet caught on and started transforming how we all do business. But in the early 1990s, domains weren't on the forefront of business and marketer's minds.
Emojis may be the same. In fact, Google recently re-allowed users to search by emoji back in May 2016 (while Bing and Yahoo have mostly always allowed it, according to Search Engine Roundtable). Yelp even started allowing emoji search on their website in 2014, according to The Huffington Post.
Barry Schwartz also found that searching by emoji in Google image search brought about real images for the emoji used:
Yes, many of the top search results do relate to the emoji itself, but there are also real photos of dogs. This, combined with Matt Southern's news last year that Google recognizes emojis in tweets sent to them and provides search results for you, shows that Google is rapidly indexing and placing more value into emojis.
The Eventual Rise of Emoji SEO
As Google recognizes more emojis and indexes results relevant to them, SEOs need to think about the impact this could have on clients' online visibility.
In 2015, AdWeek reported that 92 percent of online consumers use emoji. Emoji use has only continued to grow since then. Marketers have certainly jumped on the bandwagon, with emoji use in marketing up 775 percent and popular campaigns like Deadpool's emoji billboard making it more mainstream.
Psychology Today reports that many millennials and generation Zers feel more comfortable expressing themselves in emoji format over typing out their thoughts and feelings conventionally. What's more, using emojis to communicate is naturally going to translate into how people use search engines.
We have seen a similar evolution in how Google interpreted searches with acronyms or slang terms.
In 2009, Bill Slawski pointed out potential roadblocks for high-quality search results for acronyms or abbreviations that display the best search results for user intent. The same evolution for displaying search results based on emoji use is an easy inference to make.
How to Use Emojis in SEO
This brings us to how emojis can be used in SEO and for online content. As mentioned previously, using emojis in marketing campaigns has become more commonplace, but what about ranking for a single emoji or a string of them? Or what about using emojis in domains, as GoDaddy now lets you register?
Emojis in Local SEO
Let's take the pizza emoji, for instance. Right now, default search results for the emoji show pages about the actual pizza emoji, not pizza itself.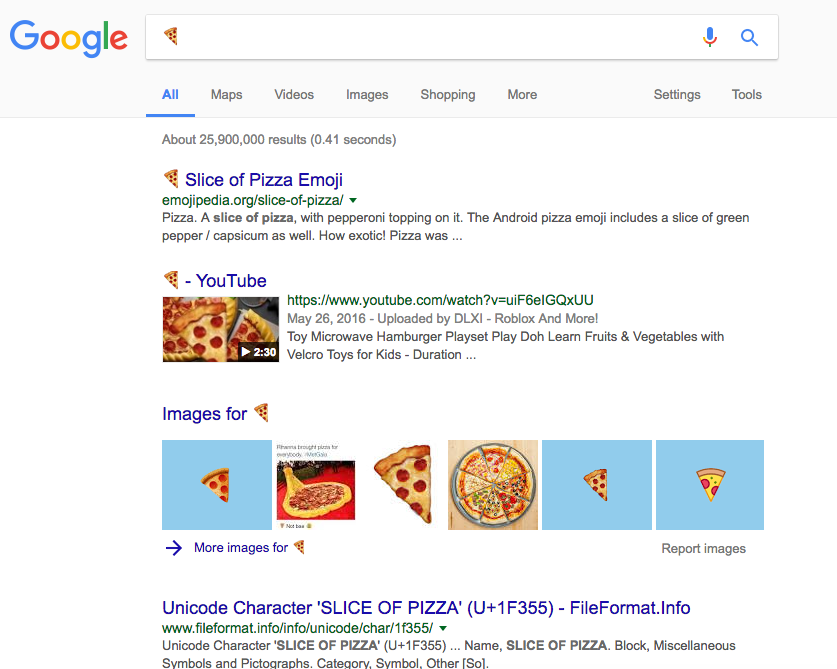 (However, it's important to note that a nonsensical YouTube video by a young kid is actually ranking second for this term, as you can see in the above screenshot.)
What if I put in an additional term Google might understand? Here, I searched [pizza emoji + near me] in an incognito browser: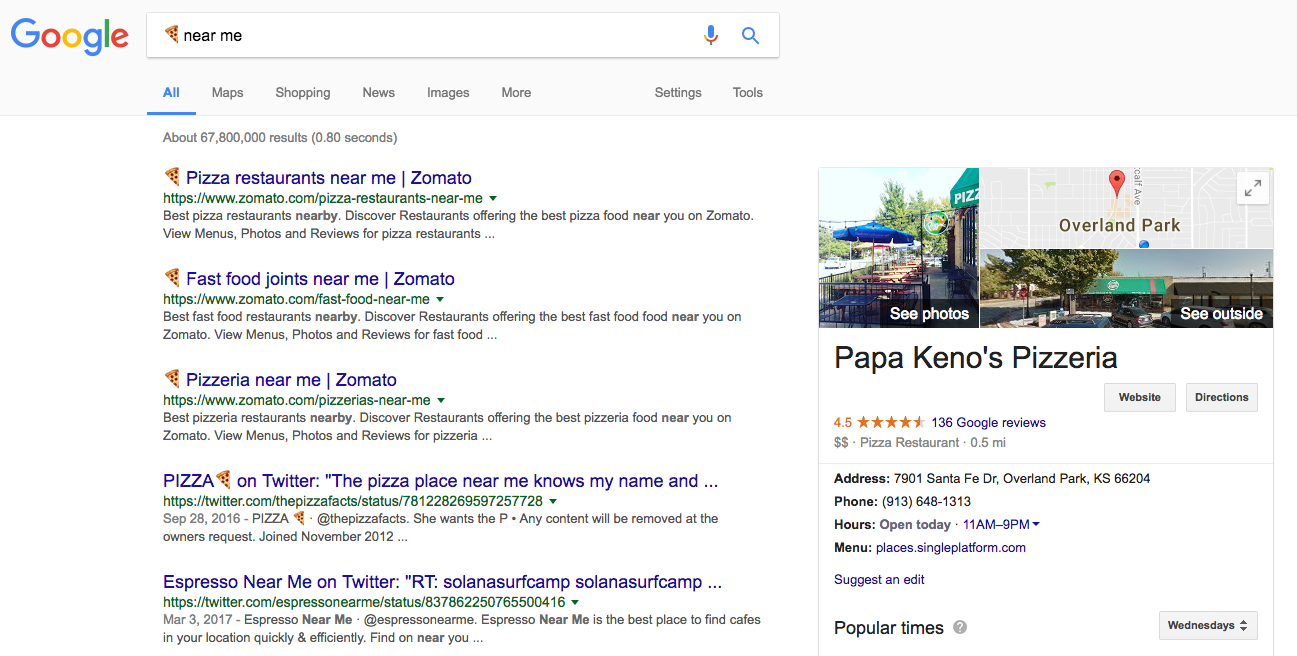 After I allowed Google to know my location, a Knowledge Graph popped up showing a pizza place near my location! Papa Keno's has no mention of the pizza emoji in the Knowledge Graph or on their website.
This means that your clients may already be ranking for emoji search phrases without even knowing about it.
I tried a more obscure emoji with the "near me" phrase. This time, I used the two girls with bunny ears, whose meaning is likely different to whoever is using it. I personally thought it would bring up results about dancing. Instead, it showed me a Sally Beauty Supply nearby: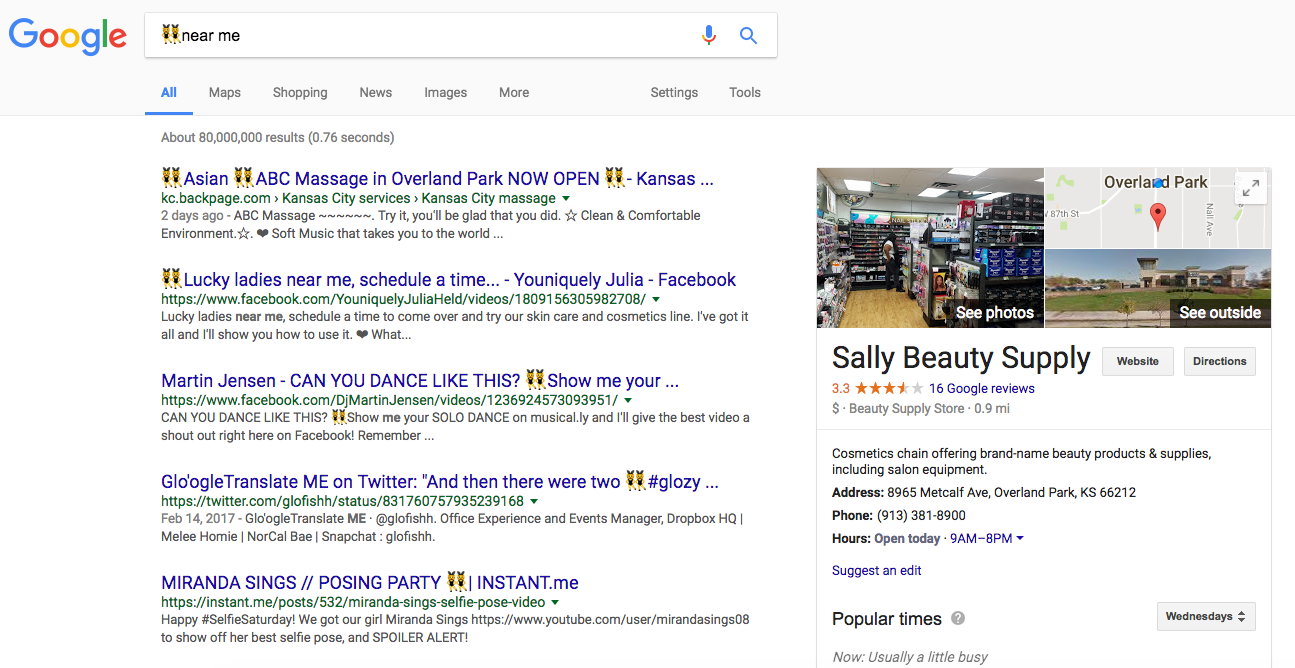 As you can see, the intent of people using specific emoji to search could be open to interpretation. But this shows potential for optimization.
Emojis in Branded Search Terms
I tried a different approach, and used a common search phrase with an emoji: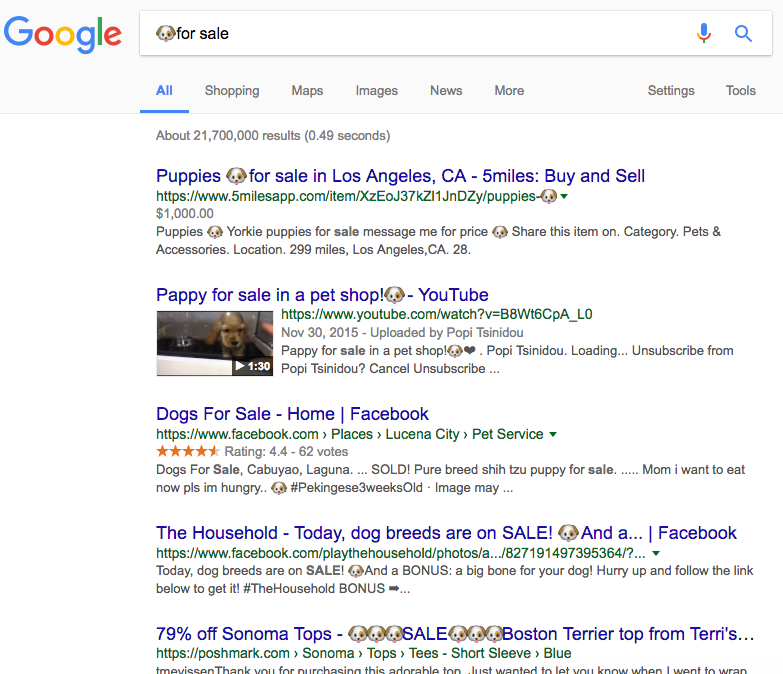 This brought up results from people using emojis in their videos, social media posts, and for sale listings. There weren't any listings that didn't have the actual emoji in the post.
Emojis in City Search
Going back to the local example (because many users are searching on their phone to research businesses and services around them), I searched the nail emoji with my metro, "Kansas City." No Knowledge Graph, but the second result was a nail salon (with no nail emoji on their website or meta attributions):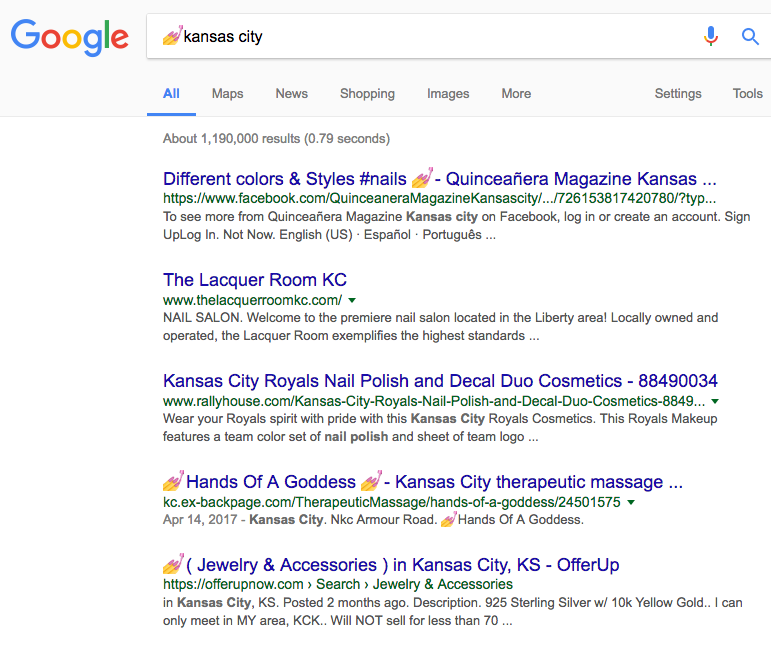 You also get local businesses if you search outside your current location. This search for bathing suit emoji plus "Portland Oregon" brought up a local Knowledge Graph with two swimsuit stores within the Portland city limits: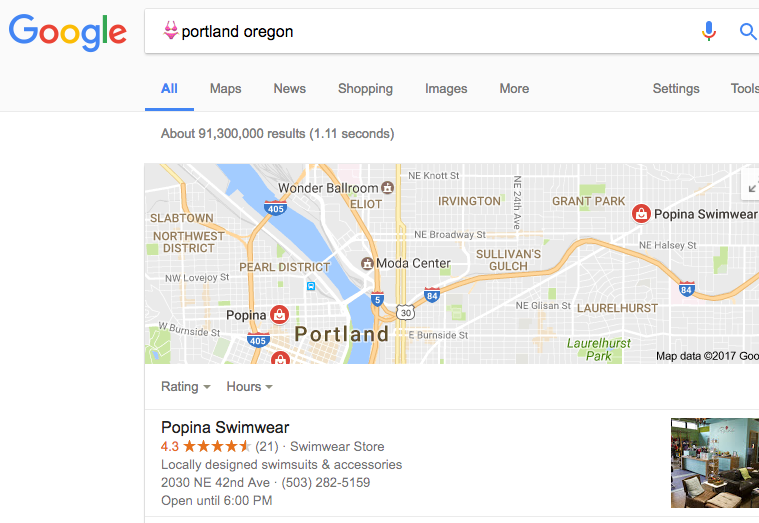 Based on these searches, you would think it looks like Google is basically translating the emoji into a text version of what it is. However, the Google results for [bikini Portland, Oregon] compared to [*bikini emoji* Portland, Oregon} are different, once you scroll past the local result box.
Here are the results for the emoji search, which I'd argue are more accurate to most users' intent: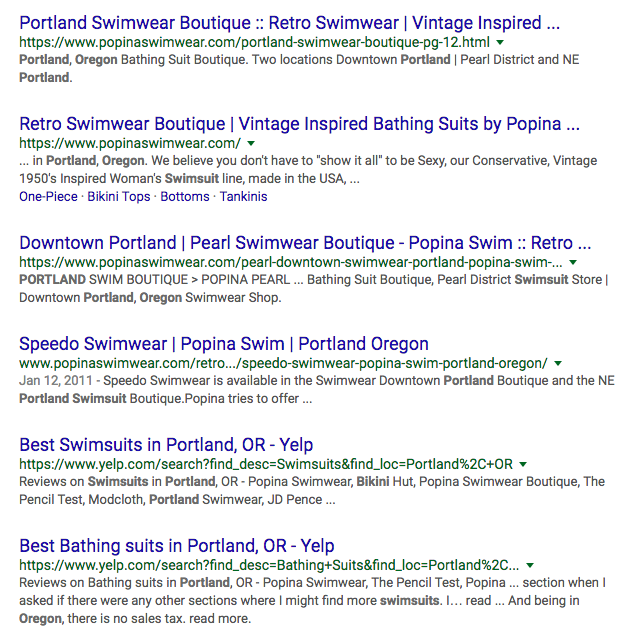 And here they are for the text search: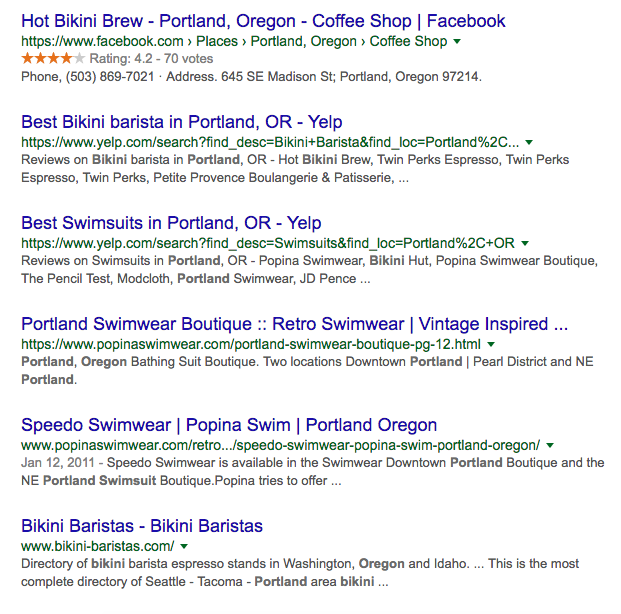 These were both done in a new incognito window. This means that searches that use emoji show different results than searches that use the text equivalent of what the emoji is. This example, as well as the others, shows sky-high potential for figuring out how to optimize for emoji-based searches.
Are People Actually Searching Using Emoji?
While we know that search engines allow users to search by emoji, are users actually doing it? I tried searching a few common emojis used in the above examples in one SEO tool, but didn't get any data. Schwartz did report in February that if you do get traffic from emoji search results, they can show up in the Google Search Console.
As emoji use in our everyday communication becomes even more rampant, we may be able to get a better handle on how users are actually searching using emojis in search engines.
Until then, we can prepare by seeing what emoji searches our clients or business may already be ranking for and testing emoji use in our own content to see if that influences emoji SERP position.
Image Credits
Featured Image: Pixabay
Screenshots taken by author May 2017.