There is a wealth of information about how your AdWords campaigns are performing, which is both a blessing and a curse.
On the one hand, you can drill down into the most minute details to find areas where you can optimize your campaigns. On the other hand, you can get lost in the wealth of data and miss signals because of the noise.
For this reason, people tend to focus on a few key pieces of data when analyzing their campaigns: Impressions, Clicks, Quality Scores, CPCs, and CPAs.
These are all vital to pay attention to, but they're only one-half of your campaign, the half that's focused on getting people to click on an ad that brings them to your website. But, they miss the second half of the campaign: what happens once they're on your website?
In other words, what about your landing page and how it's performing?
The Importance of Selecting the Right Landing Pages
There is a natural tendency to assume landing pages are one thing and that people should all follow a single set of best practices. That's why, when you sign up for a landing page tool like Unbounce or LeadPages, all of the landing pages look the same.
Unfortunately, if you follow the advice of these default, template landing pages, you might be missing out on some easy e-commerce gains.
This is because landing pages aren't one-size-fits-all, especially in e-commerce. In my experience, there are three types of landing pages, each with a specific advantage that you can choose from.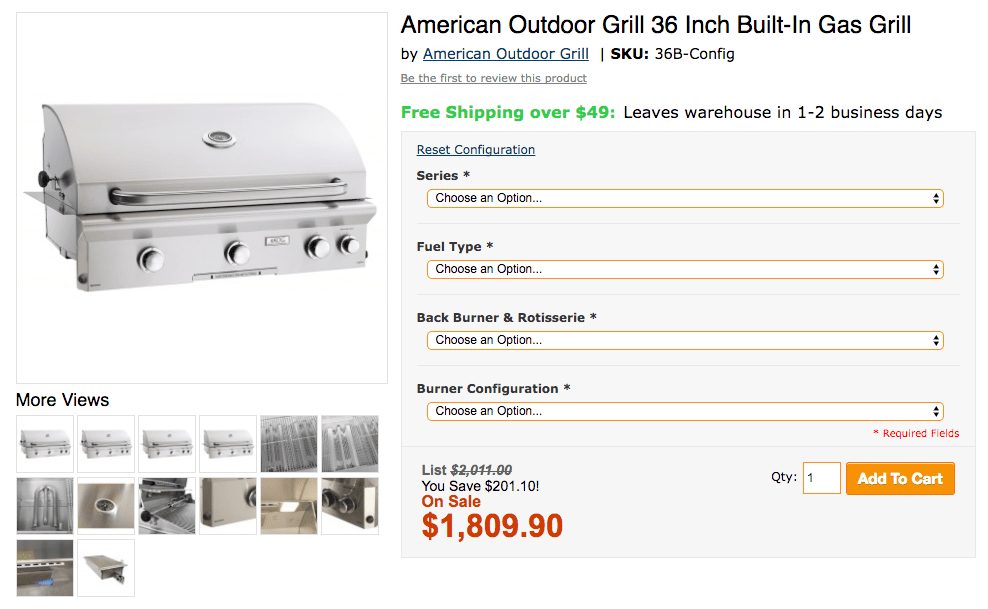 Type #1: The Product Page
A common example of a landing page for an e-commerce company is the product page. This is when you click on a specific product ad and are brought to a specific product page where you can read more about the product, see customer reviews, a detailed description, and add it to your shopping cart.
Key Advantage
The prime reason you would want to point people to a product landing page is so that they have quick access to the shopping cart. If someone is searching for a high-level category term, you wouldn't point them to a specific product.
On the other hand, if they are searching for "outdoor grills," then pointing them to an ad for your highest rated outdoor grill might be more likely to lead to a conversion than sending them to a category or higher-level landing page.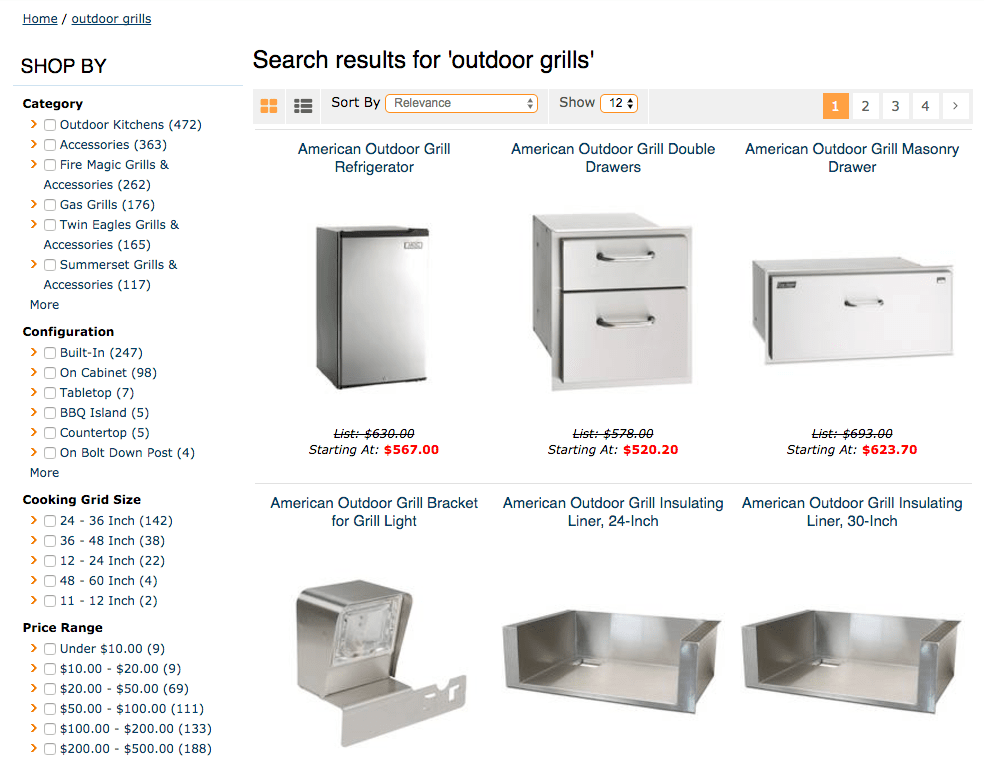 Type #2: The Search Page
The Search page is one of the most under-utilized landing pages. These are pages that have lists of grouped products, typically require no special configuration, and have a default sorting mechanism to help push the most popular products to the top.
Search pages are especially useful if you don't have a pre-defined category page for a type of product, but still have a variety of SKUs that you can sell under the same heading.
Key Advantage
The unique advantage that comes with Search landing pages is the ability to customize them without having to dig into the code.
The URL for nearly every Search page has something like "?search=outdoor+grills" or "?s=outdoor+grills" in the parameters that is used to set the terms you're searching for. By using these, you can configure your AdWords to automatically point to whatever Search page is most closely aligned with the products you're advertising.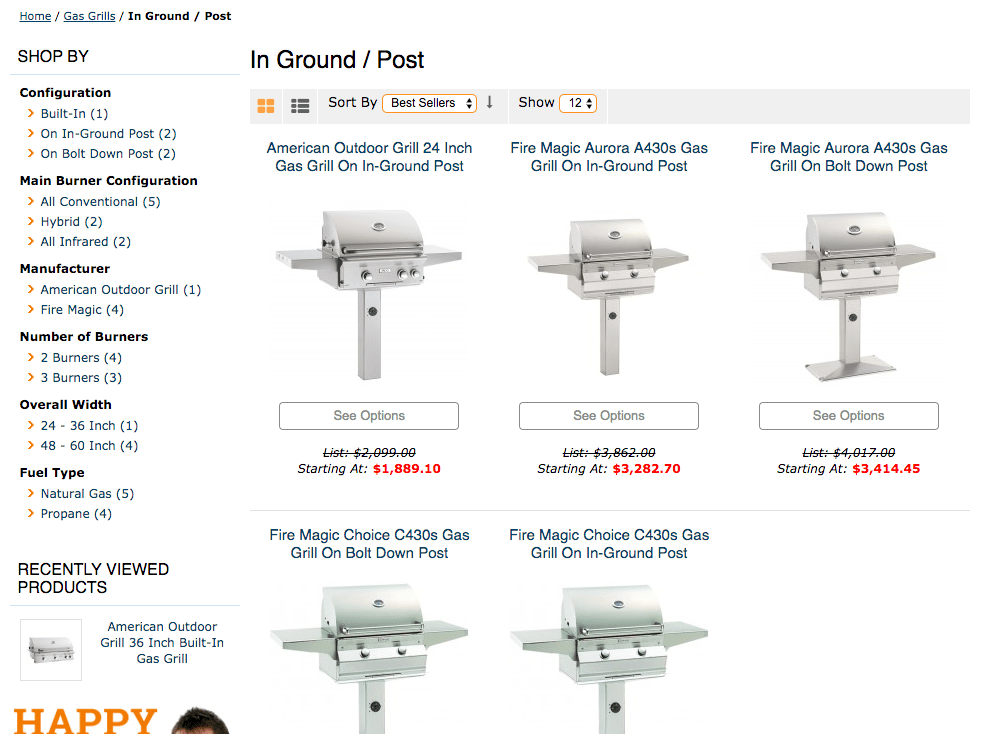 Type #3: The Category Page
If you have a set of products that are routinely browsed together, it makes sense to create a category page. While many people try to just develop these out of the gate, it often makes more sense to wait to see what search terms people are looking for and use that as an input into what categories are the most popular.
Key Advantage
One of the main advantages that Category pages have over Search pages is that they can be configured and specialized to reflect the products sold. In the screenshot above, you can see how we can narrow down the category page even further.
While you could point to a Search page looking for those terms, you miss out on the ability to describe the category, bring in the right pictures, and specialize the category page.
Use the Sort or Filter Function When Testing Landing Pages
One of the biggest AdWords mistakes e-commerce advertisers make is neglecting to plan and organize the products in their category pages.
If you're going with the default, which is usually newest, alphabetical, or by price, you aren't taking advantage of the sorting function that most landing pages come with.
Every situation is different, but once tested you're going to find that there are some things you always want to show first and some things you never want to show first.In some situations you'll want to show the most expensive item first, sometimes the cheapest item, sometimes the most popular, and sometimes the newest. Each of these different ways of sorting will need to be tested, but eventually, you'll identify which sorting order yields the highest profit.
In some situations you'll want to show the most expensive item first, sometimes the cheapest item, sometimes the most popular, and sometimes the newest. Each of these different ways of sorting will need to be tested, but eventually, you'll identify which sorting order yields the highest profit.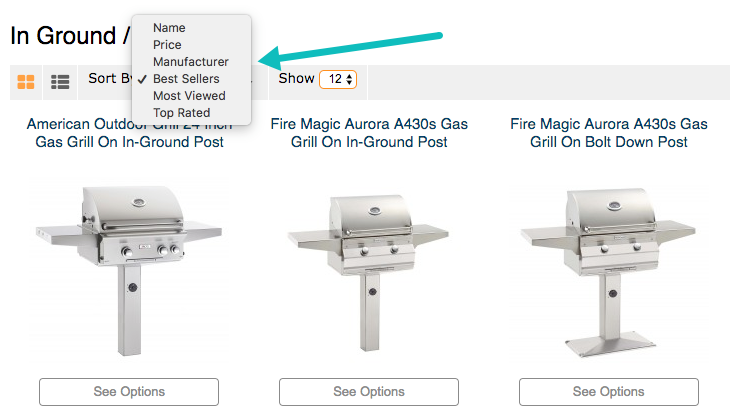 In general, if you're just getting started, then you can try the Most Popular sorting option since this automatically features the items that your site visitors are most inclined to buy. While this isn't a universal rule, it does help give you a baseline for future experimentation.
Once you have a baseline, you can begin to develop your own custom sort features by taking into account your store's most popular items, newest models, current sales, and seasonal promotions. If you really want to get fancy, you can even begin to develop a weighted score for each of these to emphasize different parts depending on which one is most important to your store.
You can even build on these different sort features by running tests between various keywords.
Let's use the example of a gift basket and you want to run a keyword like "cheap fruit baskets." Try sorting by lowest priced baskets first and determine your return on advertising spend (ROAS) before sorting by another feature like current in-season produce promotions. You may be surprised by the results as visitors are often excited to click the first few products they see.
Test, Test, and Test Some More
Creating your landing pages isn't a one-and-done type of chore. You can always improve your landing pages like you can always optimize a well-performing account.
Track every change you make to your landing pages, analyze the conversions and bounce rates, and keep adjusting different variables (or removing distracting elements) to see what gives you the highest ROI.
Headlines, colors of your Buy Now or Add to Cart buttons, and even your product images all have an effect on your sales. But you'll never know which has the biggest impact without A/B testing.
Of course, you also won't know which changes are making a difference if you don't methodically keep track of these changes. This means a living spreadsheet that has every experiment, variation, goal, and written results available for review as you continue to develop your campaigns and landing pages.
Watch Your Bounce Rates & Conversions Improve Fast
Now that you know how important your landing pages are in the grand scheme of conversions, bounce rates, and your overall bottom line, it's time you get to work on optimizing them for success.
First, find your worst-performing landing pages. Then identify all the relevant keywords you want your campaigns to focus around and make sure that copy matches your ad headline and landing page headline and copy.
You'll be kicking yourself for ignoring your landing pages for so long when you see all your new conversions from visitors not bouncing from your store.
---
Image Credits
Featured Image: Designed with full rights by DesignPicke.com.
In-post Photos: Screenshots taken by Andrew Lolk, August 2017.