We all know about and probably use Google Safe Browsing tool – the best idea is to use it to identify one of the reasons of a possible Google penalty. For that use the following URL (add your domain at the end):
http://www.google.com/safebrowsing/diagnostic?site=domain.com
The above query will show you if Google has ever detected Malware on your site and also will invite you to check your site network(s) the domain is hosted on: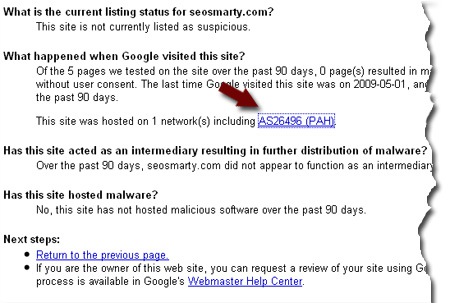 Following the link you will be able to see your network information as well as some of your bad neighbors:
An interesting issue is being discussed over at WebmasterWorld forums: is the fact that Google analyses domains on the same network means it treats suspiciously your site if it has bad IP neighbors?
According to the official Google tech report [pdf] overviewing the detection system and data analysis methodology:
Interestingly, Anderson et al. [3] observed comparable IP space concentrations for the scam hosting infrastructure.
That said, Google appears to identify the interesting patterns:
Sites distributing Malware are usually hosted on different IP addresses, whereas:
Sites infected with Malware are often hosted within one IP range.
To conclude, citing from the thread above:
If you're hosted at the same IP address as a troublesome spammer, then I have no doubt this could cause you problems. Otherwise, I think any impact is negligible. If you look at sites on the same IP, the same ranges or the same network then it's easy to come across some crazy connections between sites. But I doubt it has any effect on a typical evaluation of a page for relevancy.

What do you think?