What is Mind Mapping?
Mind Mapping means graphically representing words, ideas, concepts, tasks in the form of a diagram – it is thus outlining some structural knowledge around some core word or concept.
Mind maps are used to:
Structure, and classify ideas and words (e.g. in keyword research)
To visualize and ellaborate further on ideas (e.g. in writing and content brainstorming and research).
A Brief Look at Free Mind-Mapping Tools:
There are plenty of free web apps that let you create mind maps, this short overview looks only at those that:
Offer something different
Are free and fun.
Core feature
Collaboration?
Sharing
Demo
Flow Chart
Multi-user, multi-page support; drawing tools; Record/Playback your flowchart.
Live collaboration
Embed and/or export as an image
Playground
Think
Organize each idea as a thought. Each thought is then further divided into nodes.
No
Export / share as an image
Think -> tutorial
Gliffy (free account comes with unlimited number of public diagrams)
Powerful techy-oriented diagram creation tool
Yes
Embed and/or export as an image
Video
BBC's Pinball
Fun, arcade-game-like brainstorming utility
No
Export / share as an image
Glinkr
Attach links
No
Embed as iFrame, Import / Export as XML
Examples
Can You Learn to Mind Map?
Yes, for sure. All you need is just start playing and you'll find your own way to do that.
A great way to start and get inspired to is to get the copy of Mark Dykeman's eBook called "Unstuck, Focused, Orgamized Using Mind Mapping".
The book gives a reat rount-down of:
Various ways to use mind maps to clear your mind and get unstuck;
Examples of how actually people can get started with mind maps;
Mind-mapping at home (using pen and pencil);
Mind-mapping software;
etc, etc.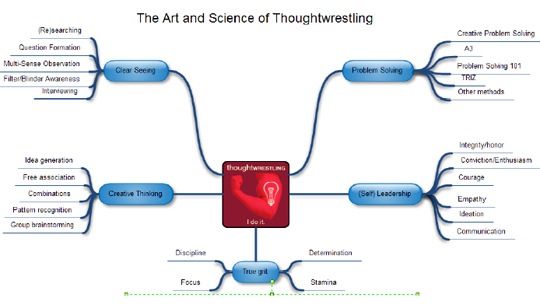 Do you mind-map? Share your tips!