Two weeks ago we gave you a quick preview of what's in store for attendees of the Search Marketing Expo Conference in Toronto, Ontario. But if you want to dig deep and learn more than what can be presented in 15 minutes, you need to come early for the workshops.
Do your sales and marketing teams need to integrate social media into the mix? Have you established a social media presence, but you still struggle with generating content that customers really want to connect with?
Putting the Social into Social Media Marketing is the one day workshop for you.
Learn from a dynamic duo that live and breathe Social Media Marketing every day
Alan K'necht

Alan K'necht is a founding partner at Digital Always Media Inc. and previously was president of K'nechtology Inc., an Internet strategy & analytics consulting and training company. In addition to his duties at DAM, Alan is a on-line lecturer for the University of San Francisco's on-line Internet marketing and Digital Analytics programs. In 2012 became the subject lead for the Digital Analtyics program.
In 2010 he published his 1st book, the award winning "The Last Original Idea – A Cynic's View to Internet Marketing". Over the years, K'necht has helped implement web analytic and Internet marketing solutions. Clients have included Canada's Federal Government, the US Navy, Inter-American Development Bank, Toyota Canada, various media organizations, several ecommerce companies and a wide array of other businesses.
He is a co-host of the popular Social Media Marketing industry Twitter chat, #SocialChat, which typically reaches a potential weekly audience in excess of over 700,000. #SocialChat happens every Monday night at 9pm Eastern.
Michelle Stinson Ross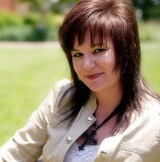 Team teaching this full day workshop is K'necht's #SocialChat co-host, Michelle Stinson Ross. She is the founder of Firestarter Social Media and is currently the news writer here at Search Engine Journal. Stinson Ross has been a guest blogger for the likes of Social Times, aimClear, and Search Marketing Wisdom, to name a few. Her passion for social media marketing landed her a spot at the podium for Socialize Toronto, SMX Social Media, and now SMX Toronto. Michelle has had the privilege of serving clients that represent a cross-section of business industries including non-profit and religious organizations, tourist industry, web development, insurance, accounting, real estate and mortgage.
Learn how social marketing differs from the traditional sales funnel model.
Forget everything you ever learned about conversion funnels and traditional online marketing when thinking about social (media) marketing. When it comes to social marketing you can't simply expect customers to flow seamlessly through a series of steps as if being pulled by gravity as funnel analysis implies. It's time to embrace the concept of getting your customers to walk or run up the down escalator of social marketing.
Understanding how each social platform works is only the beginning. This workshop will help you see the synergy that happens with social connections across your website, blog, and various social platforms. Throughout this intense day you will not only get the view from 20,000 feet, but you'll put your hands to work on the areas that matter most to your brand and understand how to measure the true returns on your social media investments. This is an experience where learning takes action.
Early Bird Registration discounts for the workshops have been extended until February 1st, but space is limited, so reserve your seat before they are all gone.