Delicious is a widely used social bookmarking tools – it stores a wealth of information on people's web preferences and on how useful they find each web page. There are a few tools that can retrieve that data and represent it to you in more or less comprehensible way.
Analyze any site / URL
Similicio.us shows which domains your site can be associated with based on the preferences of those who bookmarked it.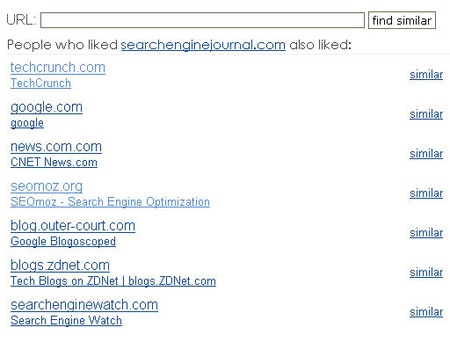 Delicious URL search will trigger most popular tags the page was associated with as well as recent descriptions members used to bookmark it.
Cloudalicious (warning: works very slow) is an interesting tool that will grab all tags associated with the URL and visualize them in a graph. Not only will it enable you to see the page popularity on Delicious over time, you will also be able to see which tags people associate it with and when: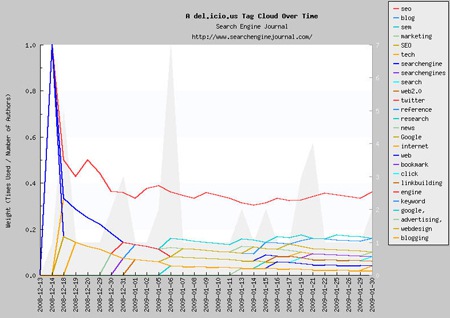 Analyze tags:
Delicious Tag Browser is meant to graphically represent relation between tags. Clicking on each tag triggers more related tags. You can also zoom the graph in and out and have much fun moving it in 3D format.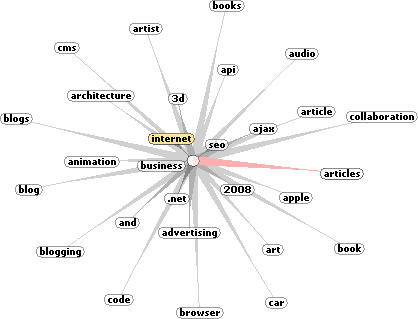 Revealicious is a set of graphic visualization tools for your Delicious account that allow you to analyze your tags. Its TagsCloud section will display the tags you are using to save pages in a cloud; when you click on any tag, you'll be able to see related tags.
TagsCloud is an interactive visualization inspired from del.icio.us own tags cloud. It will enable you to have an overview of all your tags, and interactively determine the relations between them. What is special is that you can filter and re-arrange tags according to the number of posts that were tagged, and according to their connexion to the selected tags.

Its another tool – Grouper – will group your tags into 3 section based on how often you use them: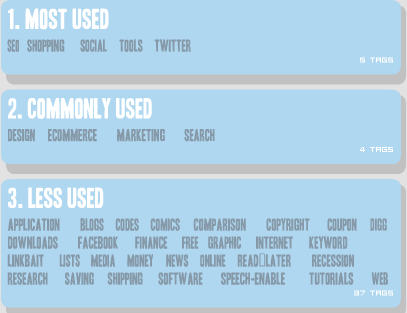 Spacenav is another tool by Revealicious – it represents tags in circles helping you to discover the relations between your tags, as well as recognize different pattern characteristics of certain groups of tags. You will be able to see the relation of tags by colors and circle position: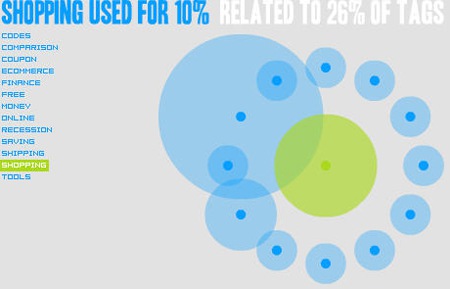 Extisp.icio.us generates a tag cloud or displays random Yahoo images search result for each of a user's tag words.
Delicioussoup (just for fun) lets you analyze your bookmarks and visualizes its relations in the form of soup blobs.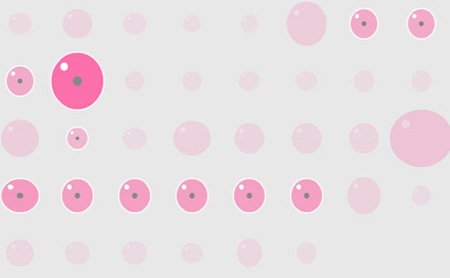 Delicious search exploder builds a huge tag cloud for every search you run. Once you choose one, it refines the search based on all prior searches.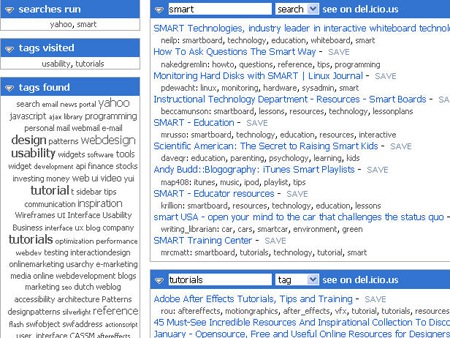 Track Delicious:
Trendalicious is a real-time ranking of the 100 most popular web pages as reflected by Delicious, Digg, and Reddit. URLs posted to those sites are collected and ranked by their total number of votes or links.
Oishii (I won't even try to pronounce that) sorts pages based on Delicious global popularity. It is Delicious "mini-zeitgeist. Oishii! checks the Delicious front page every 5 minutes, and returns all sites bookmarked by at least 30 people."
Digglicious tracks hot stories on Digg and Delicious.
Thumblicious lets you view thumbshots of most recent or popular Delicious stories: