We all know that links are a huge part of SEO. They're like an underground currency that only nerds and marketing wonks exchange.
Anyone who has tried to build links at scale knows why they're so coveted.
Building links (the right way) is difficult.
There are plenty of ways to build links badly – there's no shortage of spammy PBNs and forums littered with fake accounts and bots.
But, if you want to do build links the right way, you need to create great content.
You need to create something that's so interesting or valuable that someone will go out of their way to link to it in their own writing. It's content marketing, branding, and PR – all in one.
Unfortunately, most companies struggle to do it well. Most content just isn't all that link-worthy.
But, there's one thing that's great for building links. It's data.
Charts, graphs, rankings, ratings, and all kinds of other data-driven content is hugely successful at generating links.
D.R.E.A.M. – Data Rules Everything Around Me
When I was tapped to run growth for a venture-funded startup, I knew that much of our long-term success was in content and SEO. We needed to build a sustainable and scalable acquisition model that would keep traffic and users flowing to the site at all times.
In order to do that, we needed to build links. Lots of them.
We were in a competitive space (college financial aid/admissions) and competing for search traffic against some huge, established sites.
But we found a solution in data-driven content.
Our first big hit was an infographic about where the U.S. senators went to college.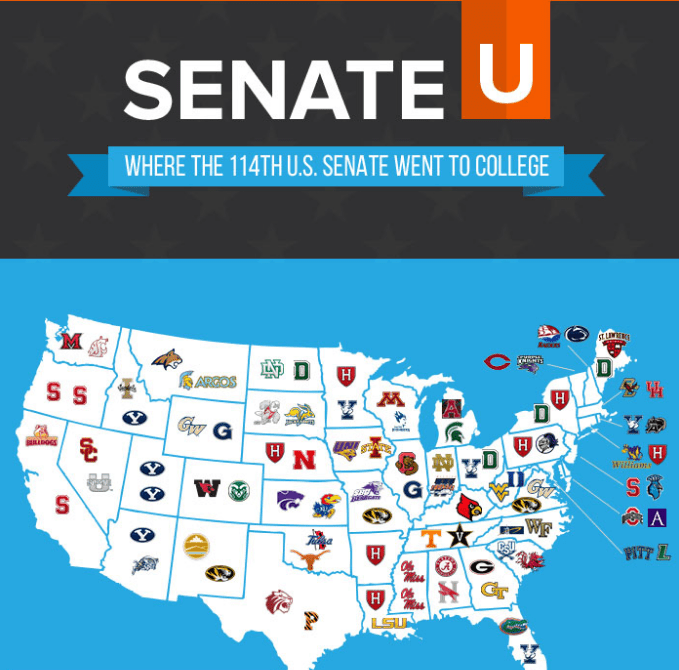 We spent dozens of hours compiling the data, double checking it, and designing the infographic. It was a big investment for a small startup – and a bit risky, honestly, given our limited time and money. But we went through with it.
When we launched it, I was shocked.
The first response I got came from the Washington Post. They picked up our infographic!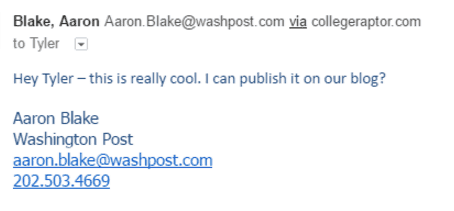 After that, it gained more traction – generating a few dozen links. Most of them came from major national and regional media.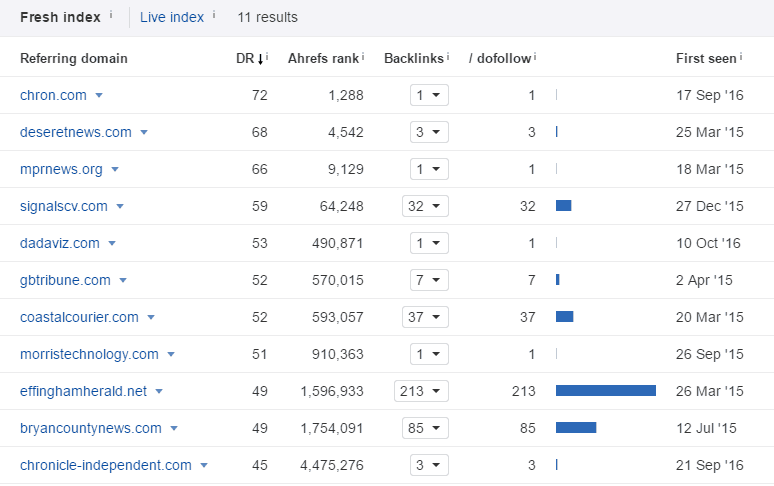 But, here's the real secret. This data was entirely public!
In fact, we sourced the data from Wikipedia (and fact-checked it manually). This means that any of our competitors or any other company could have used the same data to create a similar infographic – and earn the same links that we did.
From that point forward, I learned two valuable lessons.
Data-driven content is key for scalable, sustainable link building
Public data is everywhere and a great source of content ideas
And I've used this with clients since starting my own content marketing agency.
Many companies want to build cool, engaging, large-scale content to build links and drive traffic to their site. But, they feel stuck because they don't have any proprietary data or a huge budget to run some elaborate research study.
The reality is that there are public data to be had in all sorts of places.
All you need to do is come up with a creative idea for how to use the data, then compile and analyze it.
If you look closely, you can find examples all over the place. Many companies have built dozens – or hundreds – of high-quality links using nothing but public data and some creativity.
Here's a map created by the website Decluttr at the height of the Pokemon Go craze: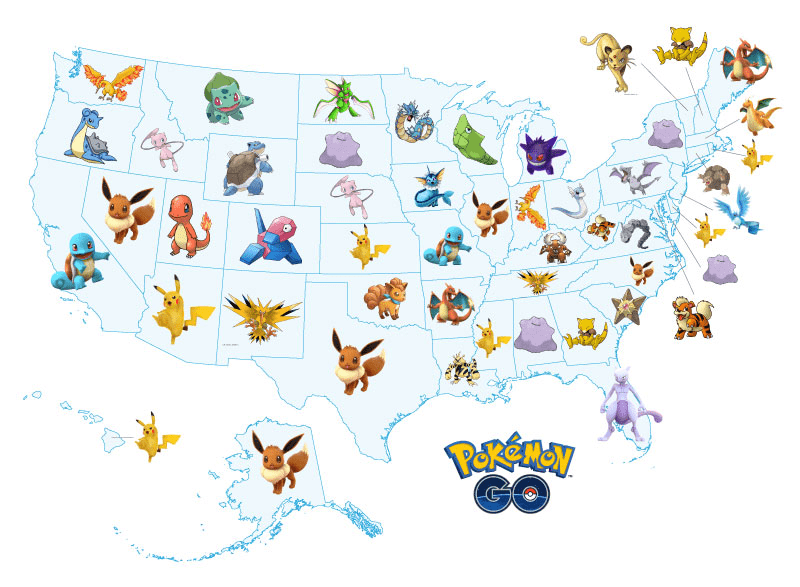 It's earned links from some 180 referring domains.

But, if you dig into the methodology, it's really quite simple.
To compile this map, the company used data from Google Trends to identify the states that were most heavily searching for different Pokemon.

Then, all they had to do as capture, compile, and analyze that data. Then, create an eye-catching map.
It takes a lot of work, for sure. But again, any company could have come up with the same idea and generated similar results.
Of course, there's also a lot of outreach and promotion that goes into generating these backlinks. But creating content is often the biggest hurdle that many companies struggle to overcome in the first place.
Data-driven content is a competitive advantage.
But it's one that any company or agency can take advantage of if they choose to invest in finding data and using it to create link-worthy content.
Data is Everywhere
When we work with clients, most of them have a heavy emphasis on creative link-building campaigns. As part of our content marketing strategy process, we develop a mix of content types that are aimed at achieving different goals within a larger framework.
Sourcing public data is a big part of that planning process.
There are all kinds of sources of data in the world. If you know where to look, you can start pulling data today and turning it into creative content ideas that can help you build links and drive traffic to your site.
Here's a non-comprehensive list of the sources we use to find public data.
1. State & Federal Databases
Unbeknownst to many, state and federal governments often publish huge troves of data that are freely available online.
In fact, there's an entire website dedicated to this – data.gov.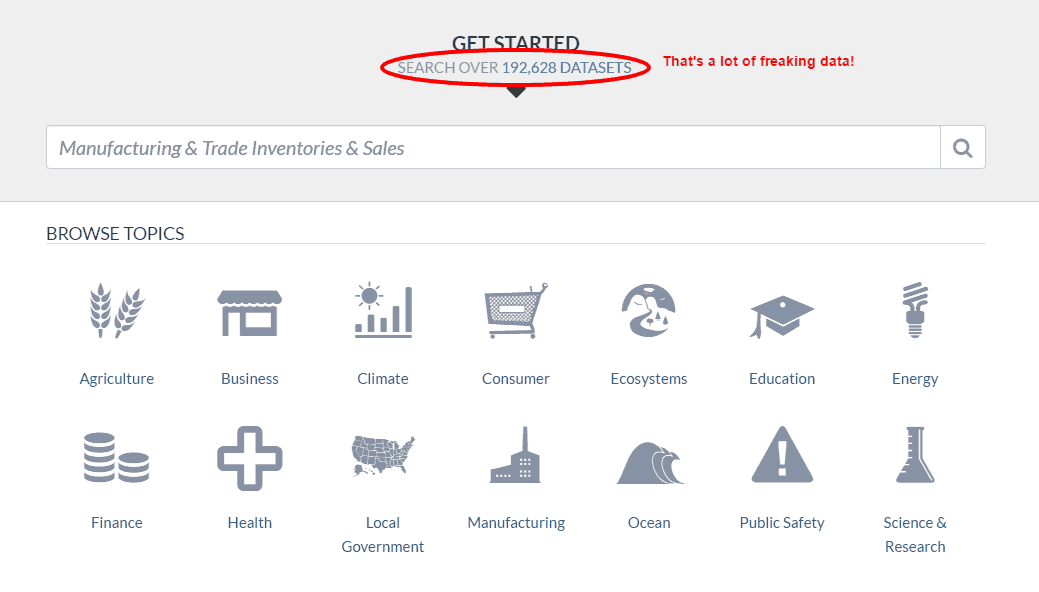 We use this as a source of public data on everything from traffic to crime and much more.
This is especially useful if you need to create content in a "boring" niche. There's data on crops, the economy, and just about any other sector you can imagine.
2. Academic Studies
Google Scholar is an incredible resource. You can search their database of the latest academic studies for data sets that you can use to create new types of content.
Often, the main findings of these studies get picked up in the news or by other media outlets. But the raw data regularly goes under the radar. This presents a huge opportunity to repurpose those findings into new forms of cool content that can earn links.
3. Google Trends & Search Data
You're probably familiar with Google Trends.

But, in the right hands, this is a source of enormous data that can be used in all kinds of ways.
From analyzing search trends over time to comparing relative search volumes across different geographic areas (a la the above Pokemon map), there are all kinds of different content that can be created by analyzing this huge trove of online search behavior.
4. Facebook Advertising Data
One often overlooked source of data is Facebook's advertising platform.
If you're familiar with Facebook's audience and targeting system, then you know that they provide an estimate of your audience size based on the targeting that you specify. This means that you can toggle these settings and see how different audiences compare.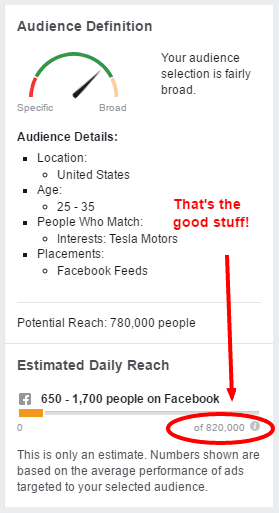 For example, you can look at how many people "Like" Ford versus Tesla versus Chevrolet.
To boot, you can layer in specific locations or other demographics to get a granular data set.
Conclusion
There's data all around you. And that data is content gold just waiting to happen.
If you take the time to dig in and research, you can find opportunities everywhere.
Link building doesn't have to be difficult if you know where to look.
More Link Building Resources:
---
Image Credits
Featured Image: Joel Filipe/Unsplash
Screenshots taken by Tyler Hakes, December 2017