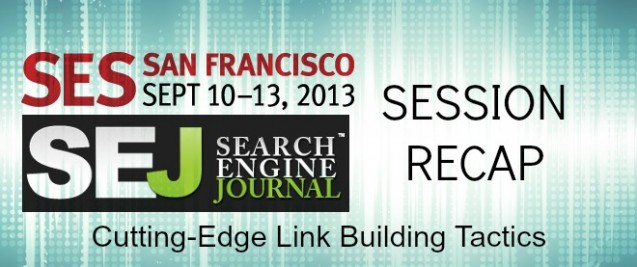 Bill Hunt and Lee Moore lead the first session the day in the Earned track of SES San Francisco this year: Driving Targeted Traffic to Your Site: Cutting-Edge Link Building Tactics. Both had great ideas on how to build a great link portfolio by using honest tactics, including evaluating what a link actually is: something relevant to your page that is a suggestion from the owner of the page you're on to visit another with more or better information.
Content Creates Links
To get more links to your site, make your content more specific to what people are looking for. This process includes:
Keyword Research: Complete review and look for missed opportunities that are keywords people are searching for
Create Content Based on Missed Opportunities: Are there pages that need more information? Should titles be optimized better?
Create Specific Pages: Are there too many pages? Should pages be more specific to create better links?
Work With Social Media to Promote Content
Syndicate Your Assets: Where can you promote your new content?
Once this process is complete, you should also be looking for existing links that could be updated to better optimized content pages.
Avoid Link Building Mistakes
To avoid many of the common link building mistakes across all platforms (including email, media buys, and partners), offer something of value before asking for a link. Listen to what your partners and audience are looking for and provide it to them through better optimized links to your website. Focus on linking to interior pages, not just your home page.
In addition, you should know your target audience through keywords queries, the types of content they access, and the device they access it from. Next, build different types of link bait and content. Instead of just focusing on blog posts, publish white papers, e-books, videos, and other types of content. This is part of what Lee called "working smarter, not harder."
Main Session Takeaways
Don't obsess over search engine rank. Instead focus on providing the best links for users' queries.
Work on interior links instead of links to your home page.
If competitors have more links, that doesn't necessarily you need more than then to rank higher. Focus on quality.
Look for linking opportunities in places you haven't thought of: membership organizations you're a part of, websites of conferences or events you are speaking at or taking part in, other networking group websites where you are active.