According to Wikipedia, "customer service is the provision of service to customers before, during and after a purchase". To prove how current they are, small companies and big brands alike are diving headfirst into Twitterville, but not always with the entire process of customer service in mind. In the past, I've discussed the importance of having a solid Twitter strategy – for both personal and corporate accounts – before bumbling forward with the weak assumption that you'll look cool simply by gracing the Twitter community with your presence and pumping out some mediocre tweets.
Before: before targeted and prospective customers (or clients) know who you are or have decided that they are even in need of your products/services.
ID Key Influencers and Prospective Customers – monitor conversations related (or even peripherally related to) products and services. For example, if you sell yoga pants, monitor conversations that will ID yoga instructors, as they will be the ones with a lot of pull if you can turn them into evangelists.
Be a Resource – @travelportland created the hash tag #inpdx to direct visitors to the best Portland hot spots. By listening to relevant conversations and joining in to add value, Travel Portland is indirectly generating awareness and establishing credibility.

During: during an actual purchase or conversion process.
Listen to Conversations – identify keywords surrounding those actively looking for relevant products or services and monitor the heck out of them. This will provide an opportunity to answer questions, promote offerings and increase awareness that your brand is authentically engaged. For example, @hotel_preston (full disclosure: this is a client of the agency I work for) is doing this well.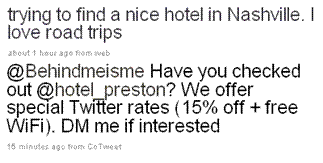 Keep Followers Posted – shopping cart broken? Site down? Out of a hot item? Keep your followers posted so they know what's going on and that it's getting taken care of.

After: after the purchase or conversion, to ensure a smooth process and happy customers.
Address Complaints – monitoring conversations surrounding all variations of your brand name in order to identify unhappy customers and turn them into evangelists.
Provide Support – some companies may need post purchase support more than others. @comcastcares has managed to improve its previously tarnished reputation via this route.
Offer Incentive – whether that's through unique Twitter deals, the latest sales or new items, followers need to be reminded why they are following you.
Ben Parr posted a great "how to" for Twitter customer service on Mashable back in May, so this isn't a completely new concept. The key is to utilize Twitter throughout the entire purchase process to ensure a great customer experience. While big brands may need to segment Twitter handles (create a dedicated handle just for customer support or for those only interested in new products, for example) in order to conquer the Twittersphere and appropriately target new and existing customers; small companies can apply the same concept with one account as long as they are providing attentive customer service before, during and after the purchase or conversion.
Rachel Andersen works for the Portland based SEM agency Anvil Media, Inc. She has expertise in all aspects of search engine marketing and specializes in SEO for large sites. Andersen has been responsible for the development and execution of dozens of search and social marketing campaigns over her time spent with Anvil.