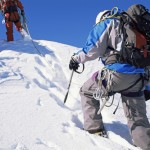 The last barrier to entry when launching an SEO firm is the most intangible one — your personality.
Suffice to say, it takes a special kind of person to be able to start a company. You need to be a self-starter, have the confidence required to sell your product and market yourself as an expert in the industry, possess the work ethic required to get a company off the ground and make it successful, and have the willingness to take a big risk for both your career and your future. You need to have the motivation to succeed, and the perseverance to push forward through setbacks and discouraging results.
The SEO industry has long enjoyed a community that is more entrepreneurial than most. It is one thing to dream, however, and another thing to execute on your fantasies and make your dream come true. To all those who think they are cut out to start their own SEO company, I salute you. It's a challenging proposition, and the fact that you're bold enough to chase your dreams is a clear indicator of your passion for SEO.
If you love SEO and your heart is in the right place, you're already on the road to success.
A Natural Fit
I feel as though I was a pretty natural fit. I've always been the entrepreneurial type, and ever since I can remember, I've been dreaming up business and website ideas. The freedom and flexibility of self-employment amaze me, and I don't think I'd have it any other way. After over a year of working for myself, it's hard to imagine going back. I like the excitement of a startup company, the prospect of the unknown ahead of you. Each day has a new set of challenges, successes, frustrations, and revelations.
I was always a self-starter, and since I've gotten a taste of independence, I haven't regretted for one moment my decision to start an SEO company. Moreover, my experiences in doing so have improved areas of myself that weren't exactly ideal. I've become much better at things like time management, sales and public speaking. These were by no means my strong points when I first decided to open my firm, but over the last year, I've gained some great experience and learned to deal with these considerations much more effectively.
Do You Have What It Takes?
The best advice I can give is to be honest with yourself. Are you really going to have the motivation required to make a new business succeed? Or is your enthusiasm going to fizzle at the first sign of hardship? You need to do some soul searching and figure out if this is something you really want to give your all, because there's no point in a half-hearted effort. If you are cut out for it, however, starting an SEO company can be one of the most rewarding experiences of your life.
This post is part of a series that analyzes those barriers to entry for starting an SEO consulting firm. Check out the other posts in this series:
• Introduction
• Opportunity
• Experience
• Strategy
• Finances