When I started my company, I had a few solid years of SEO experience to draw on, with good references at each place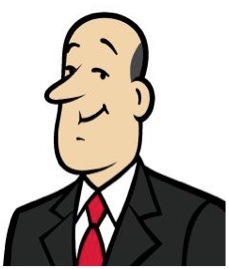 of employment. I entered the industry in an entry-level SEO position with a large e-commerce company that specialized in home furnishings. Soon thereafter, the VP of technology at the company was hired by Ask.com to work as a senior product manager, and he hired me to work on Ask's Search Quality team as a search relevancy evaluator.
That Ask.com position was a year-long contract that consisted of receiving large data sets of queries and websites and having to manually rate each search result based on an extremely detailed set of evaluation criteria. A notable highlight of my employment at Ask was when I received an "adult" query and proceeded to go right ahead and evaluate all of the search results … while in class. After my time at Ask, I spent a year working in-house at a large skin care company who would later go on to become a client of my company. All in all, I had plenty of work experience to draw upon, especially for a recent grad.
This was fortunate, because if you are to have a reasonable chance at gaining clients in today's SEO market, you're going to need more than a fancy website and some business cards. Potential clients want to know that they're hiring a qualified consultant, and it's going to really help your chances of success if you have experience and a reputation to draw on. Do you have a proven track record of building organic search traffic and creating sales on your own websites? Have you worked in-house at a company doing SEO or at an SEO agency? You're going to need to polish up that resume and bring your A game to the sales pitch, because it is tough to get work when you don't have an extensive portfolio of satisfied clients and referrals coming in left and right.
The more experience you have, the easier it is to acquire clients. But that doesn't mean that you need 10 years of C-level experience. Many people with as little as 2 to 3 years of solid SEO experience have seen success at starting their own SEO companies. The sweet spot is probably something like 5+ years, but if you're a good salesman and you're a legitimately skilled SEO, nothing is impossible. The key is being able to market yourself as an expert by drawing on experience from your resume. Showing analytics and numbers is great. Getting a previous employer to vouch for you on the phone is even better. LinkedIn recommendations are an added bonus.
This post is part of a series that analyzes those barriers to entry for starting an SEO consulting firm. Check out the other posts in this series:
Opportunity
Strategy
Finances
Personality