Coming up with ideas for compelling content may seem like one of your biggest challenges, but for many writers and marketers, ideas for interesting, engaging, and inspiring content come fairly easily.
It's organizing them into a cohesive narrative or story that gets tricky.
In fact, this is perhaps the biggest challenge in content marketing today.
Finding a way to tie it all together is somewhat simple when you're a one-man or one-woman show, but when you're running content marketing campaigns at the enterprise level, things get much more complex.
With so many different internal and external stakeholders—creating and promoting content across multiple platforms, targeting varied audiences—building cohesion into the process becomes even more critical.
Here's how to accomplish that, based on the best practices I've learned running content campaigns for Online Marketing Gurus:
How to Build Cohesiveness Into Your Content Marketing Process
Building a cohesive content marketing campaign or strategy starts from the initial planning stages and continues throughout the creation and promotion process, including the reporting and analysis aspects.
But keep in mind that although content strategy means different things to various groups both internally (your project stakeholders) and externally (your target audience), at the end of the day, it all needs to coalesce into one complete brand identity.
It includes your visual identity (logo, color scheme, typeface) and your voice (tone, name, tagline, slogan, vocabulary). Together, they represent how you want to be viewed by your customers. Take Pepsi, for example. Its brand identity would be young (it's the taste of a new generation, after all), hip, and fun. The tri-colored logo (red, white, and blue are the brand colors), and its empowering message for people to enjoy their youth, all feed into its core identity.
Start with Planning
A good plan is essentially a map towards your final goal. Begin by defining what success looks like, what kind of content placements you're looking at, and generally what you want to accomplish with your content marketing plan.
This includes budgeting and allocating resources for content marketing, and being realistic about what you have to work with. Perhaps more importantly, it also includes creating a set of guidelines or standards that your team can work with across departments and channels.
A brand style guide is essential to content cohesiveness. Check out Whatsapp, Absolut Vodka, the American Red Cross, and LinkedIn for some inspiration on how to do it right.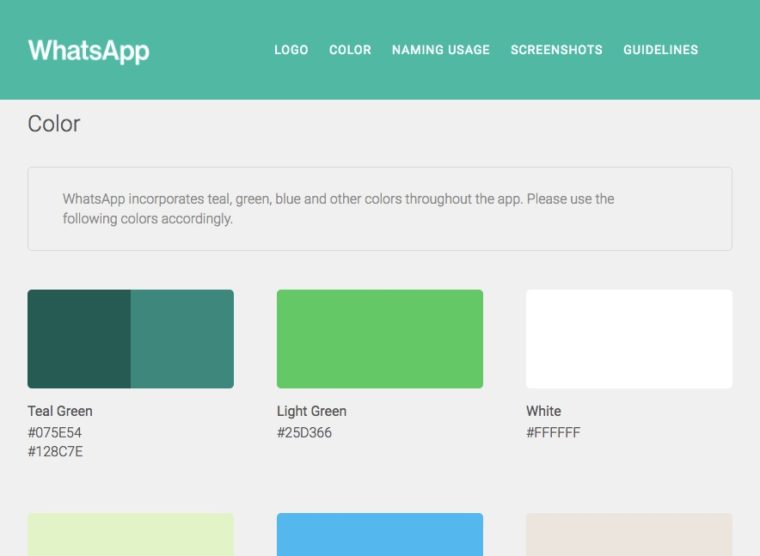 Develop Content Guidelines or Standards
Think of these as a content marketing-specific creative brief. Working within clearly-defined standards or guidelines will help keep your work on track and cohesive, no matter which platform or type of media you're working with.
Of course, ensuring that these standards are followed is just as important as creating them to begin with, especially when it comes to maintaining a consistent voice.
Both Skype and MailChimp have created explicit guidelines for their brand voice and tone. They include words to avoid, logo and tagline placement, and differentiators for online, offline, and various social media platforms. With guidelines like these, customers can immediately recognize something from either company no matter where they find it. Everything fits into the brand identity without fail. There's no guesswork or confusion.
Use a Checklist
Creating a checklist of things that each piece of content should have makes for consistent output. Your checklist could include important keywords, attribution or links to external sources, an image that is on-brand, and a conversion-focused call to action.
So many of us resist checklists because we believe them to be overly simplistic. But that's exactly the point. It reduces everything to the bare essentials, and that's the stuff you should've been focusing on in the first place.
You should develop your own checklists. No one understands you and your brand better than you do. Tweak and polish over time. To get started with them, though, feel free to borrow from the experts at the Content Marketing Institute or CoSchedule.
Stick to a Calendar
Using a content calendar with key events, deadlines for deliverables, and relevant or seasonal topics will keep you on track. And it can help provide inspiration on those days when the words just won't flow (or help to eliminate excuses from your team – hey, writer's block happens to the best of us).
You might use the humble spreadsheet or Google calendar (nothing wrong with the classics), or you could turn to a more modern digital tool like CoSchedule to plan, organize, sync, collaborate, and execute everything from content marketing to blog management. Other tools include the WordPress Editorial Calendar plugin, Kapost, and Trello.
Don't Neglect Content Curation
Sharing or linking content created by other influencers or aligned brands is part of a solid social media strategy, but curation is often overlooked and undervalued, at least in regard to its role in content marketing.
Don't overlook how this activity fits into your overall narrative and content marketing plan. Use lists instead.
You can collect, curate, and schedule a wide variety of posts using either Buffer or Hootsuite. Link your social media accounts to your platform of choice, and keep track of everything from one convenient dashboard.
Organize Your Sources
Making a list of influencers that adhere to or fall in line with your messaging to link to, share content with, or otherwise interact with is a good start. Then, actually use it by going through and sharing relevant content on a regular basis.
BuzzSumo is a fantastic resource to find the influencers and content most being shared for any keyword or topic. Likewise Lumanu, which allows you to spot trends, identify influencers, and build relationships in your niche.
This list can be a living document or ongoing process, since new writers and sources of content appear all the time, and current sources may change focus as the digital realm evolves.
Keep Everyone Involved
Maintaining cohesion isn't the sole province of the content creators and their responsibilities; the marketers, the salespeople, and anyone else charged with getting the message out to the public or even just representing the brand needs to follow similar standards.
In fact, they should be looped into the process from the beginning.
This is when collaboration tools like Basecamp or Asana prove invaluable. Keep everyone in the know and on the same page. You can even share the brand guidelines you created earlier (you did do that, right?) so that everyone can access it whenever they need and wherever they are.
Consider Your Content's Context
This includes all the places where your content appears, is linked to or is otherwise amplified, along with any responses to user engagement.
All of your communications should sound like they come from the same person or voice, even if different departments are responsible for them. This is where composing some pre-framed or somewhat standardized responses in advance can be valuable.
Communication standards might include everything from an email signature, writing style guide, boilerplate, or the appropriate logo to use on various channels.
Perform Regular Reviews
All the planning, checklists, and standards or guidelines in the world can't help you if you don't hold yourself and your team accountable.
Before posting a new piece of content or executing part of a campaign, make sure you reassess how it fits into the overall plan and that all the elements required by the guidelines or content standards are in place. Adhering to a pre-launch checklist can help with this.
Wrap it up with Reporting and Analysis
With regards to content cohesiveness, reporting and subsequent analysis isn't so much about the pure numbers. Rather, it's about seeing broad trends that you could (and in many cases, should) work into your plan, as well as what works and what didn't so you can adjust accordingly.
Google Analytics is a good place to start for data on what's resonating with your followers and what's being ignored. Alternatives include Clicky, Piwik, and Kissmetrics.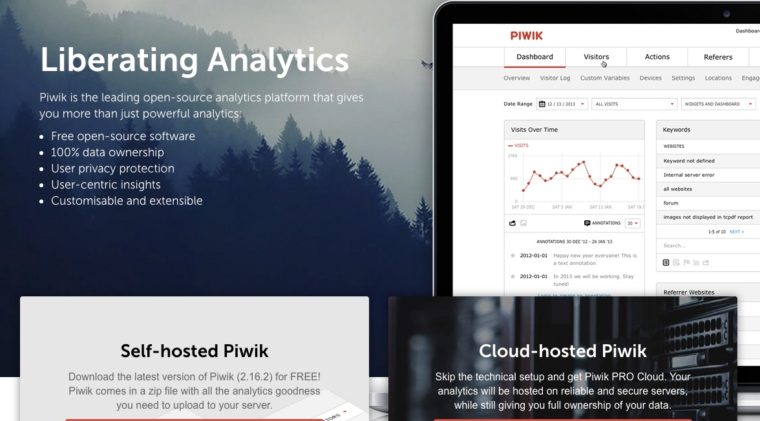 Screenshot taken of piwik.org on September 19, 2016
No matter which route you take, it's important to consider the big picture, and not just look at each piece as a separate entity.
Accounting for Change
While consistency is perhaps the main consideration when crafting and executing a cohesive content marketing campaign, it's also just as important to account for new trends arising, new platforms popping up, or other necessary shifts or changes along the way.
"Cohesive" is not a synonym for "stagnant."
These shifts can be the result of the ongoing evolution of the web, other emerging trends in media (digital or print, but I think most of us know that the digital realm moves much faster and tends to lead the way), changes in the company or brand itself, or shifts in audience or goals targeted.
Being open to updating your content marketing plan doesn't mean you have to give up consistency or cohesiveness. It just means that the change needs to take place across the board, on all platforms, and have the buy-in of every department or stakeholder involved in the content marketing efforts. Review, tweak, implement. And repeat. 61% of the most effective marketers meet daily or weekly to discuss and evaluate their plan according to CMI.
And that's why cross-channel and cross-department alignment is key to an organized, cohesive content marketing campaign.
Cohesion Across Channels
Part of creating a cohesive brand image across platforms is maintaining a consistent style, tone, and type(s) of content posted and shared across various online channels.
This is why the initial planning and guideline creation is so important – not only does it help outline what type of content should be created, but when and where it will be posted and what kind of voice or efforts will be made to promote it.
This should also include how to follow up to all types of user engagement, such as user comments, customer service requests, sign-ups or opt-ins, or any other response to your content.
It can be as simple as a list of places to promote content (e.g. when you write a new blog post, share it on Facebook, LinkedIn, and Twitter), or as complex as laying out the scheduling for when and where an article will be shared or follow-up messaging delivered, and which department or individual is responsible for doing what.
Interdepartmental Connections
Perhaps one of the most difficult or complicated issues related to keeping marketing content cohesive on the enterprise level is making sure the various stakeholders involved are all on the same page and that everyone is aware of their role and responsibilities—as well as how performing those tasks leads to the endgame or long term goals.
Communication—both digital and otherwise—is key.
Content as Building Blocks
One of the most important things to ask yourself as you plan and execute your content marketing campaign is whether or not each article, blog post, podcast, video, infographic, or other type of content helps to craft a larger message.
There should be a central theme to everything you do, and an ultimate goal that informs each piece of content published. In fact, each piece of content should be considered a building block along the path leading to success, however you define it (just as long as you do!).
A content marketing plan provides you with a steady stream of topics and ideas, and offers momentum in the sense that you can check things off and see how much you've accomplished or how far you've come on your journey. Goals need to be actionable and measurable. And that ability to track and measure your progress might be the most valuable thing of all.
After all, content marketing is a long-term endeavor. Having a calendar, guidelines or standards, and a system of review and analysis is essential for keeping yourself on track. Plus, it'll help you and your team members or stakeholders (if you're running content marketing campaigns on the enterprise level) stay connected to each other and aligned with your goals.
The details of the plan are almost never critical – on the contrary, it's the act of creating and holding yourself and everyone else accountable creates a cohesive presence. Working in isolation – the dreaded silo mentality – is a surefire way to have disconnected, disjointed content.
The business that plans together succeeds together.
Plan as a single group (objectives, goals, strategies, and tactics), regardless of individual department. Create a clear and detailed brand identity document – including your visual and voice guidelines – that's accessible to everyone. Distribute checklists with explicit instructions on what should and should not be included for each piece of content in the system. Draft reusable templates that make maintaining consistency a piece of cake. The easier it is for everyone, the more likely they'll use it and stick to it.
Once you have everything in place, it's easy to make tweaks and adjustments across multiple systems and devices. Keep your eye on emerging trends, watch for engagement opportunities, and then implement those shifts for everyone with just a few keystrokes.
As you can see, the work here is mainly up front. It requires a lot of time and effort to build the foundation, but then it holds up your content campaigns with minimal maintenance.

It's not "set it and forget it". It should be a collection of living documents. It's more like "set it and don't sweat it". Done right, this system can quickly and easily respond to the refinements and tweaks needed to keep you consistent, but fresh and relevant too.
What else do you do within your organization to create content cohesiveness? Let me know by leaving a comment below.
Download SEJ's free content marketing ebook to learn more about how to set up a cohesive content marketing plan.
Image Credits
Featured Image: DepositPhotos
All screenshots by Andrew Raso. Taken September 2016.